As the Indy restaurant scene continues to grow, choosing a spot for celebrating the new year can be quite the challenge. There are so many delectable options, how will you pick just one? From the traditional prime rib buffet to roasted pork belly with brussels sprouts, our critically acclaimed chefs are busy crafting menus that will keep you in your seat until midnight.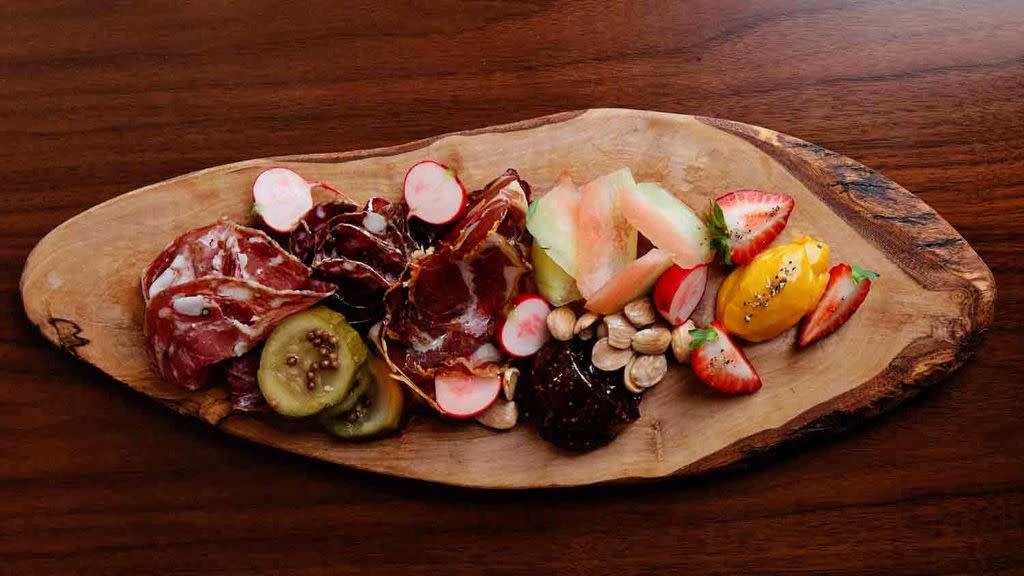 Spoke & Steele
Sip on barrel-aged cocktails or champagne while you decide on your three-course dinner options at one of Indy's newest downtown restaurants. First seating at 6 pm, second at 9 pm. 
---
Adobo Grill
Complete your New Year's Eve party with unlimited drinks, dancing and light appetizers. The $90 option includes a four-course meal and tequila toast.
---
End of the Line Public House
Starting at 5 pm, get a special prime rib dinner for two for only $30 at this unique restaurant inside the Fountain Square Theatre Building.
---
Indianapolis Propylaeum
Enjoy a fabulous dinner at the Propylaeum – but be careful. Other things besides champagne corks are popping… the host is dead!
---
Traders Point Creamery
Ring in the new year in rustic elegance at The Loft Restaurant with a special prix fixe champagne dinner, complete with entrees of grass-fed rib roasts, lobster-filled Wisconsin rainbow trout, and spice-roasted cauliflower.
---
Cheer to the New Year, $100
Chef Joseph's at The Connoisseur Room
One of Indy's top new restaurants, Chef Joseph's is offering a wine pairing dinner and cabaret with Nancy Moore and Sean Baker the Music Maker.
---
Beef & Boards Dinner Theatre
Get ready to laugh your way to the new year with a special performance of Run For Your Wife after you enjoy dinner from Chef Odell Ward's buffet and midnight breakfast. Dancing and live music will proceed after the show along with a midnight balloon drop and champagne toast.
---
Cheff JJ's
Start your evening off with an early 6 pm five-course dinner, beer and wine tasters, and a sweet take-home treat. Chef JJ's newest location offers impeccable views of Lucas Oil Stadium and is within walking distance to many hotels and bars.
---
The Melting Pot
Cheers to good fortune in 2016 - and fondue! Shrimp cocktail, white truffle cheddar cheese fondue, lobster diablo, and coconut curry chicken are just a few of the options available on the dinner menu. Just don't walk out without trying the bourbon pecan chocolate dark chocolate and caramel flambeed fondue! 
---
Sullivan's Steakhouse
Treat yourself to an elegant steakhouse dinner at Sullivan's with lobster basil stuffed shrimp, roasted rack of lamb, New York strip.
---
Cerulean Restaurant
Chef Alan Sternberg crafted a special New Year's Eve fixed four course menu with a locally-sourced emphasis. Tomato mushroom duxelle with Indiana tomato brodo, roasted pork belly with brussels sprouts, grilled short rib with black currant and coffee, and goat's milk and lemon tart are just a few of the plate descriptions each guest will devour. 
---
Slippery Noodle Inn
Looking for live music and dinner? The Elect will be jamming the night away and your reservation secures special seating, no cover charge, shrimp cocktail appetizers, and a complete buffet dinner of prime rib, chicken marsala, and champagne toasts. 
---
Milktooth
Party on at Indy's critically acclaimed brunch spot with passed appetizers and a midnight champagne toast at Milktooth in Fletcher Place. DJ Nervous Teeth will keep you groovin' while you wait for the ball to drop! 
---
Oakley's Bistro
Chef and proprietor Stephen Oakley has prepared a chef's amuse and three-course menu with several options per course for your New Year's Eve dining pleasure. 
---
Mimi Blue Meatballs
The New Year's Eve 5-Baller special entree was created just for the celebration. It includes four short rib meatballs topped with a red wine demi and served with a loaded baked potato ball (cheddar & scallions) in the center topped with sour cream and bacon. And it comes with a glass of champagne! Three seatings are available: 5:30 pm, 7:00 pm and 8:30 pm.