Planner Interactive Map
The hallmark of the Indy meeting experience is the ease and convenience it offers to meeting planners and their attendees. The Indiana Convention Center and Lucas Oil Stadium are positioned in the southwest quadrant of downtown. The building is surrounded by hotels and connected by climate-controlled skywalks. When visitors step outside, they can easily walk to White River State Park and the Canal, Bankers Life Fieldhouse, Monument Circle, and hundreds of restaurants and bars in the heart of the city.
This uniquely compact configuration is referred to as the city's convention campus. To showcase the Indy campus, Visit Indy and the Indiana Convention Center & Lucas Oil Stadium partnered with Concept3D, a leader in developing digital college campus maps.
Concept3D's use of beautiful rendering and hot-spot triggered content allows both planners and attendees to explore the city from the comfort of their home or office. Within the Indiana Convention Center, a planner can view meeting rooms, ballrooms, and exhibit halls. Stunning 360-degree panoramas give planners an immersive view of key gathering spaces.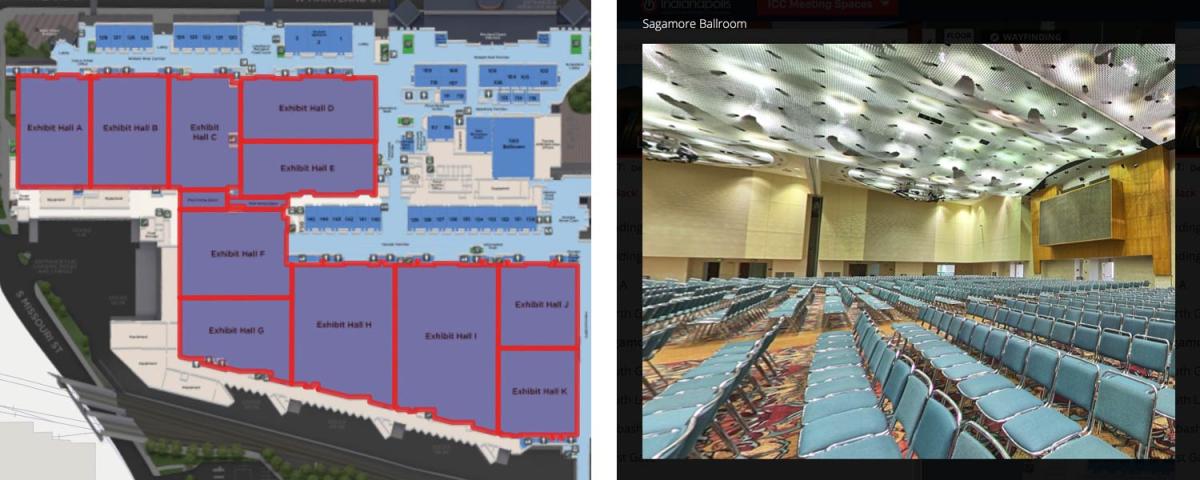 Beyond the convention center, planners can see how Indy's connected hotel package keeps visitors warm and dry regardless of season. Use the "Explore Indy" section to check proximity of attractions, meeting venues, restaurants, breweries, coffee shops, and more.
Some cities may have convention center maps, but none have taken this concept to a citywide level. You're invited to explore USA Today's "#1 Convention City in the U.S. for yourself, or connect with a Visit Indy sales representative for a guided, online tour.