Craft Cocktails
There's nothing wrong with the usual gin and tonic, but some occasions demand a more refined approach. If you're looking for a night out on the town, step into one of the hot spots below for a taste of Indy's best cocktails.

---

This ultra-modern lounge is located inside the city's newest hotel, The Alexander. Named for the exact plat of land on which this bar resides, Plat 99 is marked with 99 bright glass structures, all created by renowned artist Jorge Pardo. With one of the city's leading mixologists, guests will have a hard time picking between their list of unique cocktail concoctions.
Ball & Biscuit

Not only do the locals find this a fan favorite bar, but so does Esquire magazine, as it topped their "America's Best Bars" list. This speak-easy-style hub for prohibition cocktails and a small tapas menu kicks off the nightlife scene on Mass Ave's south end.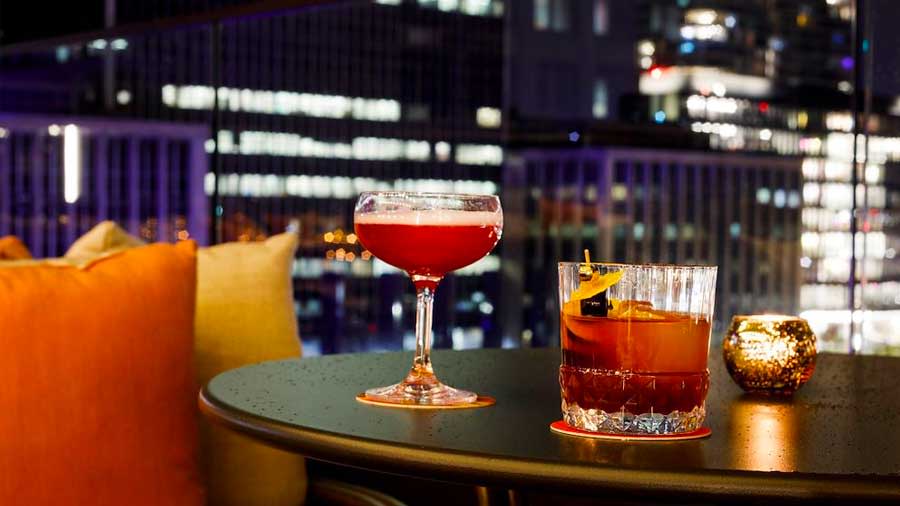 This distinctively Indy rooftop lounge lets visitors share light local cuisine and innovative drinks while taking in stunning views of downtown Indy. The bold, vibrant space has a modern ambiance and sophistication. Celebrate Indy icons with drinks and small bites like the Daredevil Daiquiri and many local brews.

The menu for the restaurant and bar is dynamic, changing with the seasons along with the techniques used in the cooking and aging of provisions. Grape vines trimmed in the fall are used to fire winter recipes, fruit tree wood pruned in the spring is used to smoke meats for summer. Spoke & Steele's barreled cocktails and flask program are aged in preparation of holidays and special events and are features for patrons.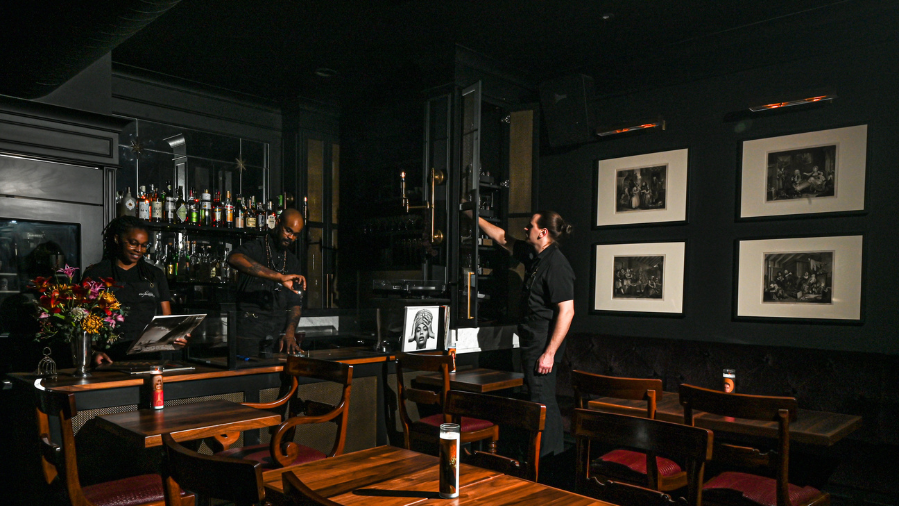 Named "one of the best bars in the U.S.," Six-time James Beard semifinalist, Martha Hoover, owns this luxe, moody, and simply beautiful microbar. Their audio system, featuring Klipsch Forte speakers, vintage tape player, and vinyl turntable, provides guests with an unparalleled listening room. 

St. Elmo Steak House hasn't changed much since it opened its doors in 1902, but the owners made headlines when they expanded their space into an upstairs lounge less than two years ago. The restaurant's classic and historical ambiance compliments the Lounge's deep red soft seating, open fireplace, and masterful bar. And yes, you can still get the famous shrimp cocktail in St. Elmo's new digs.
Located right on the Georgia Street Boardwalk inside the Omni Severin Hotel, this downtown bar and restaurant largely focuses on offering locally-sourced food and local brews. Enjoy their bacon flight along side a legendary Moscow Mule in a modern, contemporary setting.

One could easily miss this underground cigar and cocktail lounge that is located right off of Monument Circle. But if you find it, you'll never forget it. Also voted one of "America's Best Bars" by Esquire magazine, the dimly lit expansive seating and candles scattered here and there makes the novice cigar smoker look like a connoisseur of all things grand.

Young chef/owner Abbi Adams opened a delightful restaurant named after a novel by Hoosier native Kurt Vonnegut. The charming ambiance is marked by rustic handmade tables, a chandelier on the patio, and a library-like feel near the back bar space. Their innovative cocktails are just as popular as their creative menu broken down by meals of proportion. 
Almost Famous
Live music, drag brunch, and craft cocktails. What more could you want? Whether you're a dirty martini or negroni enthusiast, there are endless cocktails for everyone to enjoy. While you're there, try some of their American pub dishes (with a twist). 

One of the newest spots in Fletcher Place and home to the nation's first disabled veteran owned distillers, Hotel Tango puts an emphasis on using locally grown ingredients, including Indiana-grown corn. Visitors love the interior decor featuring exposed beams, spiral staircase, and a cozy fireplace. 
The Inferno Room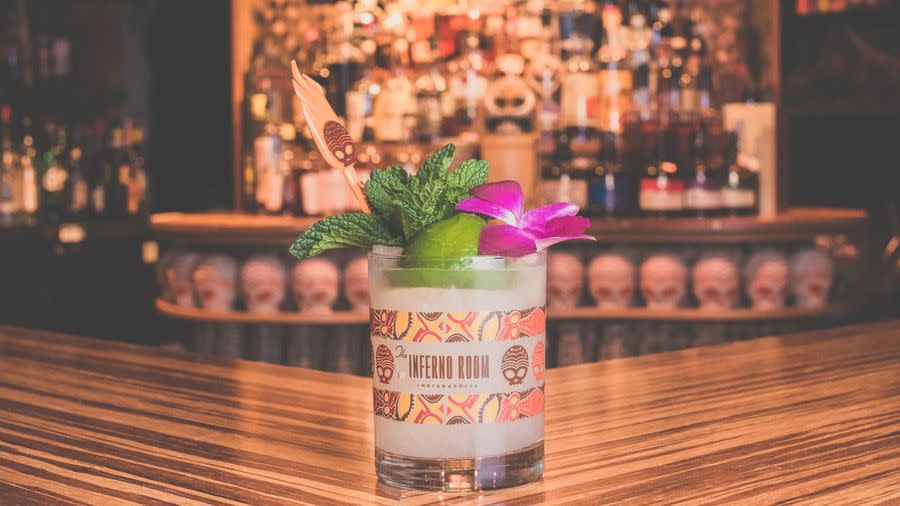 Cannibals, headhunters and skulls, oh my! One of the largest collections of Papua New Guinea native art that exists outside of a museum is in Indianapolis - and it comes with tropical libations. Come explore the fiery depths of tiki bliss.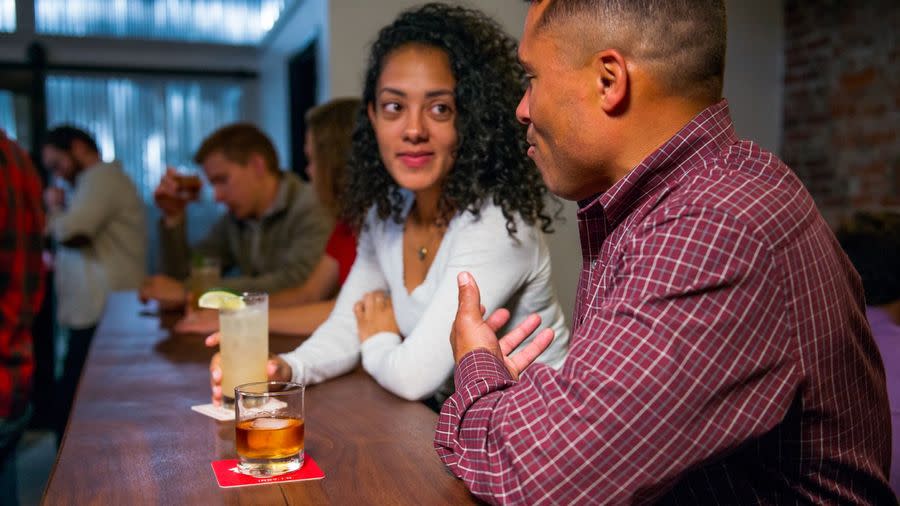 A craft whiskey tasting room where Indiana grains serve as the inspiration to house-made artisan whiskeys and spirits. The industrial-chic distillery offers seasonal craft cocktails and paninis like no other! 

Famous for craft food, beer, and spirits, Big Woods is more than the restaurants that bear the name: it's an experience. The culture is based on warmth, accessibility, and a sense of adventure — a community where everyone is welcome and common goodness prevails. Find Big Woods in Speedway, Franklin, Nashville, and Bloomington, as well as Hard Truth Hills in Nashville.
Union 50

This innovative, chef-driven restaurant and bar boasts a changing seasonal spirits menu utilizing fresh flavors from herbs, flowers, liqueurs, special bitters, and more to create complex, fun flavors. Handcrafted cocktails use locally sourced ingredients when possible. Add to the the experience with live music, creative dishes, and a fine selection of wine and whiskey.