Outdoor Dining
Long days, warm nights, and fresh food from the garden: patio season is here in Indiana. Here's a round-up of the must-try spots for outdoor dining.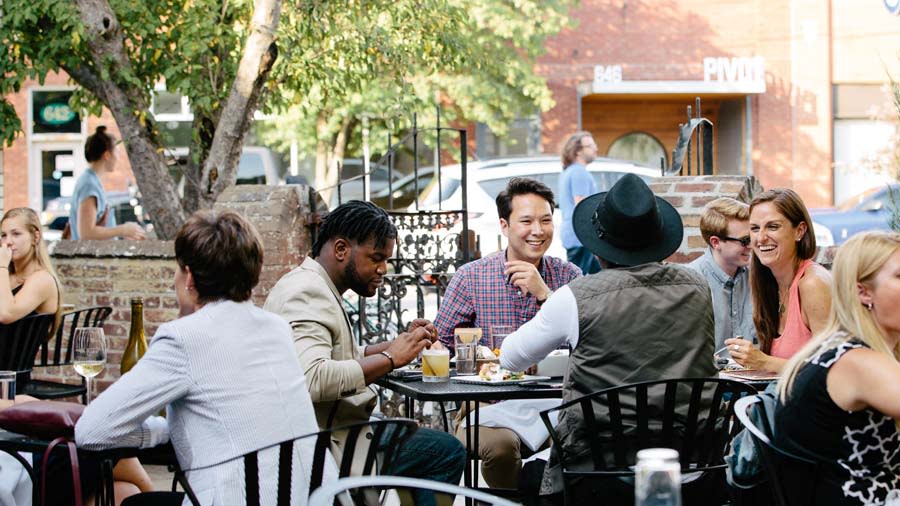 This Kurt Vonnegut-inspired restaurant in happening Fletcher Place offers contemporary Italian-style cuisine in a cozy yet modern outdoor atmosphere. Snacks, charcuteries, and cheeses are offered on a menu that changes daily. Ponder the libations menu while you enjoy fresh baked bread from the in-house bakery, Amelia's, which provides artisan breads for a number of Indianapolis restaurants and grocers.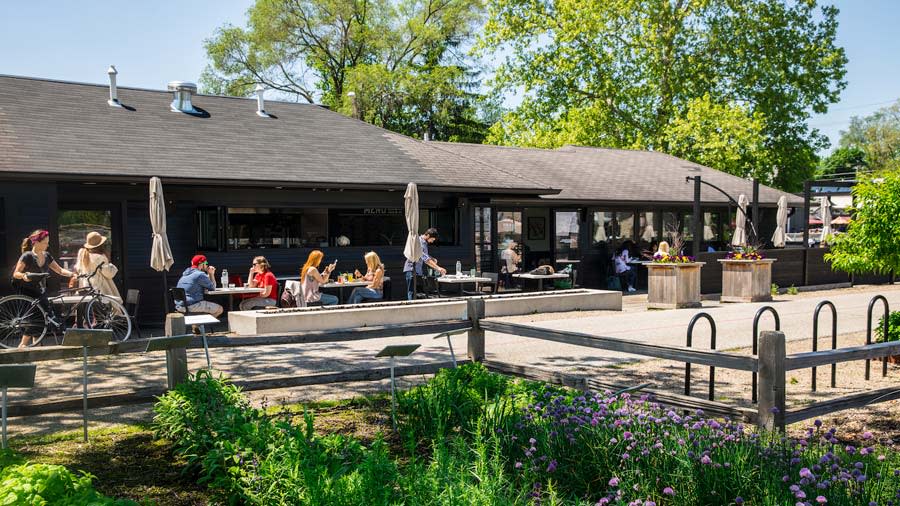 Look on one side of the Monon Trail in Broad Ripple and you'll notice a large garden. Look on the other side and you see the large patio at Public Greens where you can enjoy dishes prepared from food growing in said garden. Not only are the dishes fresh and delicious, but all of the proceeds go to the Patachou Foundation which works to feed healthy meals to children in our community suffering from food insecurity.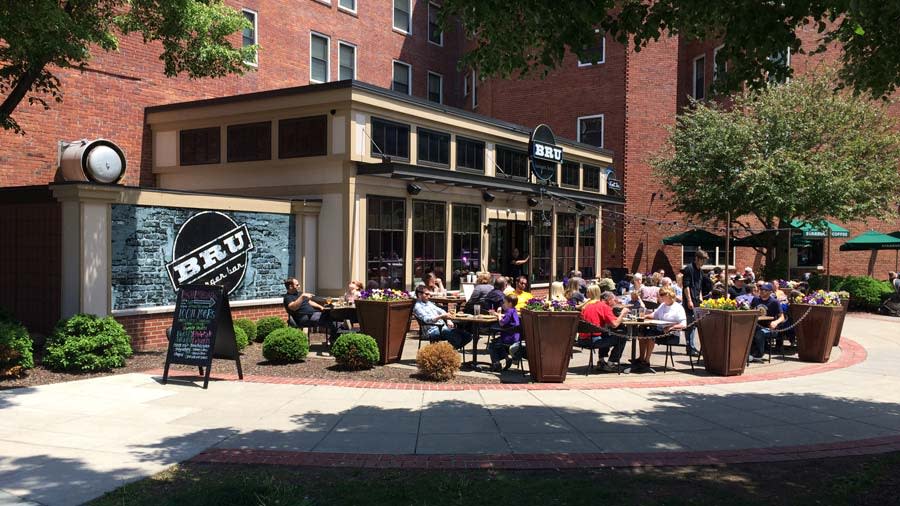 This popular Mass Ave restaurant has a lengthy list of creative burgers from a Mexicali BBQ burger to a burger with a fried egg on top. But don't let the name fool you – BRU is about more than just burgers. Dine al fresco underneath BRU's streaming lights to catch a view of one of Mass Ave's coolest art installments, Brick Head 3.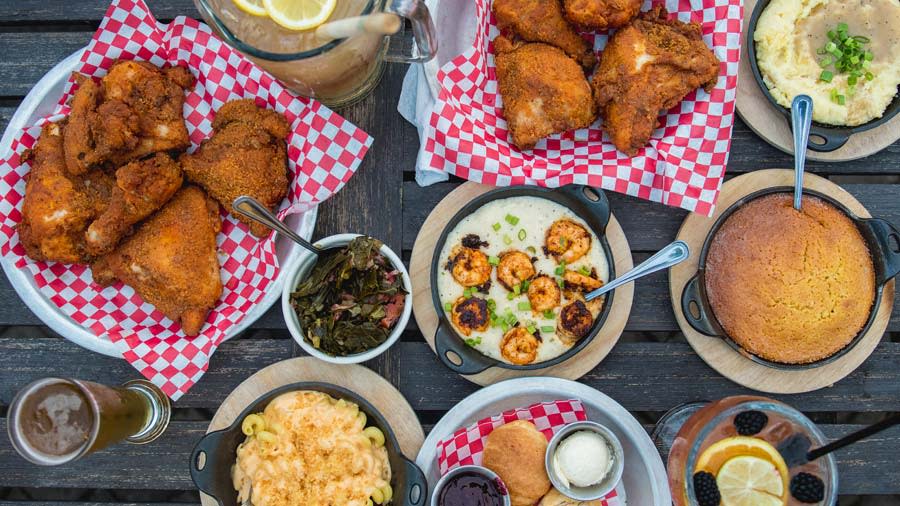 Country touch meets urban cool on the corner of Mass Ave and Delaware Street. The Eagle boasts a lively patio with a full bar and several fire pits, welcoming all to this sparkling watering hole. This pivotal corner of Mass Ave is quickly becoming a busy and happening hot spot for sunny afternoons and warm evenings.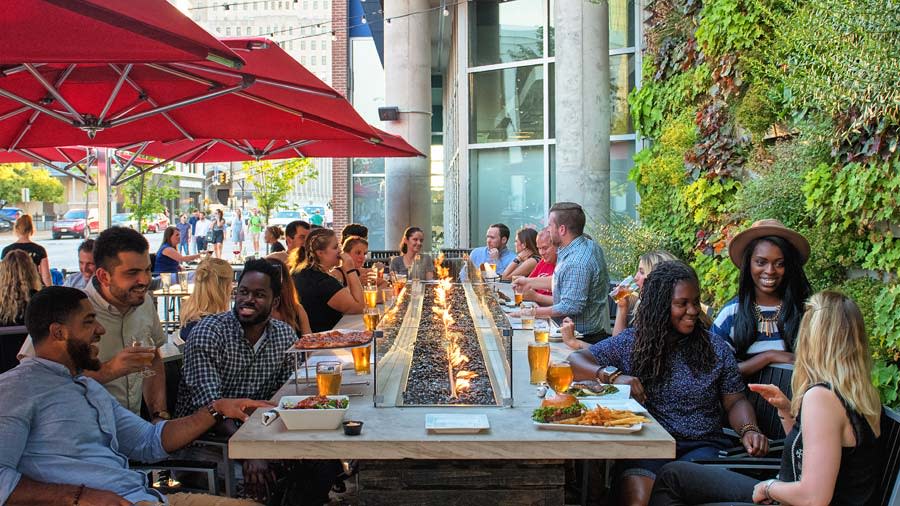 Beer drinkers rejoice, because your patio has been found. With 50 beers on tap, including their own brewed in Bloomington, The Tap is offers a hop lovers paradise. With city views on one side, and a living wall on the other, it has a vibe that is both organic and distinctively urban.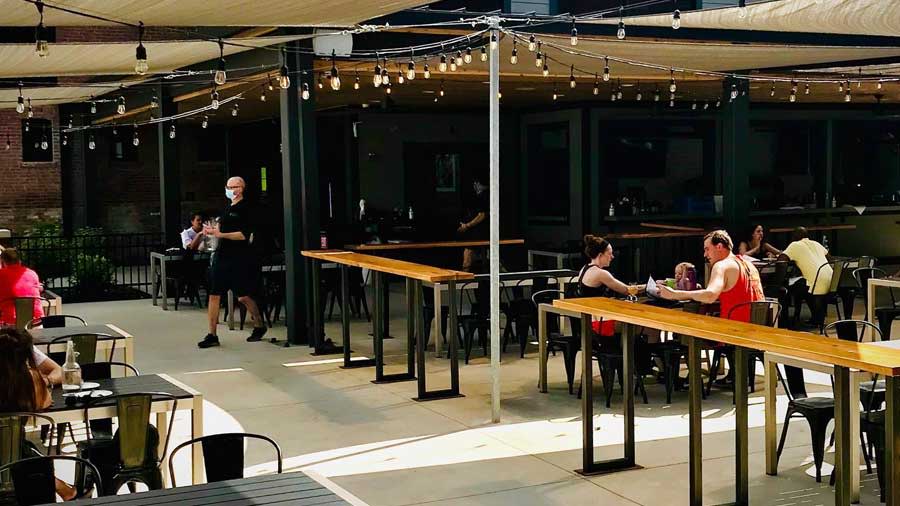 The latest patio space downtown is also one of the largest. Taxman offers a family- and dog-friendly environment to soak up the sun while enjoying Belgian-inspired brews, craft cocktails, wine, cider, and an inventive gastropub menu featuring classics with fresh spins. Come for a sunset evening or start your day with brunch.
Fresco Italian Cafe on the Canal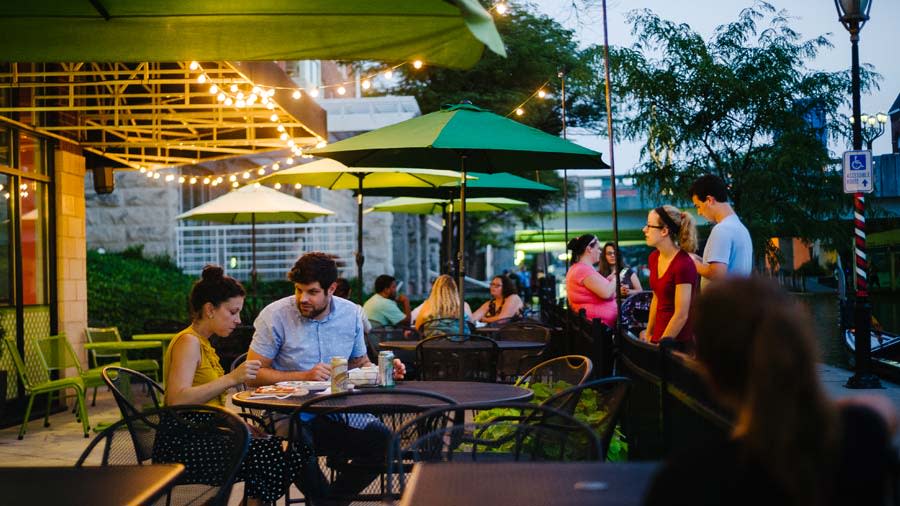 With a prime location along the Central Canal, Fresco offers a prime spot for a bite, a drink, or a sweet treat as you people watch and enjoy the view. Treat yourself to Italian Beef, flatbreads, or gelato. For those looking to impress, you can't beat tableside smores for setting a romantic mood.
Adjacent to Broad Ripple's canal towpath, Canal Bistro offers great outdoor patio seating ideal for people watching. With owners coming from Lebanon and Egypt, the restaurant presents an incredible authentic Mediterranean fare menu. Favorites include the fattoush salad, shawarma, and homemade baklava.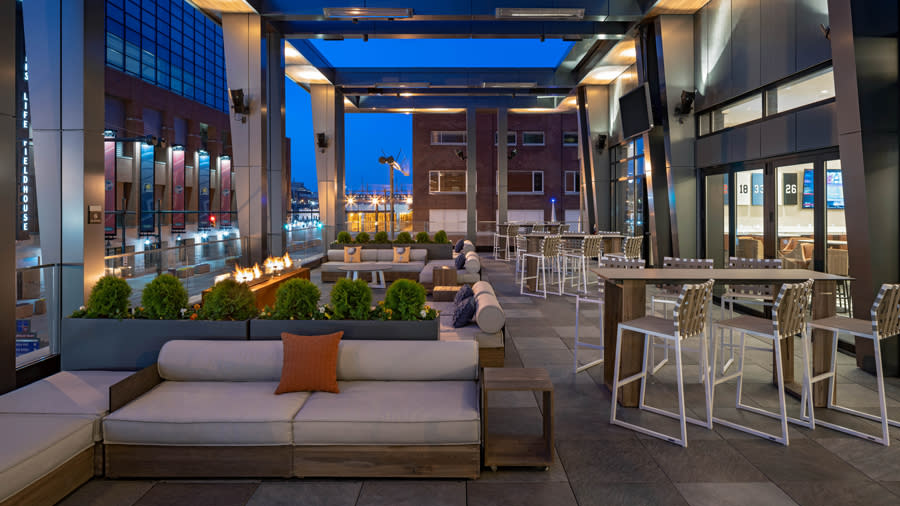 Enjoy a selection of small bites, craft cocktails and cold brews at Pivot Bar & Balcony, located in the newly constructed Hyatt House/Hyatt Place in Downtown Indy. Grab a seat at the bar or take in the view of South Pennsylvania Street from the second-floor balcony.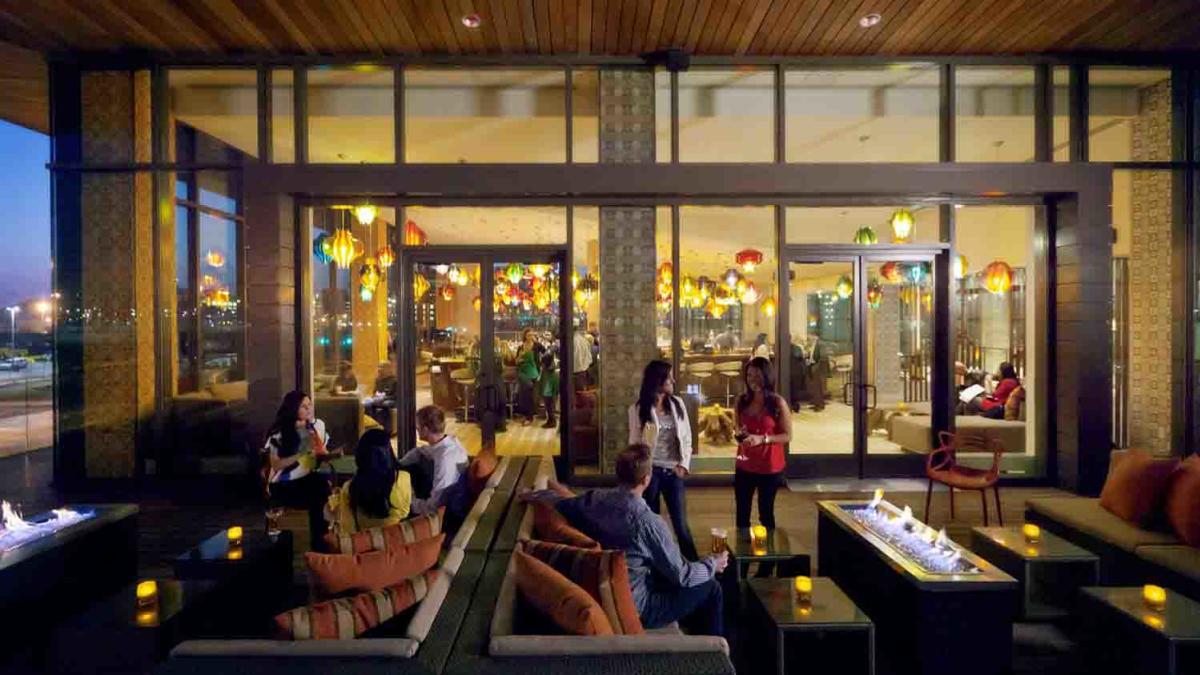 This ultra-modern lounge is located inside the city's newest hotel, The Alexander, and has one of the best outdoor terrace patios around. With one of the city's leading mixologists, Michael Gray, at the helm, Plat 99 serves up some of Indy's most innovative cocktails in the city's swankiest setting.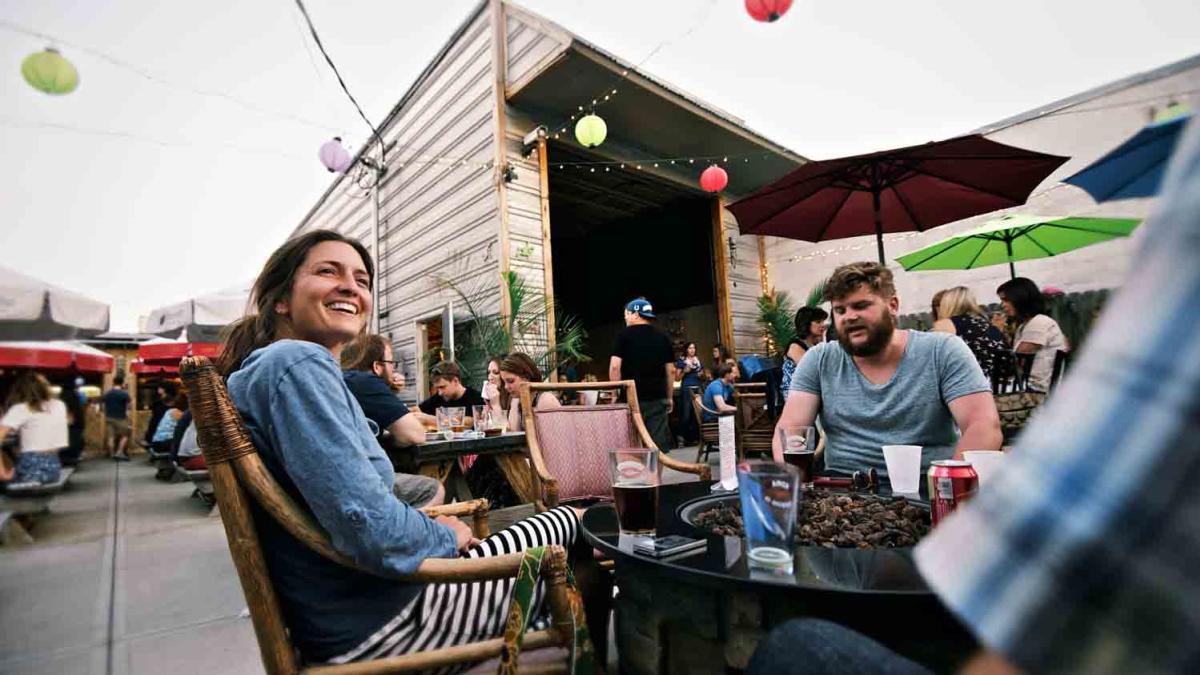 You know the patio's going to be good when it has its own name. Residents and visitors alike bee line for the Tiki Bar, located in the back of La Revolucion. Famous for their six pack of sauces, delicious queso, and knock-your-socks-off margaritas.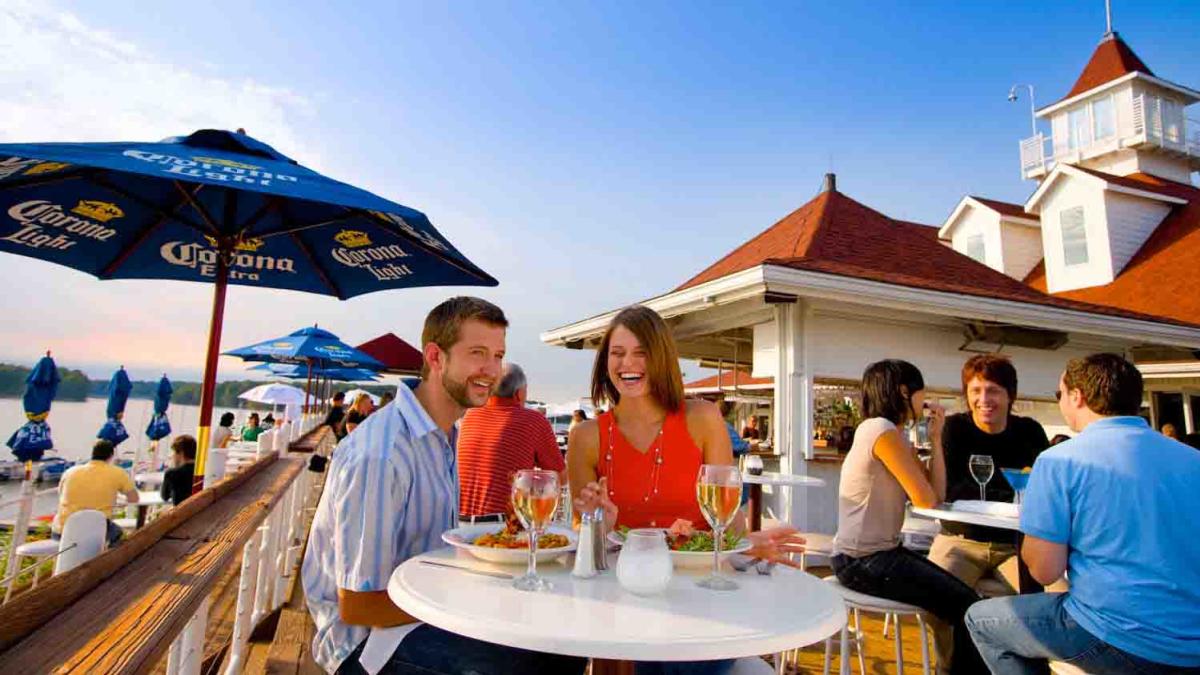 Nestled in the hillside overlooking Eagle Creek Reservoir, Rick's Café Boatyard offers a picture-perfect view of one of the largest municipal parks in the country. You'll never know you're in land-locked Indiana as you sample Rick's famous crab cakes and scallops.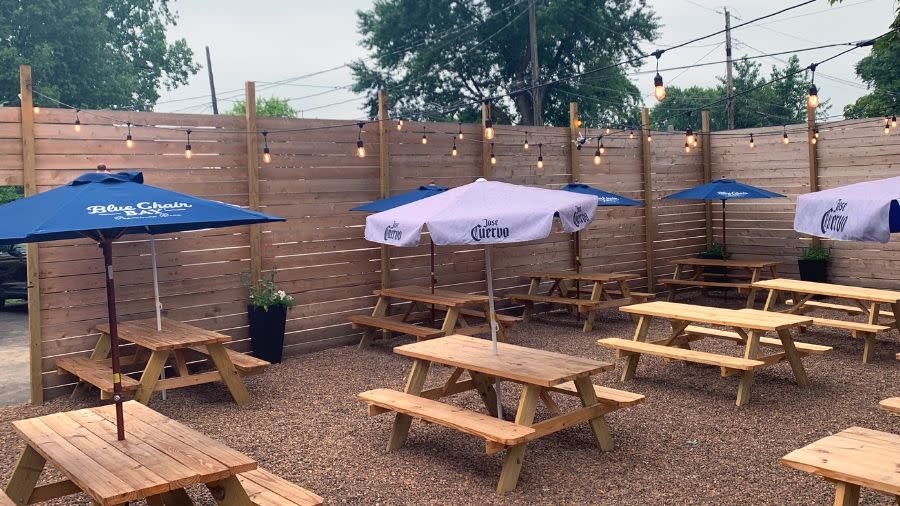 This family-owned Bates-Hendricks bar offers a small but mighty menu of small bites, hand-crafted sandwiches, and a larger list of old-school crafted cocktails, craft beers, and cask-crafted wines. Enjoy inside the remolded home or, of course, outdoors on their spacious patio. 
Arguably one of the best rooftop patios in Indy, the antique elevator is well worth the ride up. Snag a seat atop this gorgeous, historic theater and take in the skyline views down the buzzing Virginia Avenue corridor.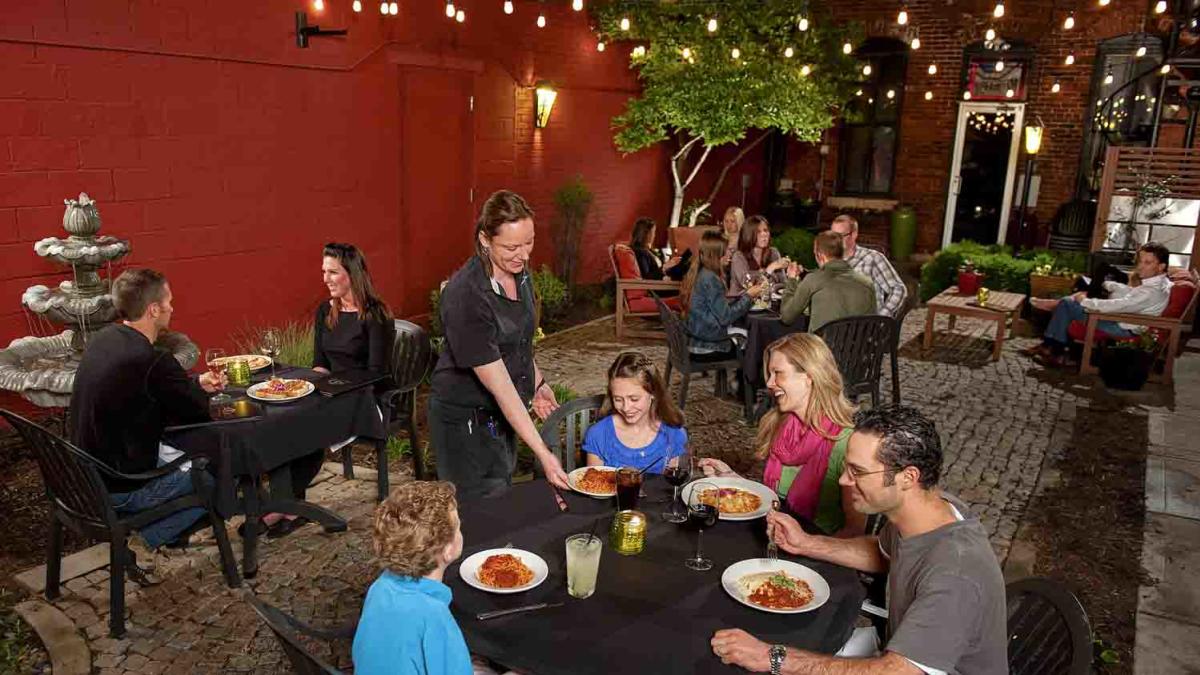 Visit Iozzo's for a taste of the Old World. Twinkling lights, Italian music, and a gorgeous fountain (not to mention an impressive wine list) provide the perfect ambiance for a romantic dinner. Come during a summer weekend night and you might catch a classic movie under the stars.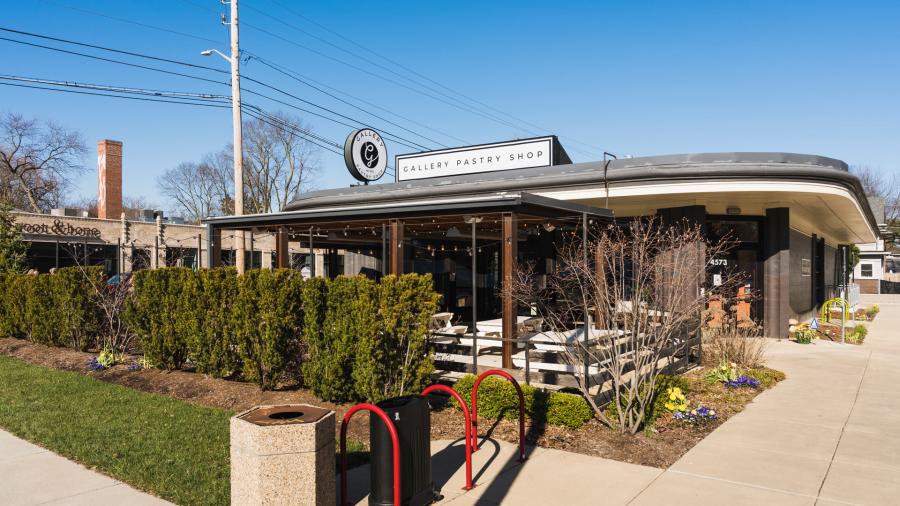 This homey ode to old-world European bakeries would not be the same without its airy and open patio space. Owners Ben Hardy and Alison Keefer have been running the pastry hot spot for four years, inspired by the simplicity if European style. Pastry fans can enjoy macaroons, croissants, and charcuterie on the quaint, rustic patio, nestled cozily in South Broad Ripple. 
With its colorful menu of coastal Italian fare, Nesso proudly boasts a vibrant outdoor space to match its artful atmosphere. Guests will be transported to the coasts of Italy with this sophisticated and engaging patio space attached to The Alexander. The legendary hotel's charming combination of art and design is not amiss at Nesso, and the patio will become a summer staple in the months ahead.
Livery's two-story restaurant, housed in a refurbished 1890s stable yard, naturally directs guests to its spacious rooftop patio. With a exciting menu of revamped traditional Latin options such as empanadas and ceviche, Livery's lively atmosphere is made even better by its patio. Large, open seating and comfortable furniture makes Livery a great destination for a night out – outside, that is!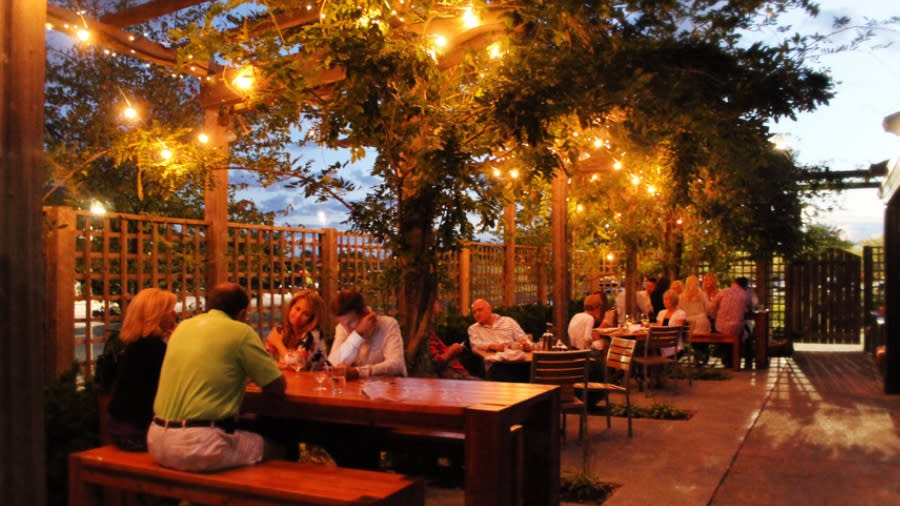 Known for its use of local Hoosier ingredients, it is no surprise that Late Harvest Kitchen's outdoor space is a reflection of the naturally inspired concept. Full of greenery and vibrant plant life, and adorned with glittering, sophisticated string lights, Late Harvest's patio is a quintessential space for summer outdoor dining. Late Harvest is dedicated to genuine hospitality and locally-sourced daily creations, and that combination is especially noticeable when dining on the patio. 
Liter House's fresh and family-friendly patio is located just off the Monon Trail, so guests can stretch out their summer night walks with a quick stop at this Bavarian beer hall. Try some delicious, traditional German cuisine, or choose from Half Liter's homemade BBQ and brisket. Either way, you'll be able to sit outside at a picnic table on the spacious patio and enjoy your favorite brew.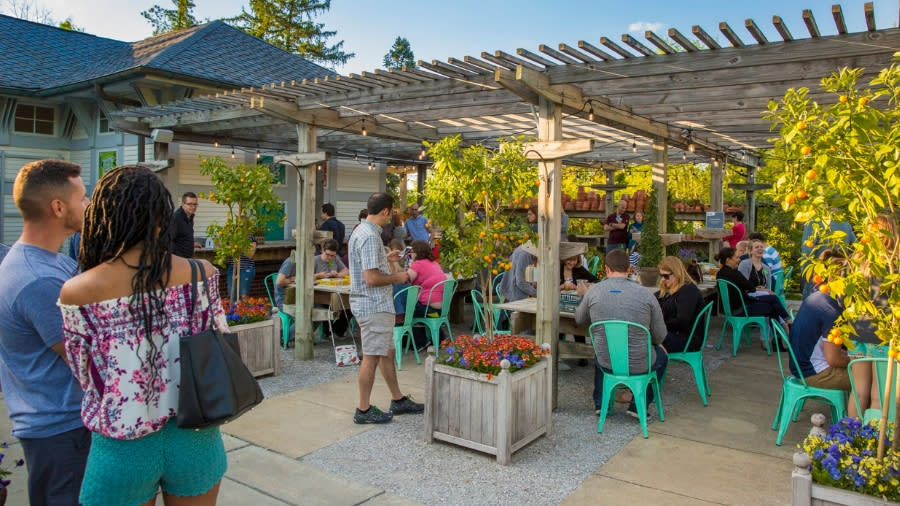 Brewing great beer is an art. Therefore it's fitting that one of the best places that celebrates delicious beer is located on the Newfields outdoor campus. With rotating taps from local breweries, tasty ciders and wine, scrumptious charcuterie, and giant grilled pretzels, grabbing a pint under the latticed rooftop is a great way to spend the summer.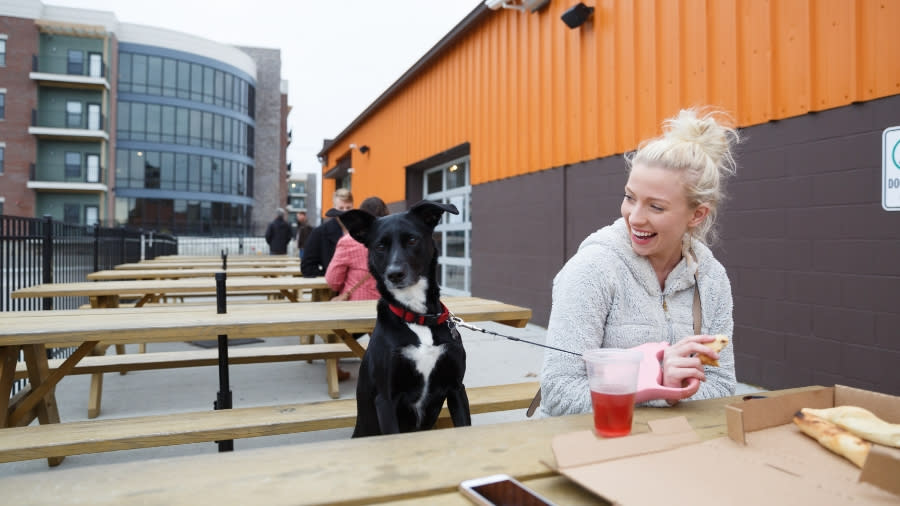 Your one-stop spot for delicious beer, Metazoa's airy and open patio space is full of picnic tables with an epic skyline view. In-house brews and experimental flavors welcome 21+ guests of all beer-backgrounds. Known for it's dedication to animal and wildlife organizations, Metazoa is pet-friendly, especially its patio!