Food Halls
You've been craving tacos all day, but your husband wants a burger, and the kids will throw a fit if they don't get pizza. You need variety. What to do about this mealtime dilemma? You head to one of Indy's food halls, where retailers serve a wide assortment of cuisine.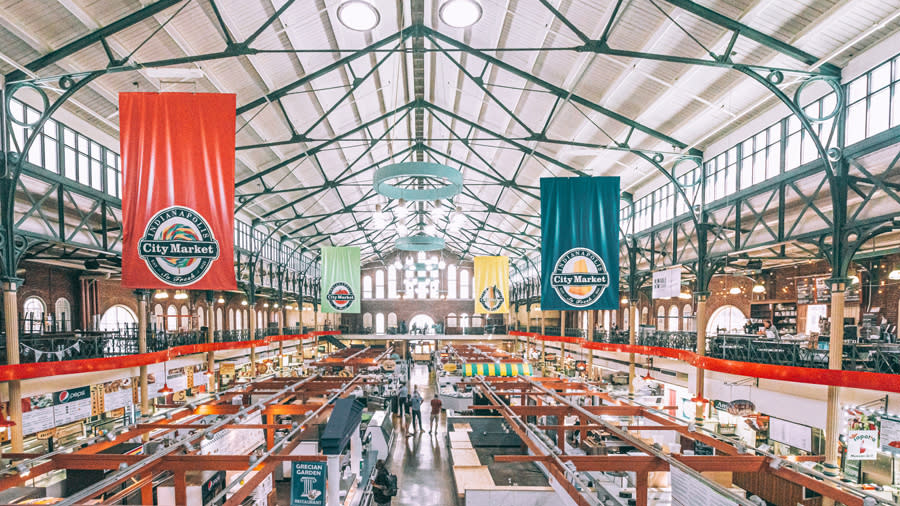 Listed in the National Register of Historic Places, Indianapolis City Market has long been a commercial hub. In its beginning, merchants peddled meat, produce, and other commodities out of stalls lined up in the street. Today, the market is home to about 25 indoor vendors offering a buffet of choices, from pizza, pulled pork, and fresh juices to salads, Greek cuisine, and cheesesteak sandwiches. Most are open primarily for lunch. Grab a table on the mezzanine level, where you can sip an Indiana craft beer from Tomlinson tap Room, or take your meal outside, where there's seating on the east and west plaza. You can even pick up flower bouquets or get a haircut. But the market hasn't strayed too far from its roots: It hosts the Original Farmer's Market on Wednesdays in the summer, an al fresco setting for buying produce packaged foods, and a meal prepared right in front of you.
The Garage at Bottleworks
Bottles of perfectly lined up spirits inside cage-like storage at Hard Truth Distilling Co. make for an eye-catching centerpiece at The Garage Food Hall inside the Bottleworks District. An eclectic mix of locally based vendors serves up lobster rolls, burgers, Italian, Venezuelan arepas, Brazilian street food, Asian fusion tacos, fish and chips, oysters, craft beer, cocktails, and to cap it all off, gourmet ice cream. Communal tables are scattered throughout, and outdoor seating is available. The attraction's name comes naturally: It's housed in the former Coca-Cola bottling plant's garage, and you'll see various nods to that more industrial past.
The AMP at 16 Tech Innovation District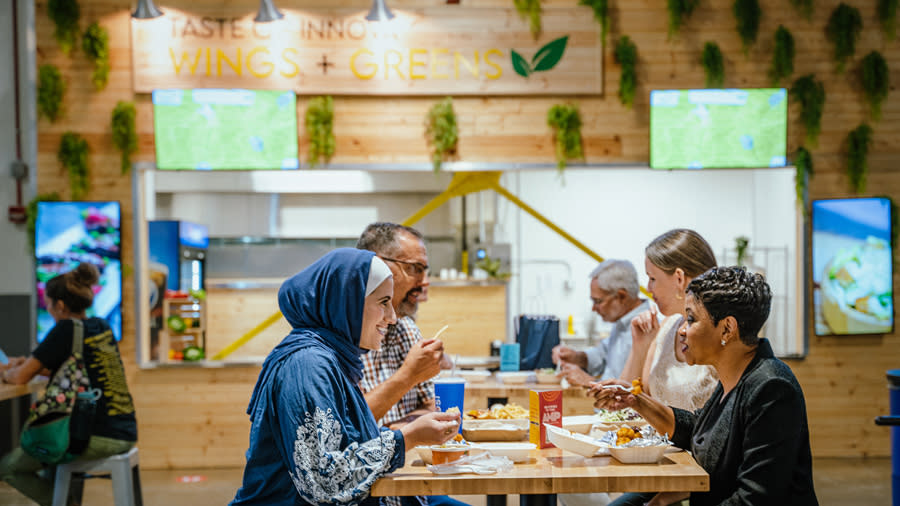 Located near universities and medical facilities, and home to corporate offices, flexible workspaces, and artisan studios is the 50 acre 16 Tech Innovation District, designed to nurture creativity, ideas, research, and entrepreneurism. All that no doubt works up an appetite, so it's a good thing the AMP (Artisinal Marketplace) is also part of the mix. A former service bay for the Indianapolis Water Company was refurbished into this restaurant incubator/food court. Chefs can test restaurant concepts; diners will find stalls dishing up seafood, pizza, sandwiches, coffee, and pastries. And one vendor, Melon Kitchen, acts as an accelerator to help Black chefs build scalable virtual eateries.
A ghost kitchen, Melon lowers restaurant startup costs and uses third-party delivery systems to ferry food to those who order online. The goal is the create jobs, help reverse some of the effects of COVID-19, and, should a restaurateur develop a successful concept, replicate that idea across the country.
Written by Laura Kruty, Indianapolis Monthly