Breweries
Indy was recently voted a Top Five Beer City by readers of USA Today. If you want to start exploring, the Indy Craft Pass is an ideal way to begin your journey while earning rewards. Ranging from small taprooms to large warehouses, each brewery is very different, offering a pint for every palate. Cheers to drinking local!

Tours
Indy Pedal Pubs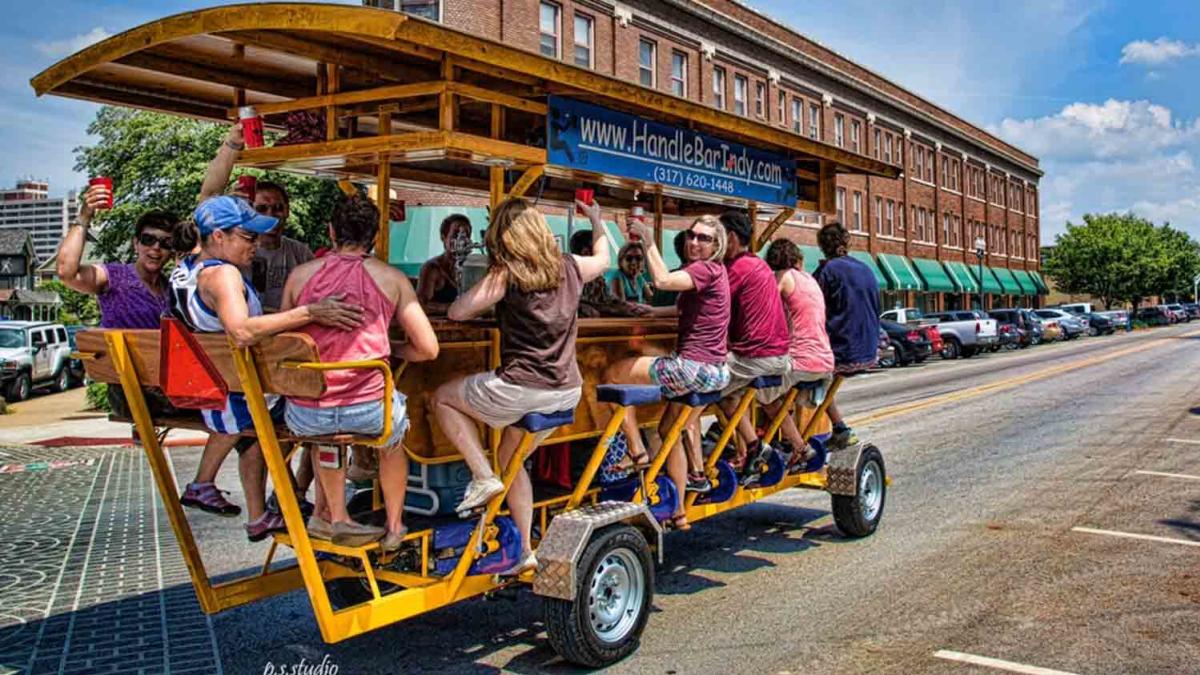 Bring your own bar with Indy's pedal-powered pub's on wheels! The HandleBar operates 15-seat vehicles that you can rent (and BYOB) for two-hour tours with your friends on the streets of Indianapolis. Similarly, the Pickled Peddler offers 12-passenger bikes with LED lights, sound systems, and pedal assist for exploring Indy.
Drinking with Beers
Indy's only Cicerone-guided beer and brewery tours. Join beer expert Amy Beers on Indy's most fun and unique drinking adventures! Explore history and culture while sampling a carefully curated beer list at a variety of local establishments in the city's trendiest neighborhoods.
Breweries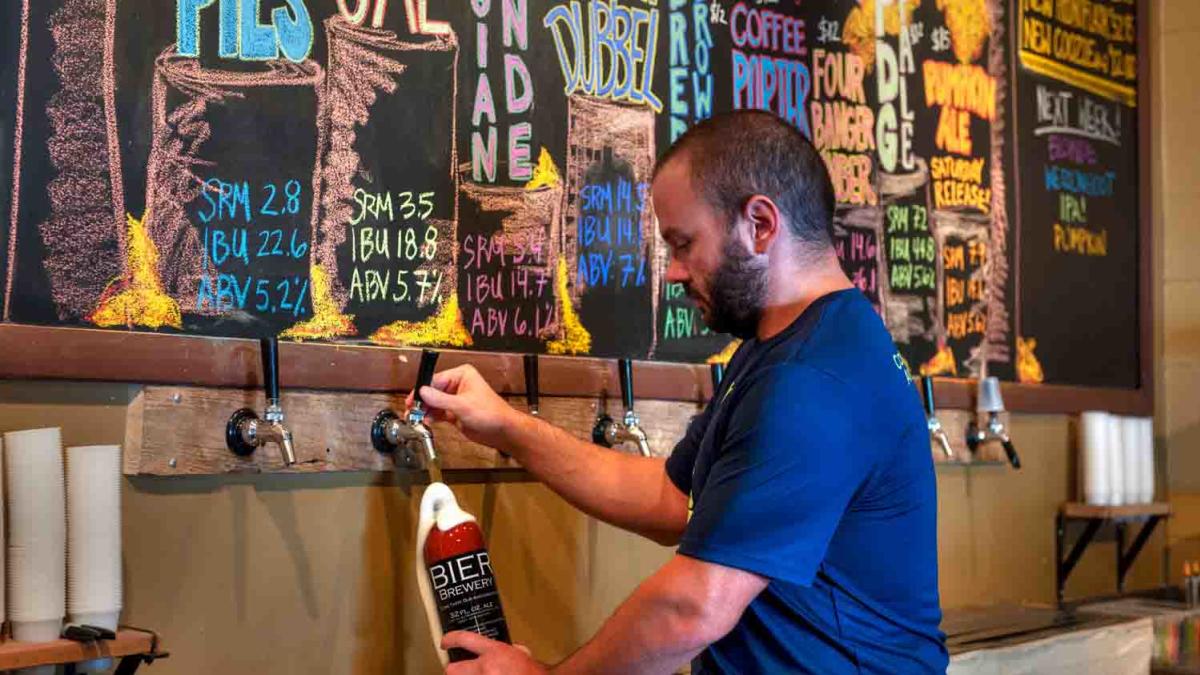 You'll never walk into this northeast Indy brewery and see the same menu twice. Bier Brewery, a father-son affair, serves up over 100 different brews annually while keeping the regulars satisfied with their ever-present Obi-Wan Kenobi décor.
Big Lug was inspired by the foods, beers, and spirits that two self-identifying "big lugs" like to eat and drink. Located just off the Monon Trail in Nora, the relaxed vibe makes this a great place to enjoy the solid grub menu and no-nonsense brews. Enjoy the patio and outdoor bar when the weather allows. Big Lug beers can also be found at Liter House/Half Liter off the Monon Trail in the Sobro neighborhood.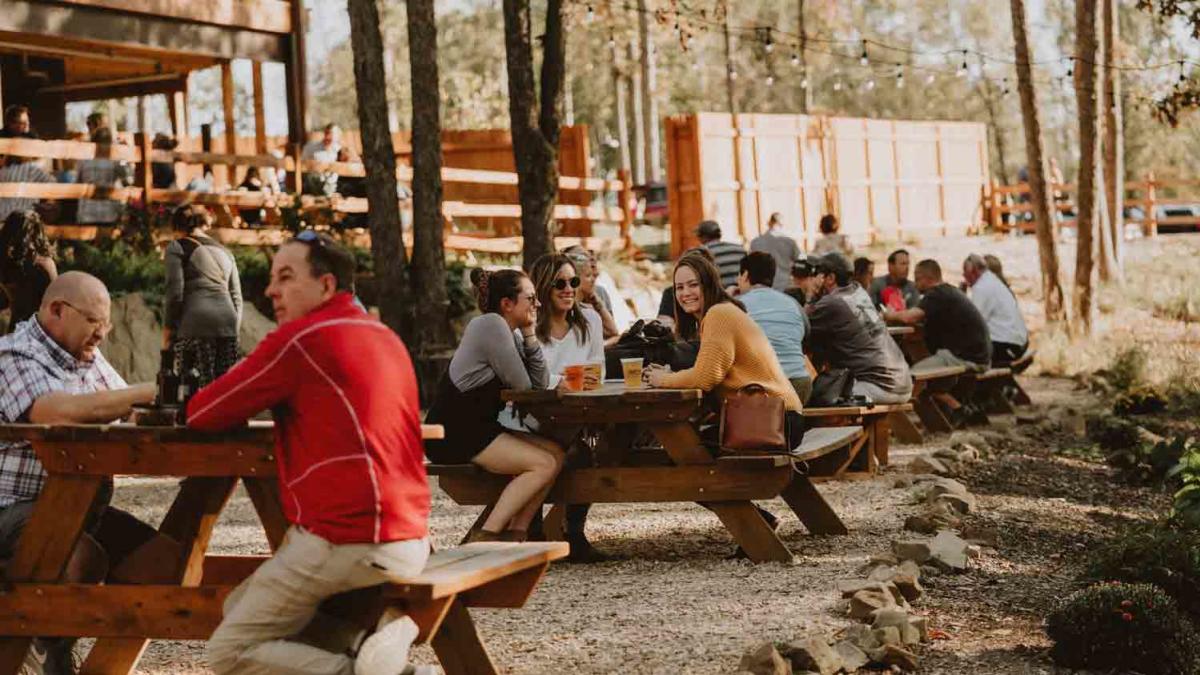 To drink heartily and with gusto is to "quaff" and Quaff On! Brewing Co. (supplying beer to all Big Woods locations) abides by that approach when it comes to creating their line of flagship, seasonal, and specialty brews. Big Woods has multiple locations surrounding Indy including Big Woods Speedway, Big Woods Franklin, Big Woods Noblesville, Big Woods Bloomington, Big Woods Pizza - Edinburgh, and Big Woods Pizza - Nashville. Additionally, Hard Truth Restaurant is a must-visit destination experience that is well worth the drive to Brown County for tours and an idyllic setting (pictured). Hard Truth also has outposts closer to Indy at The Garage at Bottleworks and The Fashion Mall.
Black Circle focuses on quality local craft offerings and brewing our own ultra small-batch versions of their favorite beer styles. A full menu is always available, whether you visit for the brews, live music, movies, or other entertainment. Don't forget your quarters for the vintage arcade games.
With a slogan like "16 taps and no crap," you know you're getting a great craft beer. On Indy's southwest side, Black Swan's menu of comfort food with a twist pairs perfectly with a bold pint. The five-barrel brewhouse turns out porters to pale ales and everything in between.
A family friendly gastropub just east of Broad Ripple, Blind Owl has 26 taps (six are for their own) and a variety of comfort food using items from the next door garden. On-site beehives produce the honey flavoring the browns. Enjoy a pint on the outdoor patio while playing bocce ball and corn hole or warm up next to the cozy fire pits.
When you want to read, drink, play games, and converse, join the crowd at these unique half bookstores/half brewpubs. Reading material is priced low, beers have literary tie-ins like A Clockwork Orange Wheat and A Man For All Saisons, and food is fresh and locally sourced.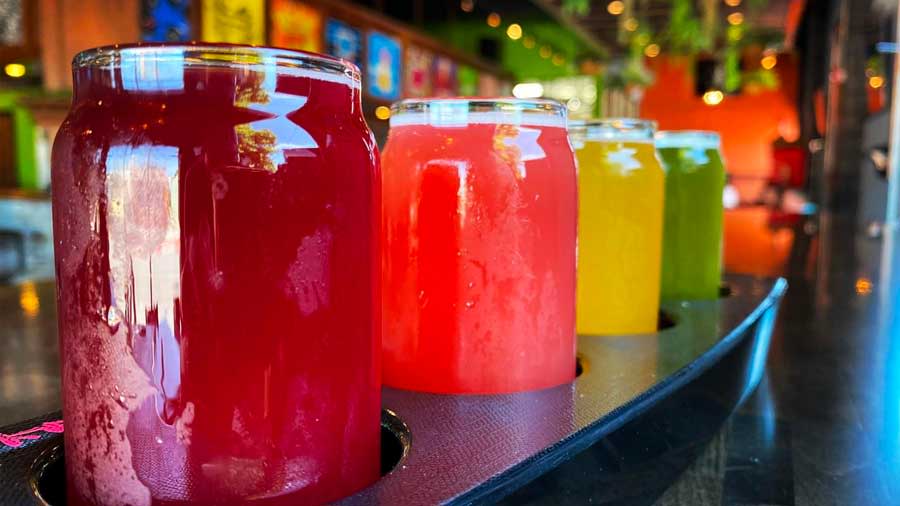 After years of successfully helping others find the path to home brewing through their supply shop, Brew Link is now a fully operational brewery offering community-inspired and community-driven craft beers at two locations -- Downtown Indy and Plainfield. They offer innovative food menus, a variety of award-winning beer, wine, and inventive cocktails all in a family-friendly environment.
The brewery that started it all. When you step into the Broad Ripple Brew Pub (Indy's first, we might add), the décor, complete with dark wood paneling and one of the coziest fire pits in the Village, will transport you to a neighborhood English pub. Do yourself a favor and order the beer cheese crock, the pub's specialty!
Our beers are engineered for everyone. Strong attention to detail finds the perfect balance among raw ingredients to produce balanced and approachable beers that appeal to craft beer geeks as well as casual drinkers. Core beers include our gold "beer-flavored beer," a smooth porter, and our hoppy red IPA.
Fletcher Place, just south of downtown, is home to this urban brewpub featuring great food – try Skip's Balls, you won't be disappointed – and excellent brews created at the experienced hands of the owner and head brewer. Live music is also a focus.
It's all about the beer. The wicked awesome beer. In the heart of the Village of West Clay, Danny Boy keeps 10 taps flowing with their own brews and features 30 guest taps to tempt you. The crew has passion, experience, and enthusiasm when it comes to creating new beers and perfecting iconic styles.
Located just five blocks from the speedway, this brewery features fun and eclectic beers with an atmosphere to match. Here you can visit the taproom to try a wide array of craft beers, or you can step outside onto the 8,000 sq. ft. patio and enjoy some sunshine and live music. Feel free to bring in any food to enjoy while you sip, but please, leave the drinks to the Daredevils.
Come to Noblesville to sample up to 18 house beers. Hang out for a while and order food from a neighboring restaurant, or take home a four-pack of one of your favorites.
This northwest side brewery has a mantra which gives it its name: deviate from the norm. The owners believe craft beer should be fun, not be confined by traditions, and always push the envelope. The awards they won as home brewers are proof that mantra works.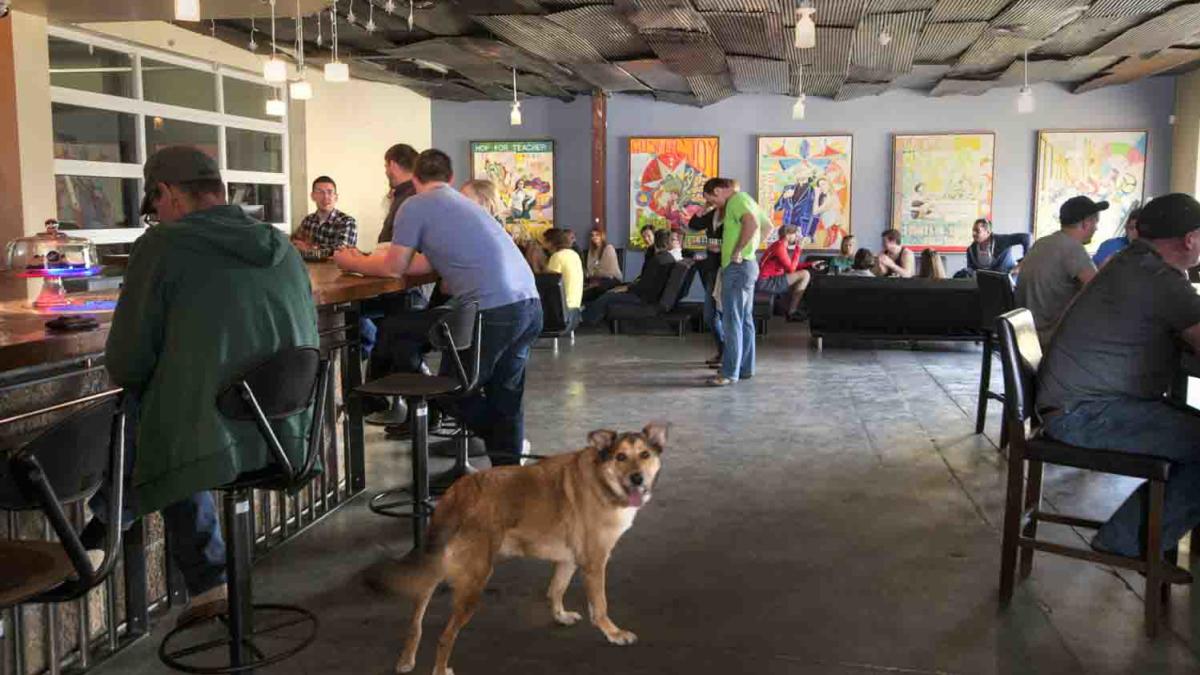 It all started when a couple of chemists put their heads (and passion!) together to do one thing: craft great beer. Located in the hip, funky Fountain Square Cultural District, the owners converted an old warehouse into a most dazzling soda pop fountain-esque brewery.

Carpe beer! With a name derived from long-ago, hard-working railroad workers in their home in the Nickel Plate District in Fishers, this brewery believes you've earned a good pint. Core beers include a blonde, Scottish ale, IPA, and stout; all of which serve well with a menu including candied pork belly, smoked duck, and banh mi.
This neighborhood brewery, located in the heart of Garfield Park, serves well-balanced and approachable craft beers like our Ticklebelly strawberry ale, The Dink dunkelweizen, and Conservatory IPA. Snack on pretzels, hot dogs, and more, enjoy nice weather on the patio, and feel free to bring your pups.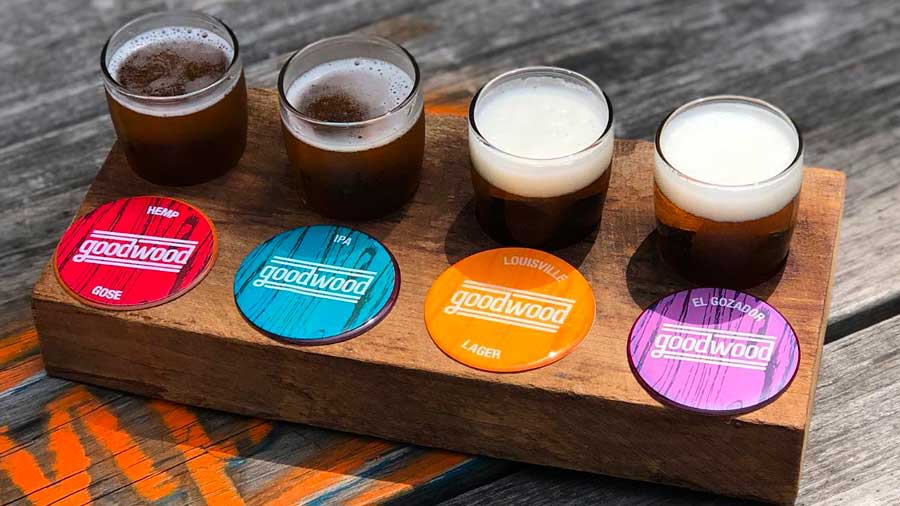 Founded in Louisville, KY, Goodwood has perfected the marriage of barrel aging and beers since 2005. Core brews include Louisville Lager, Goodwood IPA, Bourbon Barrel Stout, Tart N' Tempered, and Walnut Brown Ale. Their spirit selection is ready for cocktails and the scratch kitchen has a diverse menu with a special love for southern classics with a twist. Don't miss the house made sauces, many of which are infused with their beers.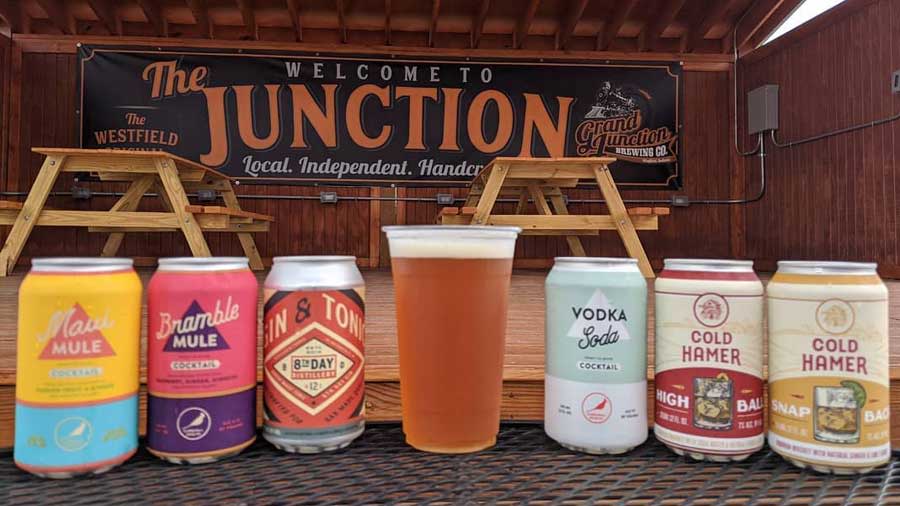 Grand Junction Brewing Co. specializes in local, independent, handcrafted beer. Built out of a strong English heritage, Westfield's Grand Junction is focused on brewing traditional, true-to-style beers with a heavy European influence. Their outdoor stage regularly hosts live performances and the BBQ is not to be missed. Find Grand Junction near the Grand Park Sports Complex and just off the Monon Trail in Westfield.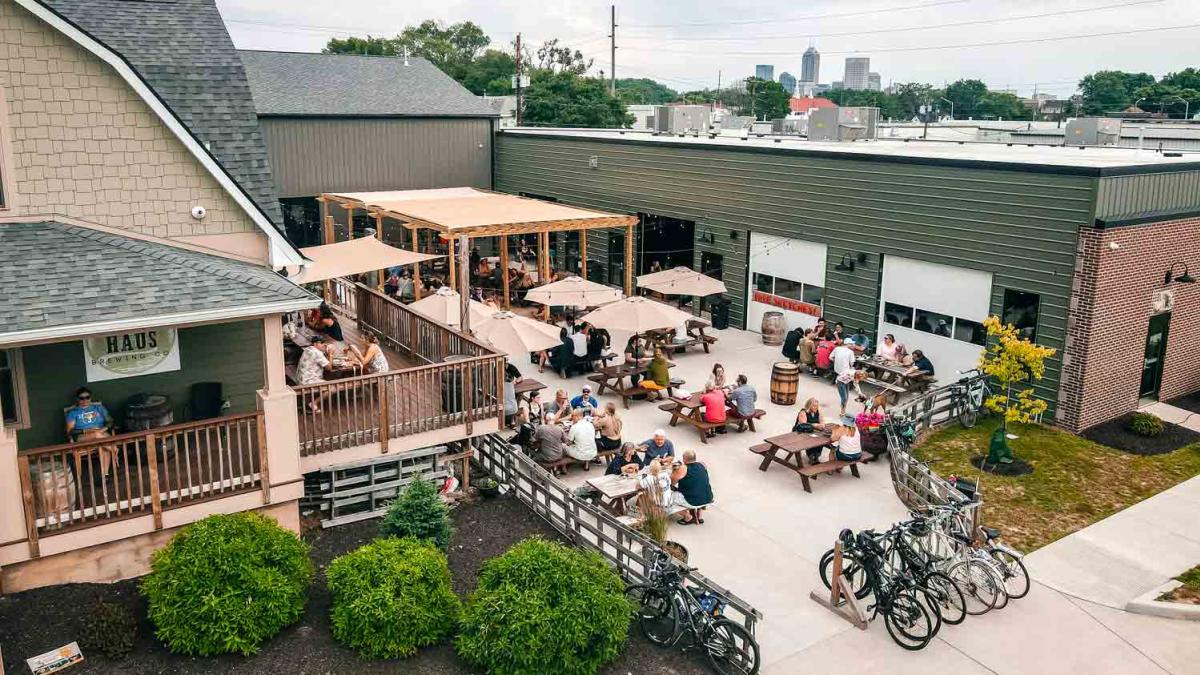 Guggman Haus is a family-friendly, locally-owned microbrewery located just northwest of Downtown Indy. They offer over 15 brews on tap, a walk-up kitchen with full menu, Boyle Racing Shop with racing memorabilia from the '30s and '40s, along with a year-round spacious beer garden and several private event spaces.
A group of homegrown, hardcore brewers with a goal of creating the best beer with the highest quality local ingredients, the crew at Hoosier Brewing serves solid recipes like Red Flyer, Hoosier Ale, and Hospitality IPA.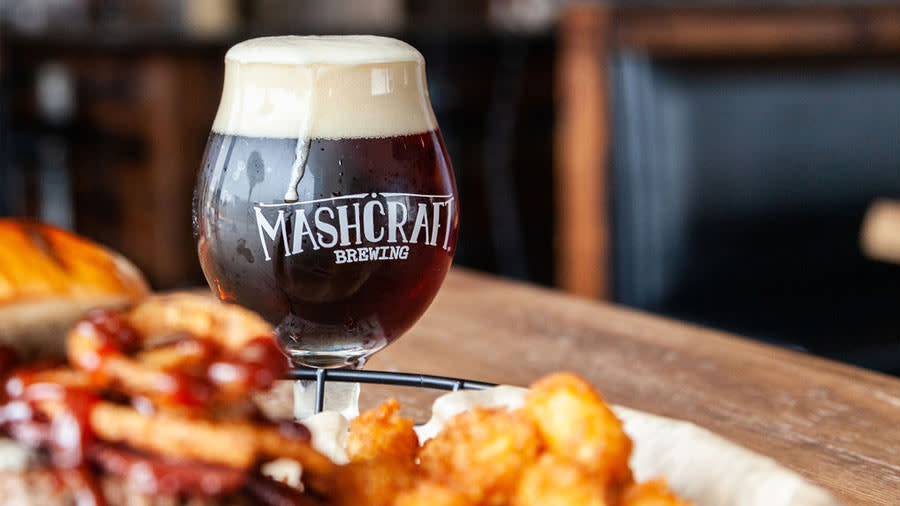 A high-quality variety of hand-crafted beers is brewed and served in the three Indy area locations. Whether you want big hops, maltiness, or something crisp and clean, you'll find a brew with a balance of the finest ingredients. Regulars include gold, red, and IPA. Check out their tasting rooms in downtown, Greenwood, and Fishers.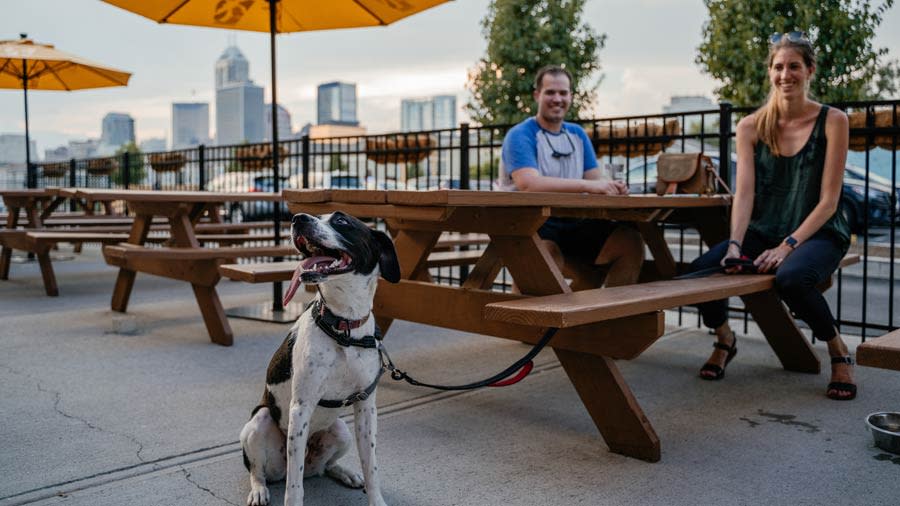 Metazoa wants your love of craft beer to translate into help for animals. The brewery donates 5% of its profits to worthy organizations, so drink up! The tap room is pet friendly, of course, but those under 21 are not allowed. Seven house beers join a wide variety of seasonals to offer traditional ales as well as experimental brews.
Award-winning food and beer make this Greenwood (south of Indy) spot a must-visit brewpub. Producing fresh ales on-site in small batches since 1999, Oaken Barrel has a cozy family dining area, a bar area hopping with sports of all types on the TVs, six standard house ales and a steady stream of specialty beers which keep customers lined up for new releases.
This two-barrel nanobrewery in Greenwood provides "an otherworldly experience" for tap room visitors with an ever-changing lineup of supremely crafted ales. Armed with a library of recipes, they offer 3-4 brews each week. A tasting room is coming soon, but for now you can enjoy samples and carry out fills.
CEO and brewer Elise Lane brings girl-power to the Indy brewing scene with five locations. Beers are inspired from spending years in the Northwest, and Scarlet Lane prides itself on having experts available to not only serve an incredible selection of brews, but to share beer knowledge.
Shale Creek Brewing
South of Indy, Franklin's first brewery features around 10 house ales as well as guest taps with beers and ciders and a full bar with plenty of bourbon. An on-site restaurant serves your food needs and live entertainment is frequently available.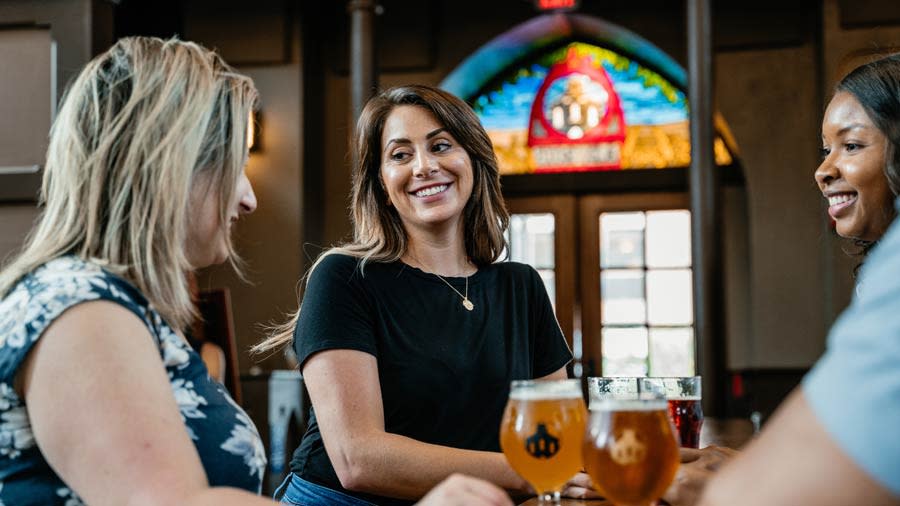 If you're looking for a truly unique experience, nothing can beat sipping on a brew in what was once a catholic church. The large and beautiful space of St. Joseph's church has been turned into a brewery and restaurant for diners and beer connoisseurs alike. Floor-to-ceiling windows give you a little something extra to look at while you try some cleverly-named brews, like the slightly-spiced Sanctuary Saison and the Confessional IPA.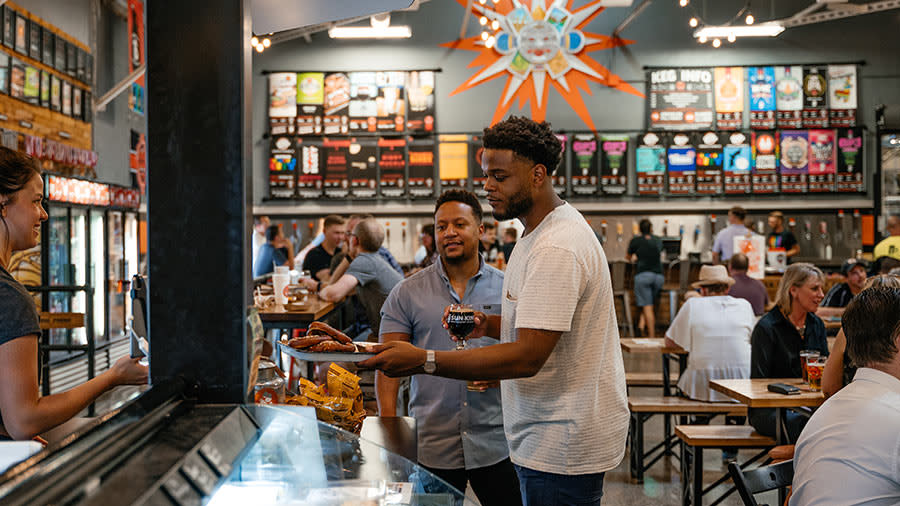 Sun King has quickly become Indy's largest craft microbrewery, producing nearly 25,000 barrels a year. It is also our most awarded having won more medals than any brewery in the U.S. at the 2020 Great American Beer Festival. Drop in at their flagship brewery Downtown, in Fishers, or their Carmel Distillery for a packed house, growler fills, and free tastings. You can also grab a pint pre-flight thanks to their newest location in the Indianapolis International Airport.
This brewery and craft beer bar on Mass Ave has one of the state's largest selections of small-batch brews. With a regular rotation of 90 taps (including 20 originals brewed on site) and 400 bottles, as well as blended drafts (multiple beers combined), beer shots, and wine, there is no shortage of drinks. Pair your tasty beverage with the famous Tap Fries, sliders, or pizza from the pub fare menu.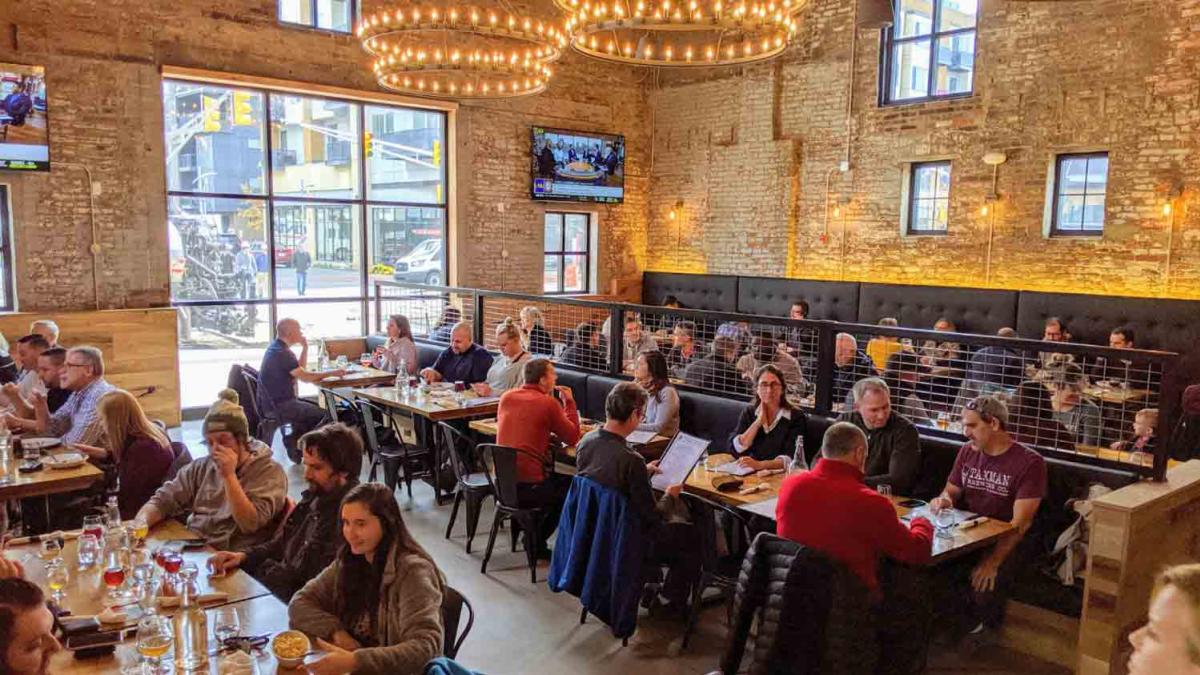 Taxman's three locations are all committed to producing the best Belgian-inspired artisan ales. The passion extends to food, travel, and friendship, which are all evident in the restaurants. The original location south of Indy in Taxman Bargersville is truly a gastropub modeled on those in Europe. Taxman Fortville, northwest of the city, is home to the brasserie. Taxman's newest location at Taxman CityWay in downtown Indy is a gastropub and beer garden in an 1850s renovated livery building.
With a spacious tasting room and a glorious outdoor patio, the location at Fort Benjamin Harrison is one heck of a place to bring a group. Serving more than a dozen house brews, as well as a variety of guests beers, you'll also find plenty of fooc options at the Bistro. Triton's special reverse osmosis filtration system ensures better water, hence better beer.
This craft beer bar/restaurant in Broad Ripple houses Twenty Below Brewing in the basement producing seasonal and experimental brews that fill several of the taps upstairs. That leaves nearly 40 taps for guests beers of all styles! And don't leave without enjoying a meal including beer-battered cheese curds!
Union serves real ales hand crafted two barrels at a time using time-honored traditions and natural ingredients. We really like beer and we love cask-conditioned real ales. We think you will, too!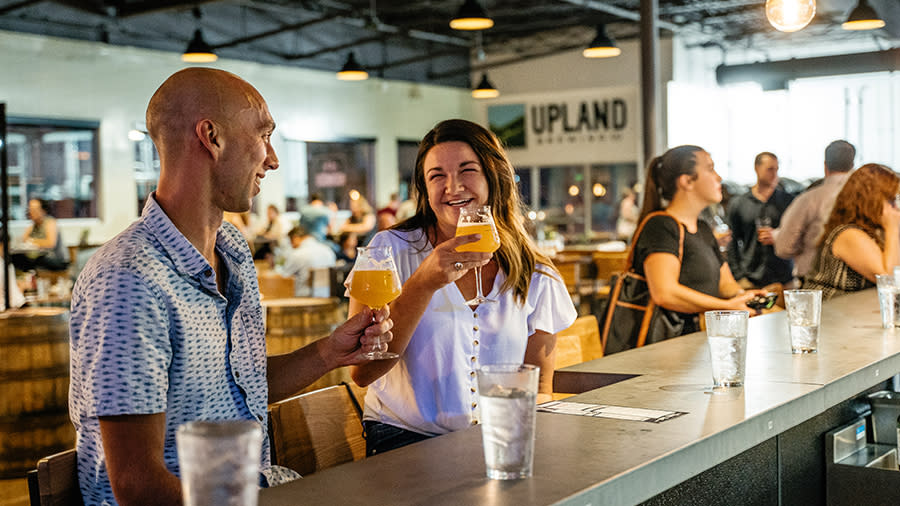 Upland's newest brewery in Fountain Square is a spacious beer hall with an outdoor beer garden perfect for warm nights. The relaxed and artsy feel of the SoBro tasting room will make you feel like you're in a cozy coffee shop, except with beer and board games at your fingertips. The Carmel Tap House features a full line-up of Upland's craft beers and a menu of made-from-scratch dishes. While based out of and brewed in Bloomington, Upland was a pioneer in Indiana's craft beer scene and has always been an Indy favorite.
Greenfield's first brewery is a family-friendly space with a laid back atmosphere. Drop in to try their variety of hand-crafted beers like Growl at the Moon and Cougar Town Brown with a menu that includes jalapeno IPA hummus!