Wineries
The Indy area is a great place to wine down. When you're ready to make a pour decision, have a look at our guide to the variety of varietals, from red to white to rosé, from mead to cider, that make a case for a road trip of tasting.


Ash & Elm makes complex and balanced ciders that are never from concentrate and are naturally gluten-free. Each cider - from traditional heirloom-apple blends to more modern and esoteric styles - uses fresh-pressed apple juice and all-natural ingredients like hand-peeled lemons, real fruit infusions, and crushed, toasted, and blended whole spices. Talk with the knowledgeable bar staff, try a flight to find your favorite style, and enjoy a scratch-made meal while you're at it.
Brandywine was born from a home winemaking project with an acre of grapevines and has grown to 5 acres at 2 locations in Shelby County producing many different varietals. Taste inside or on the patio, and come for live music and painting classes to add to your experience.
Award-winning wines populate the tasting room southeast of Indy. More than 3,000 grapevines sprawl over 4.5 acres - many stemming from the original plantings in 1991 - and produce more than 30 different wines. Live music fills the air during spring and summer evenings.
With a beautiful event space, this hidden gem in Martinsville is the perfect place to have a drink at the creek. There's live music when weather permits, beers, spirits, cigars, and wines from dry and barrel-aged, to semisweet, sweet, and dessert.
Combining modern, casual dining with award-winning, handcrafted wines, Cooper's Hawk sources the highest-quality grapes for the wines you can sample in the tasting room or enjoy in the dining room with contemporary American dishes.
Located in Noblesville, Country Moon is a beautiful setting for more than just wine tasting. Nature paths wind through wildflowers in the spring and leaves in the fall, the Butterfly Garden flutters with life, and from the back patio you can see rows of grapevines. Country Moon offers several opportunities for unique gathering spaces.

Northeast of Indy in McCordsville, Daniel's is a full-production winery and event venue offering a portfolio of 15 high-quality wines. Vineyard views add to any tasting experience, and the winery is open for a wide variety of family-friendly events year-round like trivia, movies, concerts, and themed parties. Food is also available.

With over 40 years making award-winning wines, Easley's family-owned business produces something everyone will love. Located right downtown, it's easy to stop in for tours and tastings of Indiana champagne, Reggae and Sweet Tulip wines, and seasonal specialties like warm mulled wine. Also a perfect spot for outdoor live music in the warmer months.
Travel east to Knightstown to explore a unique selection of wines rich in flavor and pleasing to any palette. Using grapes and juices from around the world, Harmony produces dry, sweet, dessert, and fruit wines, both white and red.
In the heart of Zionsville, Hopwood consistently serves award-winning wines to customers. Made from the best grapes in Indiana, Ohio, and Michigan, they have won more than 117 medals and trophies for everything from big dry reds to sweet fruity wines. Food bites and live music available.

Mallow Run embraces the farm roots of the land on which their grapes grow. Travel 20 minutes south of downtown Indy for award-winning wines, concerts on the lawn, themed festivals, warm soup during the colder months, and the rustic setting among 8 acres of lush vineyards.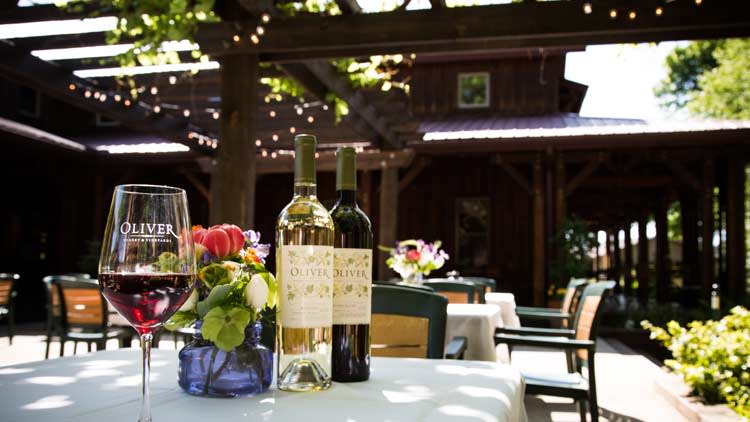 Oliver believes great wine is about more than just the craft - it's the experience and the people you share it with, too. Indiana's oldest and largest winery is known for producing award-winning wines with fruit-forward character. Purchase wine by the case or bottle, shop for gourmet food items and unique gifts, explore beautiful gardens, and enjoy a picnic on the patio or in the park-like hillside picnic area.

With locations on Mass Ave, in Carmel's Arts and Design District, and at The Yard in Fishers, Peace Water is spreading California vibes in Indy. All wines are handcrafted in Napa Valley (Sonoma's fog-laden Russian River Valley, bayside in Carneros, and 2,000 feet above the valley at Howell Mountain Vineyard) and brought back here for locals to enjoy.
This winery in Columbus, about an hour south of Indy, shares space with 450 North Brewery. As well as having beautiful event space, the winery offers 27 varieties from dry to sweet and sparkling. The fertile soil of the 12-acre vineyard allows great growth of French-American hybrid grapes.
This boutique winery produces approachable, artisanal vegan wines: semi-sweet, sweet, white, dry, blends, red, rose, and limited editions like ruby red port and sparkling white. The black, female-owned business seeks to create unity through wines we can all sip, share, and enjoy.
Carmel's Sugar Creek takes inspiration from outdoor life and invites you to discover Indiana-grown and made wines like Chambourcin, Marquette, Traminette, as well as wines made from grapes sourced from California, New York, Oregon, and South America. There's something for everyone, from the new wine drinker to a more seasoned enthusiast. In addition to live music, the winery also hosts trivia, crafts, and more.
Urban Vines in Westfield thinks high-quality fruit (grapes, strawberries, apples, berries) creates award-winning, small-batch wines. They let the wine do the talking, while artisanal pizzas and award-winning charcuterie boards pair well with your beverage of choice. Come for live music on the weekends, the occasional trivia contest, and enjoy the outdoors with firepits and igloos.