Indianapolis Arts & Culture Group Tour Ideas
Artistic Encounters
In Indy, artistic masterpieces abound at inspiring museums and places that showcase the love of art. For an artistic adventure, Indy paints a beautiful portrait. Check out these suggestions to experience the best of Indy's artistic encounters. 
---
Attractions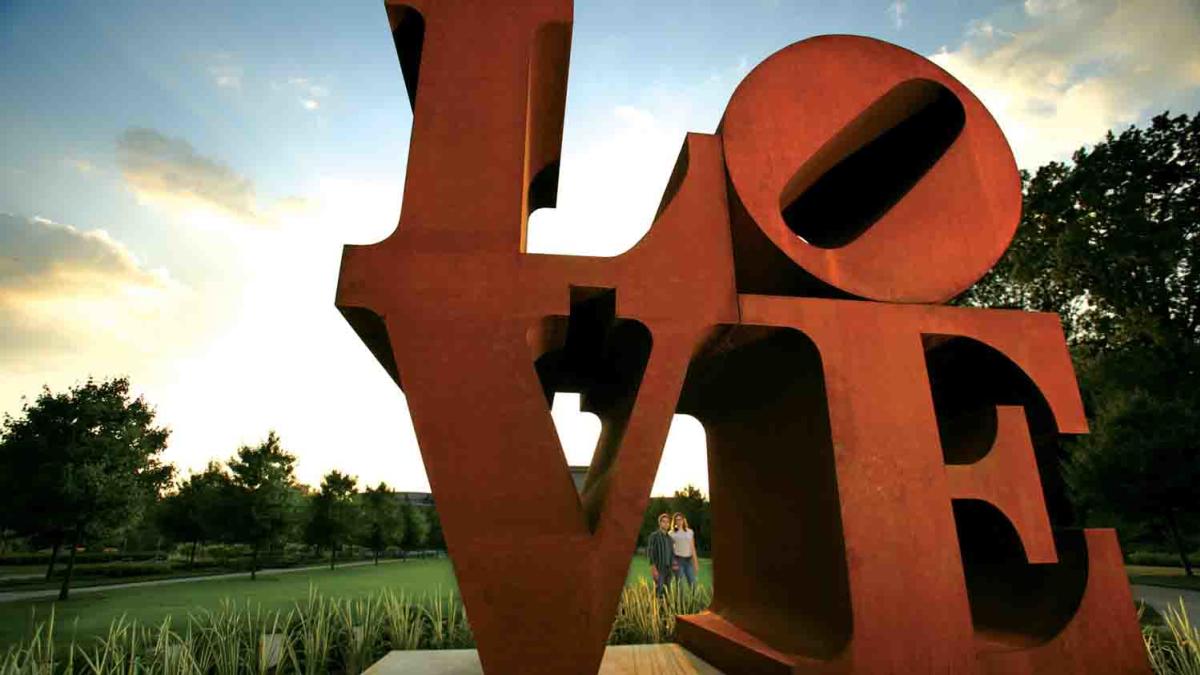 Indianapolis Museum of Art at Newfields — one of the nation's most visited and respected general art museums showcases extraordinary classical, contemporary, African, Asian, textile and fashion collections. The IMA rests on 152 glorious acres. Tour Oldfields Lilly House and Gardens, an historic estate and house museum. Stroll through the spectacular outdoor experience 100 Acres: The Virginia B. Fairbanks Art & Nature Park. (2-3 hours)
Eiteljorg Museum of American Indians and Western Art — a stunning museum with collections depicting the art and culture of Native Americans and the West. Georgia O'Keeffe, Frederic Remington, Charles Russell and Kay WalkingStick are among featured artists. (1-2 hours)
The Children's Museum of Indianapolis — inside the world's largest children's museum discover the world's largest Dale Chihuly glass sculpture, Fireworks of Glass. In the Power of Children, learn the gripping stories of courageous children fighting discrimination, including Anne Frank, Ryan White, and Ruby Bridges. (1 hour)
Indianapolis Art Center — in the "bohemian" village of Broad Ripple, the Art Center showcases exciting artwork from locals in a beautiful Michael Graves designed building. Just outside is ArtsPark, a nine-acre "creativity" garden with sculptures and public art, connected to the most popular greenway in Indy, the Monon Trail.
Indianapolis Museum of Contemporary Art (IMOCA) — housed inside the Murphy Arts Center in trendy Fountain Square, IMOCA exhibits challenge, astonish, inspire, and cause conversation! While in Fountain Square, enjoy many local, independent eateries.
Art Bank — once a bank building, patrons now bank on extraordinary art exhibitions featuring 20 of Indy's area masters. Artists frequently are on premise to meet visitors. Located on Mass Ave near Best Chocolate in Town and other Indy-only shops.
Mass Ave Arts District — this five-block avenue is home to theaters, galleries, and unique shopping and dining experiences. Public art adorns each block.
---
Public Art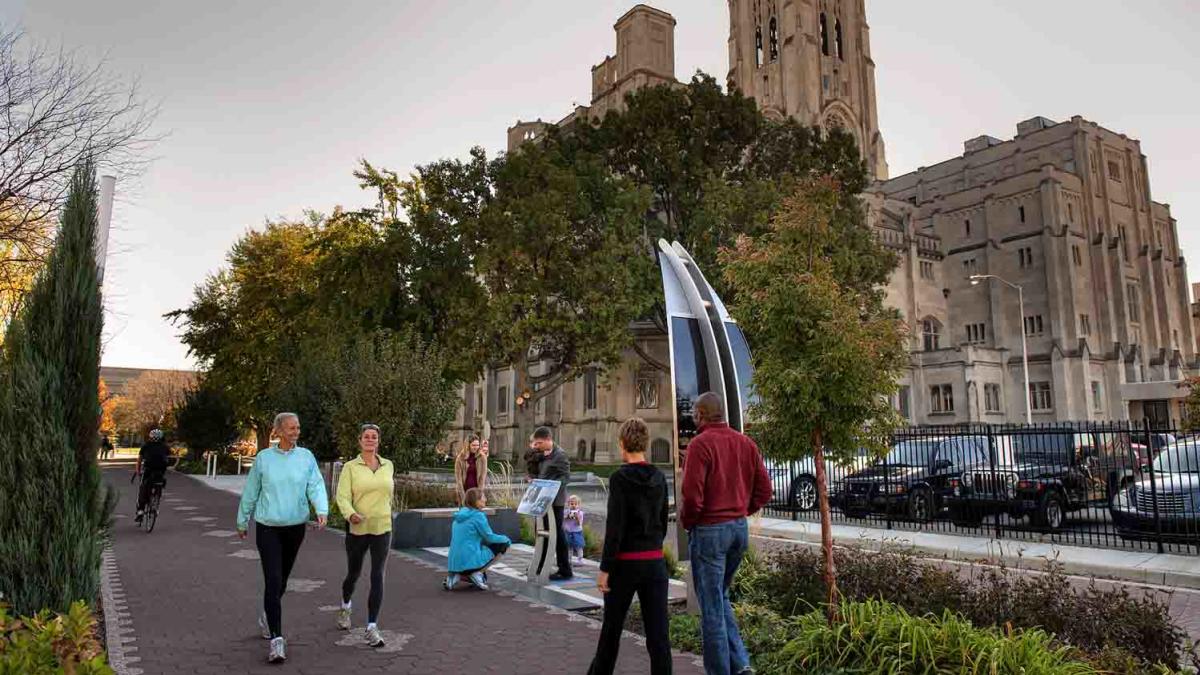 Throughout Indy you'll discover artwork integrated into the city's landscape.
---
Dining Suggestions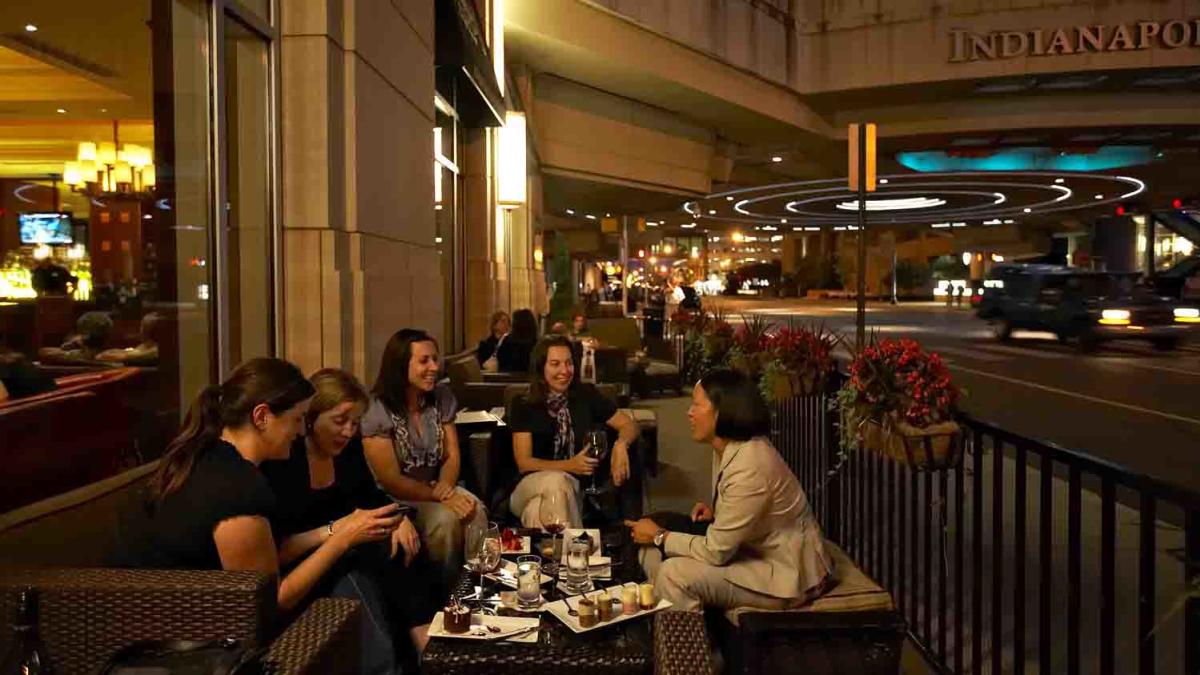 Tastings – A Wine Experience — this unique wine bar allows guests to sample more than 100 wines by tastings, glass or bottle. The wines may be joined with artisan cheese, bistro and tapas plates.
Provision — Located in The Ironworks Hotel, Provision offers contemporary American cuisine in a casually elegant atmosphere.
Skyline Club — the Skyline Club offers exceptional group-friendly dining (breakfast, lunch or dinner) from atop the 36th floor of the One America skyscraper.  Matching the spectacular views of Monument Circle - superior service to groups and flexible menus for all tours.
Mesh on Mass - an innovative, contemporary restaurant in the Mass Ave Cultural District, with indoor and outdoor dining for groups.
---
Please contact John Mellinger, Visitor Experience Manager/Information Specialist - Incoming Tours, for more detailed information about the venues and activities on this itinerary.