LGBTQ+ Local Guide
To many, the state of Indiana and its capital city itself are often regarded as flyover territory. The buckle on the Bible belt. Corn and soybeans and barns, oh my! To both the informed traveler and the cosmopolitan local, though, Indianapolis harbors a delightful array of options for cultural and culinary experiences.
The same is true of the city's offerings that openly cater to or welcome gay, lesbian, transgender, bisexual, and questioning (LGBTQ) individuals, be they locals or visitors. These features can be slightly more niche than general-interest attractions and establishments. But there's a key word there: slightly. Indy's LGBTQ-friendly spots range from beat-laden martini bars to low-key java havens, unassuming sandwich shops to packed-house music venues.
The cultural evolution in Indy, and in its Midwest sister cities and beyond, has it that many venues are no longer LGBTQ-exclusive, if ever they were. Instead, they're integrated. In the past few years, locals and visitors alike adopted a "come as you are, and bring your best people" mentality. They don't want to live in silos. They don't crave segregation of backgrounds. This fusion finds that they simply relish good times. If you don't believe us, just ask OUT Magazine, who recently named Indy one the best places to travel in 2018. 
Chew On This

This desire people have to get dinner and drinks, entertainment and experiences, among people from myriad backgrounds - without even thinking about it - is reflected in the city's venerable and burgeoning venues both. Indy denizens don't hold it close to their chests anymore that the city's culinary scene is booming. New eateries include Tinker Street on the border of Herron-Morton Place and Old Northside neighborhoods, which draws a blend of patrons every night. They've come alongside relative dining-out institutions such as Bluebeard (pictured) in Fletcher Place.
Many in the LGBTQ community pride themselves on having a sophisticated palate. They're adventurous. There's also the so-called meat-and-potatoes set within that community. (I know, as I've dated some of those people.) For those types - lovers of well-crafted pizzas, burgers, and chicken dishes - the likes of Mass Ave's Bru Burger and Goodfellas Pizzeria satiate the need. New to Fountain Square, Kuma's Corner does the same - with a heavy-metal motif (that Black Sabbath Burger!) and quite possibly The Most Polite Hirsute Bartenders You'll Ever Meet (certainly a niche category). 
Power Up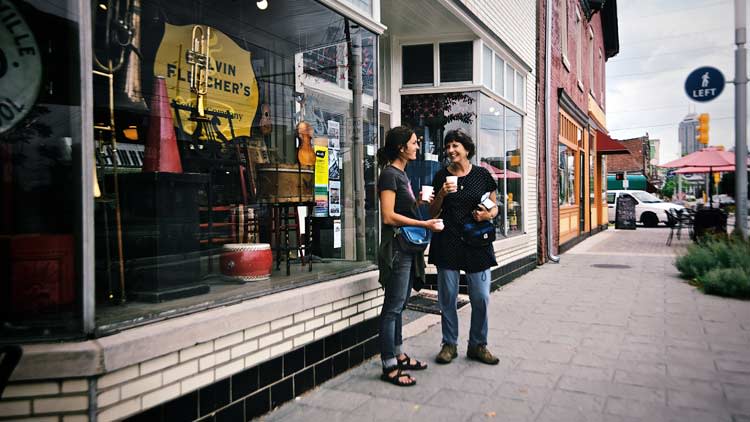 Let's be real: Most everyone's living and working at a frenetic pace these days. Every morning calls for a certain kind of "motor oil" to power through the day - namely, coffee and tea. Plus, when you're traveling or vacationing, the best way to wake up and greet the itinerary (or the open-ended urban spelunking!) can be with a cup o' joe. To that end, the likes of Calvin Fletcher's (pictured) in Fletcher Place, Foundry Provisions on the aforementioned Herron-Morton/Old Northside border, and Hubbard & Cravens spots in Broad Ripple and the Wholesale District downtown (a mere block south of Monument Circle) deliver strong and varied coffee flavors and cheery service. Calvin Fletcher's lands in the strongest lunch-coffee-dine-drink section of this trio. Foundry Provisions, near Herron High School, boasts a smart art-student scene similar to The Max on Saved by the Bell, in the best way, and the adjacent Tinker Coffee Co. stocks its shelves with great takeaway batches. Hubbard & Cravens puts out probably the best, purest coffee of this lot. Perennially gay-friendly, and at times gay-owned over the years, Henry's on East is a vibrant yet low-key coffeehouse and bistro around the corner from Mass Ave's weekday and nighttime hustle. Each of these greats greets and meets the needs of LGBTQ folks seeking to pour hot or cold java down their gullets, with assorted and remarkably fresh and tasty pastries in tow. Two words: joe local.
Here We Are Now, Entertain Us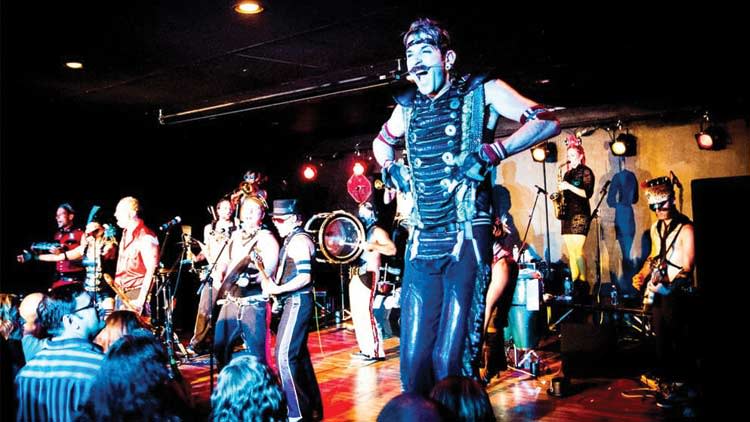 For straight-up LGBTQ entertainment - with a healthy dose of history - the Chris Gonzalez Library & Archives (opening in November in the Indianapolis Central Library) delivers a walk down memory lane that's chock-full of meaning. In the 1980s, Indy's heralded Bag Ladies group, the second-oldest organization of its kind nationwide, began performing to raise funds for HIV/AIDS relief among Hoosiers. That history and much more appears here. These archives are sobering and startling, invigorating and surprising, all at once. You'll feel and leave cultured and enriched for the experience, which is all anyone could ask of a museum or another such attraction.
Flipping the script, quite literally, the Kurt Vonnegut Museum and Library relishes in Indy son Vonnegut's fiendish humor and vaunted writings, from Slaughterhouse-Five to less widely read pieces well worth a second look. Vonnegut didn't often address LGBTQ culture or homosexuality at large, but he would have supported Indiana's same-sex marriage and civil-rights updates by delivering his patented, sharp jeremiads. And he did offer this hilarious (if you understand his cynical, acerbic humor) quote for all of time: "Here is a lesson in creative writing. First rule: Do not use semicolons. They are transvestite hermaphrodites representing absolutely nothing. All they do is show you've been to college."
Speaking to the city's integrated culture, the burlesque shows and club-sized band dates at White Rabbit Cabaret and Radio Radio, both in Fountain Square, feature performers ranging from homegrown acts to international stars-in-waiting. LGBTQ-friendly and-featuring groups such as Angel Burlesque and IndyProv (a "sketchy comedy" troupe) often play White Rabbit. Grassroots music also plays into the lineup at the Hi-Fi, newer and prominent in the same district of town. Rock, folk, and hip-hop artists all alight upon that spot.
If it's a comedy of errors, in the best meaning of the phrase, you want, also consider CSz Indianapolis on Mass Ave, a slender room of a theater that (barely) contains the brimming personalities of the city's Comedy Sportz performers. Veterans including Claire Wilcher, Chad Woodward, and more sultans of sass put on a guffaw-inducing spectacular many times a month that's as good as any abdominal workout. The same can be said of nearby musical-and-play venues Phoenix Theatre and Theatre on the Square, which put on buzzed-about national shows with local and guest actors alike, as well as the work of lesser-known and Indy-abiding playwrights and scribes. A mention of LGBTQ-featuring performing arts in Indy must also include three tried-and-true organizations: Footlite Musicals in Herron-Morton Place, with decades of performances under its collective belt, the Pride of Indy Band & Color Guard, venerable and talented musicians and visual artists keen on preserving and documenting Indy's LGBTQ heritage while entertaining all comers, and the Indianapolis Men's Chorus, a volunteer chorus that gracefully interprets everything from classical, spiritual, Broadway, and world music with agility and panache.
With a spectrum of offerings deep and wide, the LGBTQ cultural scene in Indianapolis has an attraction for any and all travelers. Indy's easily navigated grid of one-way streets downtown makes for a compact and walkable experience. Surrounding neighborhoods and districts are populated with friendly and helpful locals eager to share their city with you. The times, they are always a-changin' - and that won't cease anytime soon. At press time, new features are in play, albeit with unreleased go-live dates. You can be sure that the LGBTQ community in Indianapolis will continue to collaborate, innovate, and entertain under an umbrella of pride, respect, laughter, and creativity. Come out and play!

By Jonathan Scott
Digital and Social Media Manager at Eli Lilly and Company
@jonscott81