Sports In Indiana
America's first sports commission started in Indianapolis and has resulted in the city hosting 450 national and international sporting events and being named the Amateur Sports Capital of the World.
---
Fast Facts
Home to the Indianapolis 500, the largest single-day sporting event in the world. 
Known as the Amateur Sports Capital of the World.
$4 billion economic impact since the inception of Indiana Sports Corp in 1979. 
Indy was the proud host city of Super Bowl XLVI.
Located in downtown Indy, the IU Natatorium is the largest indoor aquatic facility in the United States with a seating capacity of 4,700 and has hosted national level meets such as the Olympic Trials.
Indy is home to the National Collegiate Athletic Association (NCAA) headquarters. 
---
Big Players
Below are a selection of major sports organizations in Indiana. Learn more about Indy's thriving sports industry at IndianaSportsCorp.org.

---
Potential Speakers
Many industry leaders call Indy home. If you're looking for speakers for your next event, our team is here to help. Contact us to learn more.

---
In the News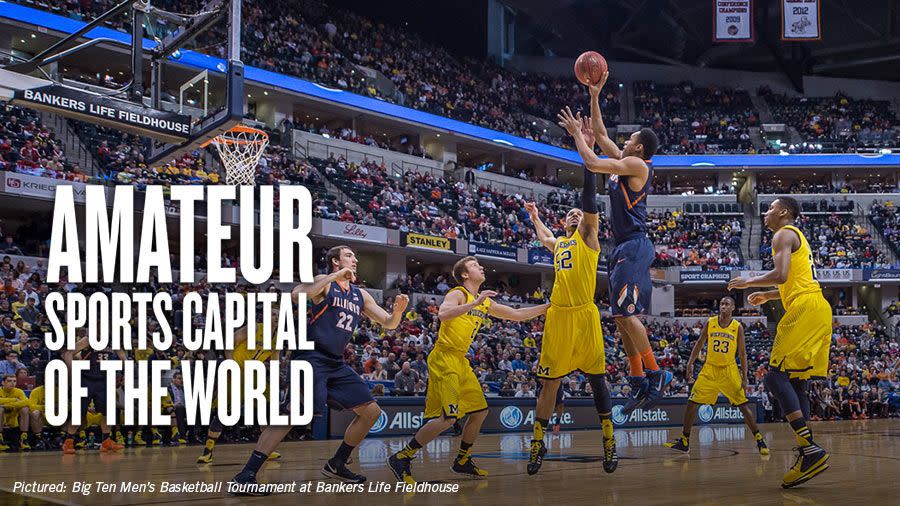 ---
Resources
---
Indy has an extensive history of hosting great sporting events, both large and small. Now is the time to submit your RFP for flexible rates and dates. Thanks for considering Indy for your sporting event.