LGBTQ+ Three Day Weekend
By: Andrew Collins
Long a prominent center of arts, culture, politics, and business, Indianapolis has more recently undertaken one of the most ambitious revitalizations in the Midwest. Downtown now abounds with new museums, sports stadiums, condos, and stylish restaurants and bars. There's a reason it's begun developing a reputation as one of America's most underrated destinations for gay and lesbian travelers. Each June, the city's well-attended LGBTQ+ Pride celebration draws thousands from throughout the region. To connect with LGBTQ+ business visit the Indy Rainbow Chamber of Commerce, which is made up of businesses that are owned by or supportive of the local LGBTQ+ community.
Here's a blueprint for planning the ideal three-day weekend in Indianapolis, plus a couple of tips for explorations farther afield, if you're able to extend your visit.
Day 1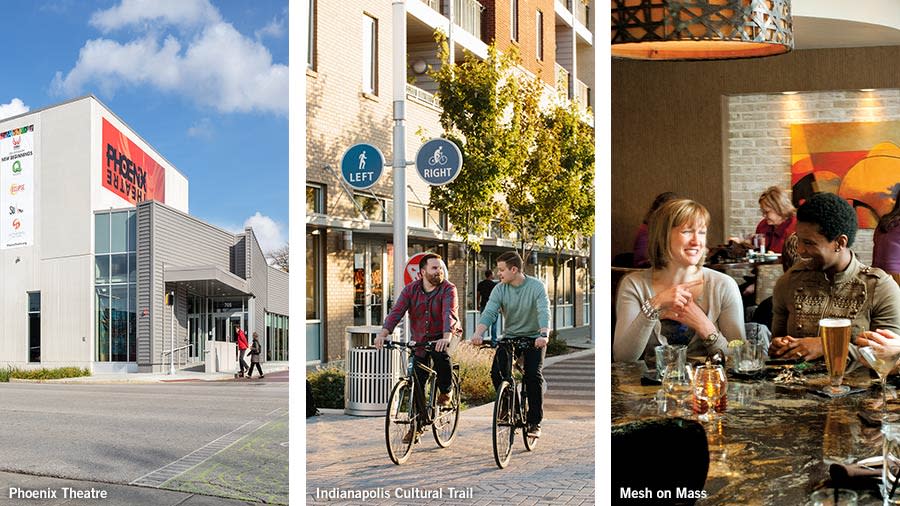 As soon as you arrive (or even beforehand, if you get the chance), check with your hotel concierge or consult the Visit Indy events calendar to see what kinds of concerts, plays, and cultural events are in town. The city has a terrific theater scene, with several venues downtown and in the gay-popular Mass Ave Arts District, including the iconic Indiana Repertory Theatre and such acclaimed venues as the Phoenix Theatre, Theatre on the Square, and the Indy Fringe theatre. Indianapolis also has highly acclaimed dance and music companies, including the Indianapolis City Ballet, Indianapolis Symphony Orchestra, and Indianapolis Opera.

This lively Mass Ave Arts District contains a number of businesses popular with the gay and lesbian community and is a great place to spend your first afternoon and evening - the neighborhood is also part of the Indianapolis Cultural Trail, a comprehensive 7.5-mile bike-and-pedestrian path that connects five key downtown districts (and links with the Monon Trail, north of downtown in trendy Broad Ripple Village). If you're interested in two-wheeling it around town, you can rent bikes at Wheel Fun Rentals in downtown's White River State Park or check out Pacers Bikeshare located along the Indianapolis Cultural Trail.

Back on Mass Avenue, if you're seeking an afternoon pick-me-up, drop by the beloved community coffeehouse, Henry's on East, and take some time to browse the neighborhood's funky shops. As evening approaches, enjoy cocktails or dinner at one of Mass Avenue's hip restaurants. Favorites include Forty Five Degrees, a popular spot for sushi and creative martinis and Mesh on Mass Ave, which turns out creatively prepared American bistro fare (the steak frites is a classic). Another fixture here, perfect for after-dinner cocktails and hobnobbing, is the always-festive Metro gay bar. For drag shows, consider Zonie's Closet or the White Rabbin Cabaret.
Day 2
On your second day, take some time to explore Indianapolis's bustling downtown, including the cultural heart of the city, White River State Park, with its several excellent museums. Start with breakfast at the superb Cafe Patachou - the Broken Yolk sandwich with fried eggs, cheddar, bacon, and avocado will fuel your day, along with a cup of artfully roasted organic coffee. Walk just a few blocks west to the park, home to the exceptionally good Eiteljorg Museum of American Indians and Western Art and the Indiana State Museum. A Pedestrian bridge leads across the White River to the Indianapolis Zoo, which houses more than 320 species of animals and also contains the glorious White River Gardens botanical park. From the park, you can follow the attractively landscaped and beautifully restored Indiana Central Canal back into downtown (it's a great route for jogging).

You'll find plenty of excellent lunch options near the park, including the Eiteljorg Museum Cafe, inside the Eiteljorg. Another excellent choice is Goose the Market, which is a short drive north of downtown but well worth the trip for the acclaimed sandwiches and exceptional artisan cheese and charcuterie plates (you can also sample and buy wines). You could also drop by the market earlier in the day and pick up a picnic lunch to savor back at the grounds of White River State Park.

After lunch, head into the heart of the city. Indianapolis is the nation's second-largest state capital, and downtown is anchored by the imposing 1888 Indiana State House - on weekends, you'll have to be content admiring the grounds, but free tours of the interior are given on weekdays. For a particularly memorable view of the capitol, head to nearby Monument Circle and its 284-foot-tall Soldiers and Sailors Monument (there's an observation tower at the top, and yes, you can reach this using an elevator). 

Downtown - as the hub of politicos and business power-brokers - abounds with superb restaurants, including the wonderfully atmospheric St. Elmo Steak House, which has been grilling hefty chops since 1902 and is justly famous for its eye-wateringly spicy shrimp cocktail. Tastings Wine Bar and Bistro, with more than 100 wines by the glass and excellent food for pairing, and Bluebeard, are a couple of other strong candidates for a fine meal. Or for a more casual and festive experience on the northern edge of downtown, gay-owned English Ivy's is a terrific spot to begin a night of bar-hopping, and Downtown Olly's is a friendly little sports bar and restaurant that's long been a favorite with the LGBTQ community.

Wherever you dine, Saturday night is ideal for hitting the gay clubs on the north side of the city. Hot spots around here include Greg's, one of the city's longest-running gay nightspots and a popular place for watching videos. Neighborhood joint Tini is another great option.
Day 3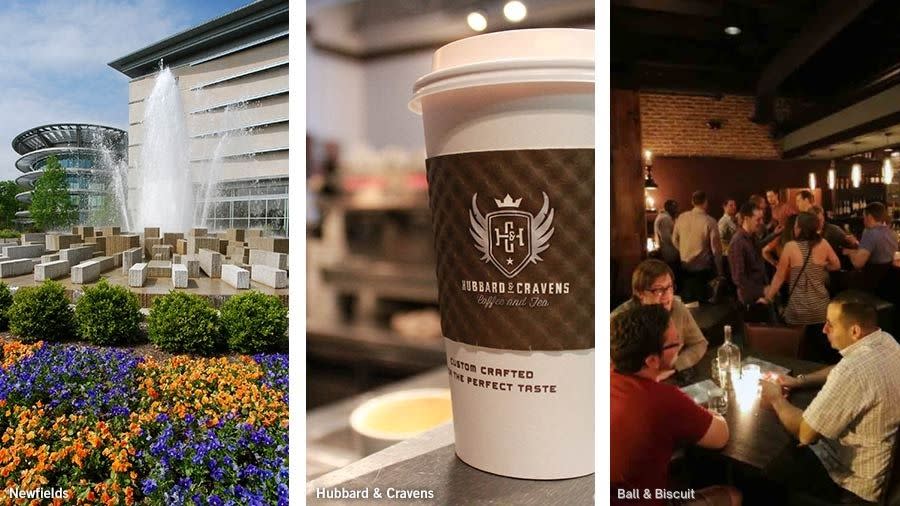 Devote some time on Sunday to visiting one of the city's most charming neighborhoods, Broad Ripple Village, a 10-mile drive north of downtown. On the way there or back, plan to spend at least an hour or two at the stellar Indianapolis Museum of Art at Newfields and its surrounding 100-acre Virginia B. Fairbanks Art & Nature Park and Oldfields-Lilly House & Gardens. The museum contains some 50,000 works of art, including an esteemed collection of American painting and sculpture that includes pieces by such noted LGBTQ artists as Marsden Hartley, John Singer Sargent, and local luminary Robert Indiana.

In Broad Ripple Village, you'll find diverting shops and boutiques, plus some excellent venues for Sunday brunch. Here, too, you can jog or bike the rails-to-trails Monon Trail. For brunch, consider 3 Sisters Cafe, where breakfast is available all day. Or for perfectly brewed coffee, stop inside dapper Hubbard & Cravens Coffee & Tea. While in the neighborhood, you might also book a rejuvenating treatment at the Spa at French Pharmacie.

You could always stick around Broad Ripple Village for dinner; Fire by the Monon offers entrees prepared over an open flame using indigenous hard woods and fruitwood. A few blocks away, you might even stop for a drink at the atmospherically old-school Red Key Tavern, a favorite hangout of late native son and novelist Kurt Vonnegut.

If you're still up for a bit of bar-hopping, try some of the city's mainstream nightspots, where you may not encounter too many fellow gay travelers, but you are sure to find an eclectic, friendly staff and great people-watching. Just about all of the bars along Mass Avenue have at least a bit of a GLBT presence - the cozy Ball & Biscuit is a favorite, renowned for its well-crafted cocktails and clubby vibe. A couple of blocks from Lucas Oil Stadium (home of the Colts), Tavern on South carries a great selection of the several exceptional beers brewed in Indiana, from Sun King Osiris to Mad Anthony Auburn Lager. And the Rooftop Garden, a cool rooftop hangout atop the eclectic Fountain Square Theater Building neighborhood, is especially fun on a warm evening, as it has ample outdoor seating.
Day 4 (and beyond)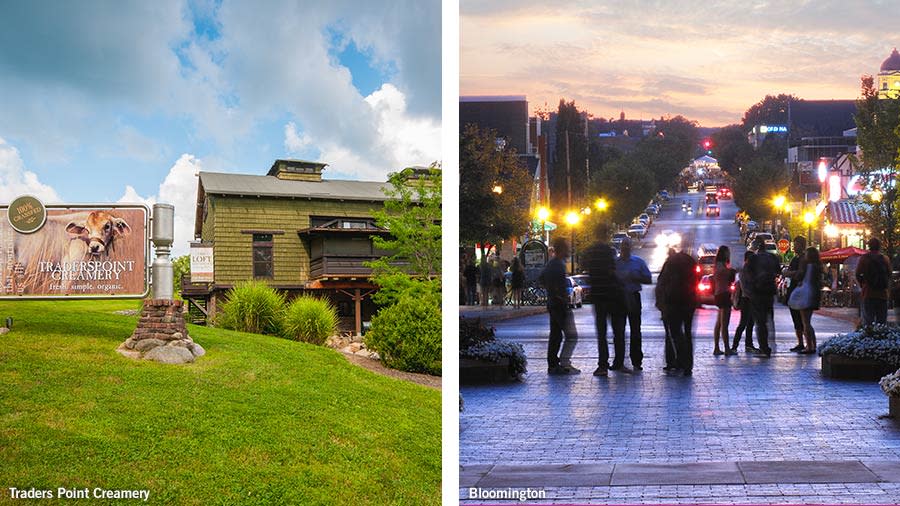 Indianapolis makes an excellent base for exploring central Indiana. If you have some extra time, make the 15-mile drive northwest to Zionsville, with its charming downtown of tree-lined streets and distinctive cafes and shops - it's worth the trip just to experience lunch at the famed Traders Point Creamery and Restaurant, which produces delicious handcrafted cheeses, ice cream, and both flavored and unflavored milks from its adjacent organic dairy farm.

Farther afield, the progressive college town of Bloomington has become known nationally as one of the gay-friendliest small cities in the country. Home to Indiana University, the city has a number of first-rate museums and is also home to one of the foremost institutions on human sexuality, the Kinsey Institute, which has a small but fascinating museum.
Please visit Hayden's List for reviews of Indy's top LGBTQ-friendly accommodations, restaurants, attractions, and more.
About the author: Travel writer Andrew Collins has been covering the gay scene in Indianapolis for more than 15 years in a variety of newspapers and magazines. He writes about LGBTQ travel for the New York Times-owned website GayTravel.About.com as well as for Fodor's travel guidebooks and many other publications.