Tech In Indiana
Technology has never been more important than it is today, and Indy's tech scene is quickly becoming a national leader. Salesforce's largest presence outside of San Francisco is in Indy. Infosys has invested in not just one but two campuses in the city to build their U.S. presence.
---
Economic Impact: $16 Billion 
Over 815,000 tech industry jobs in Indiana
$358M venture capital funding in 2019
Highest tech job growth among small firms and one of only three states to see an increase in the number of jobs created by firms with fewer than 50 employees
---
Big Players
Below are a selection of companies with a presence in Indy. Learn more about Indy's thriving tech industry at Techpoint.org.

---
Potential Speakers
Many industry leaders call Indy home. If you're looking for speakers for your next event, our team is here to help. Contact us to learn more.

---
In the News
Indy is leading a technology transformation in the Midwest. Central Indiana has recently generated $7 billion in acquisitions and IPOs from more than two dozen tech companies including Angie's List, ExactTarget (now Salesforce), and Interactive Intelligence (now Genesys). Our growth hasn't gone unnoticed: Time Magazine's Money said we are one of the top "20 hottest cities" within the technology industry. Check out why Forbes is talking about Indianapolis as the tech and infrastructure city on the rise. Between a Top Three Best Startup City ranking, a huge leap on the charts for Best Places to Live, and the #1 spot on CNBC's list of top states for infrastructure, we're starting to blush over here.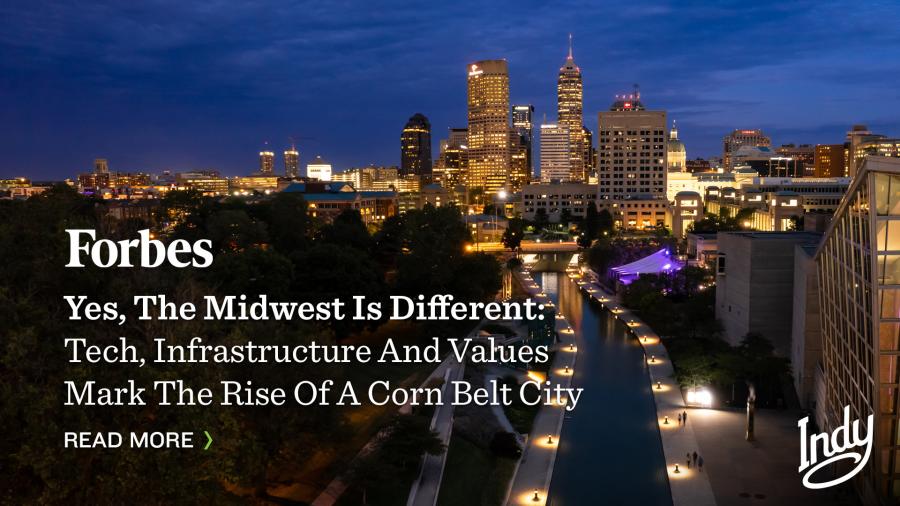 ---
New Developments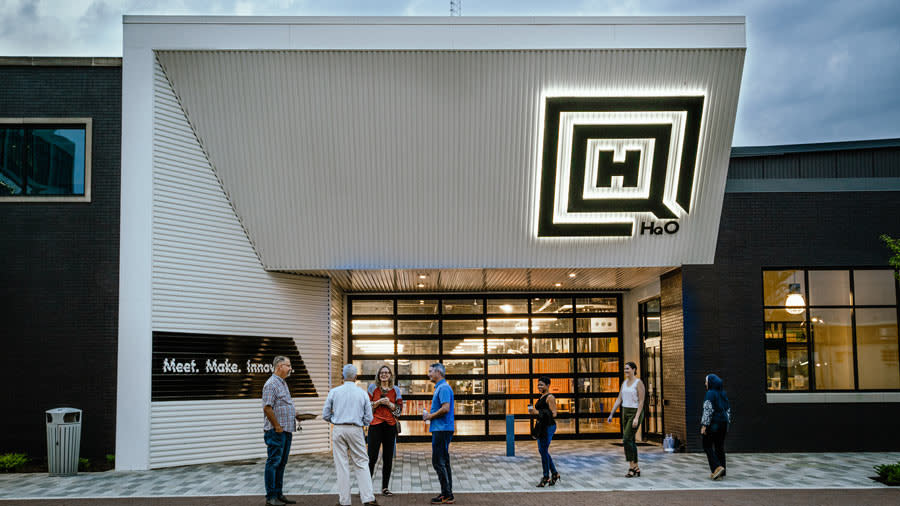 Indy's new innovation district, 16 Tech, is located just three miles northwest of downtown. The 50-acre live-work-innovate community brings together entrepreneurs, academics, startups, corporations, and creatives in a single place designed to spark the exchange of ideas that lead to innovation.
 
The innovation district opened its first building in August, home to Indiana Biosciences Research Institute, IU School of Medicine, and the Central Indiana Community Partnership and its initiatives. HqO, the innovation hub at the heart of the district, is set to open in 2021. Located in the former headquarters of the Indianapolis Water Company, HqO will boast three unique activity centers including a makerspace, artisan marketplace, and flexible/private office space powered by national incubator 1776.
 
The development will change the landscape of Indianapolis over the next 10 years. By 2030, 16 Tech will be home to:
$500 million in investment
50 acres of mixed-use community space
15 acres of greenspace
3 miles of trails
More than 750 housing units
3 million square feet of development including office, lab, retail, and residential
3,000 jobs in the tech life sciences and advanced manufacturing 
---
Resources
Consumer Technology Association 2020 Scorecard
---
Fortune 200 tech companies are investing in Indy, and we hope you will, too. Now is the time to submit your RFP for flexible rates and dates. Thanks for considering Indy for your next tech meeting.