Top Events
Indy's events calendar is packed with festivals, exhibit openings, sports, and special events to keep you entertained all year long. Below is a sampling of some highlights you can use in planning your next getaway. For a complete listing, visit our events calendar.
Select A Month: January | February | May | June | July | August | September | October | November | December
---
January
Devour Indy - Winterfest

Dine at more than 300 of Indy's best restaurants during this two-week epicurean experience. Each place has prepared discounted three-course menus that highlight their most popular offerings. Try a new spot or visit an old favorite.
---
February
Winterfest

Ben Franklin never actually said that beer is proof God loves us and wants us to be happy, but someone did and it seems like solid logic. This annual craft beer fest at the Indiana State Fairgrounds and Event Center will banish your winter blues as more than 100 Indiana breweries (and guests) bring tasty beverages for unlimited samples. Grab a VIP ticket so you don't miss the legendary cask beer tent.
NFL Scouting Combine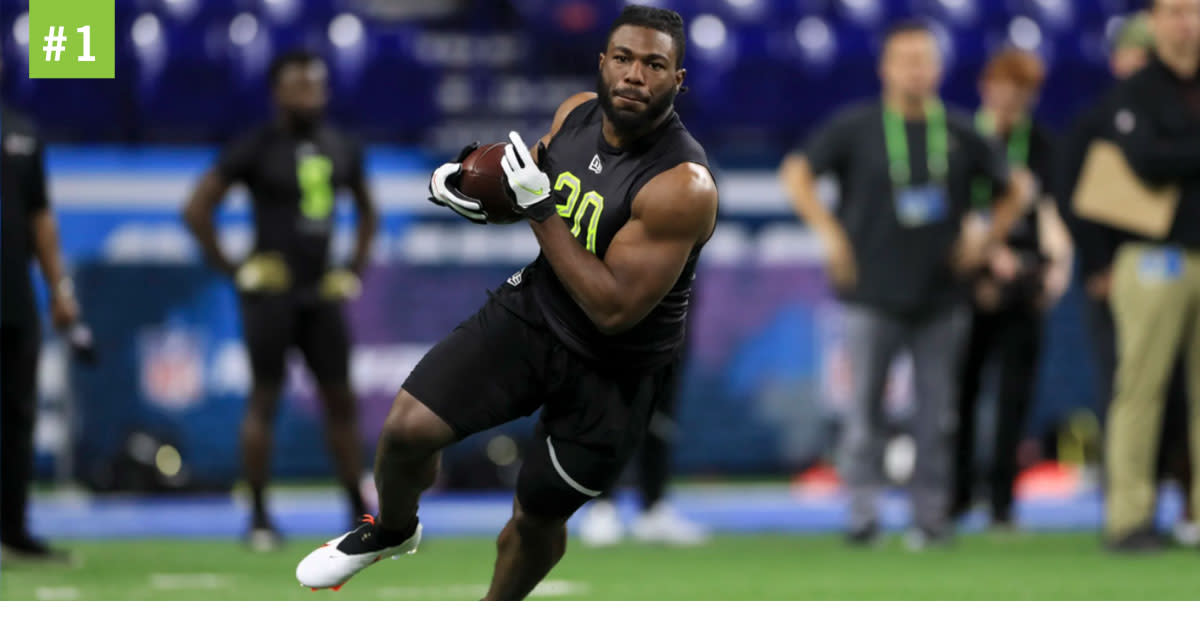 Come see the future stars of the NFL as they strut their stuff in Lucas Oil Stadium in an effort to get the call on draft day. More than 300 of the country's best college football players compete in the 40-yard dash, bench press, vertical jump, broad jump, and 3 cone drill, as well as 20-yard and 60-yard shuttles.
---
 May
500 Festival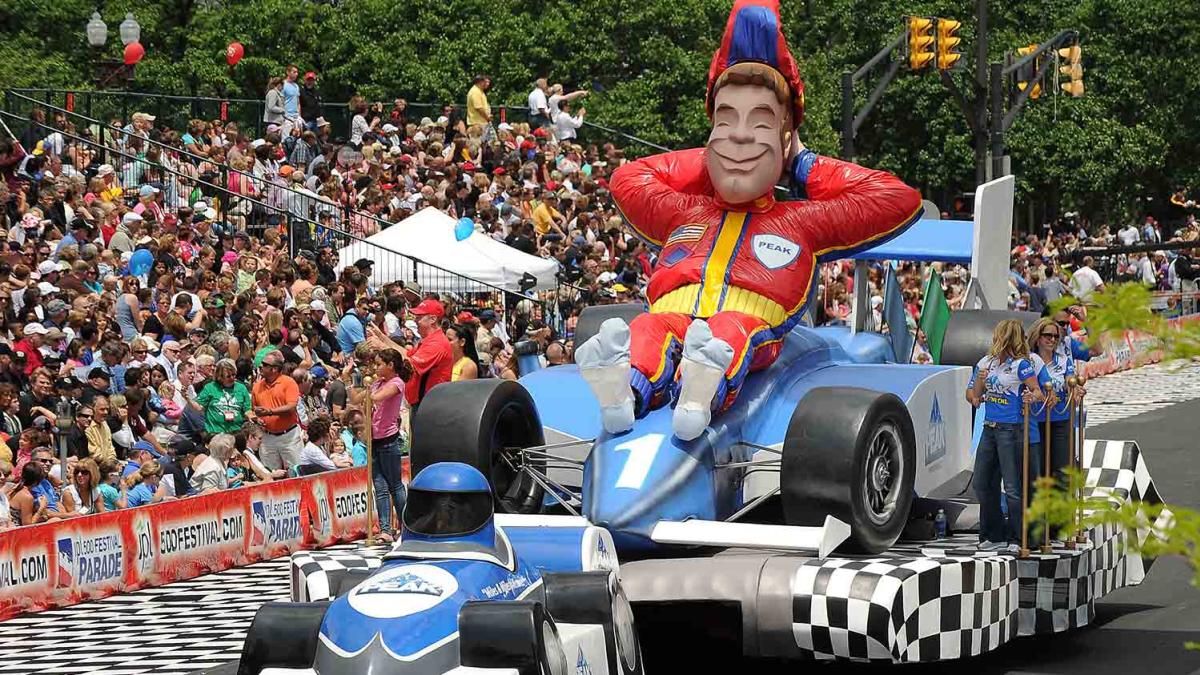 May in Indy is always epic. It begins with the OneAmerica 500 Festival Mini-Marathon which features a lap around Indianapolis Motor Speedway (IMS), and ends with that famous race at the same site, the Indianapolis 500. Throughout the month you'll see programming for all ages including Indiana's largest outdoor festival for kids (JP Morgan Chase 500 Festival Kids Day), a beautiful ceremony honoring fallen veterans on the steps of the majestic Indiana War Memorial (American Legion 500 Festival Memorial Service), and one of the country's largest parades through the downtown streets (AES 500 Festival Parade).
GMR Grand Prix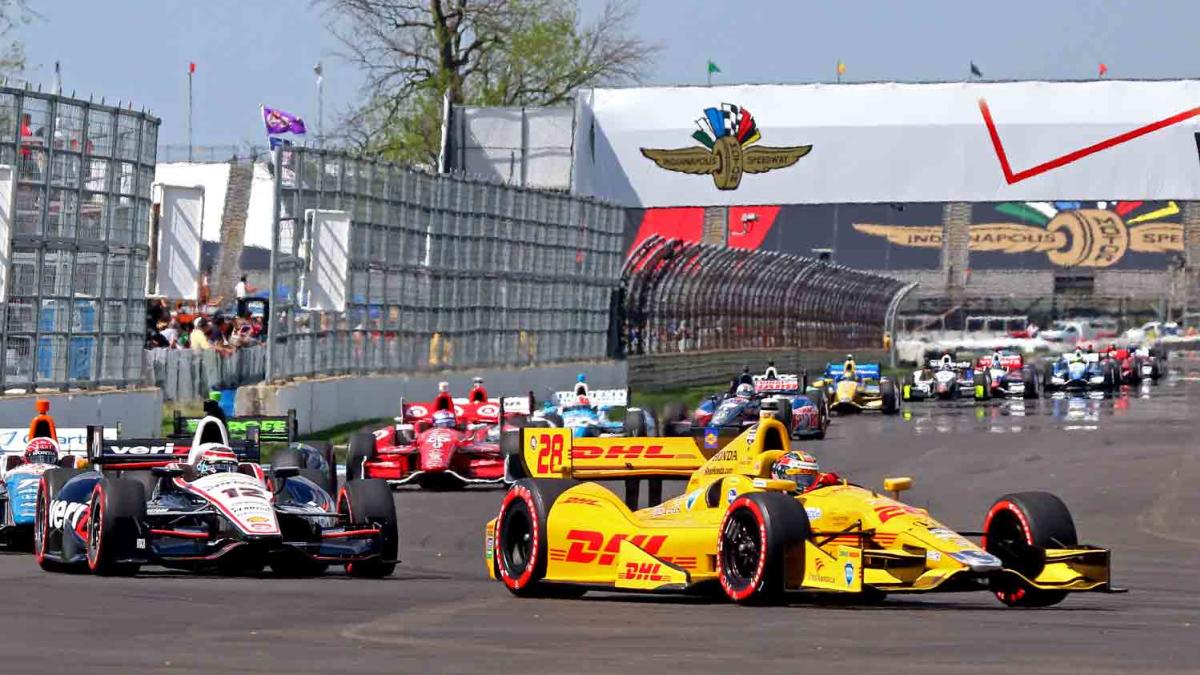 The first auto race of the month, the Grand Prix shifts the stars of the NTT INDYCAR series into high gear on the IMS road course for a challenging 14-turn, 85-lap contest. Anything can happen in this tight race.
Broad Ripple Art Fair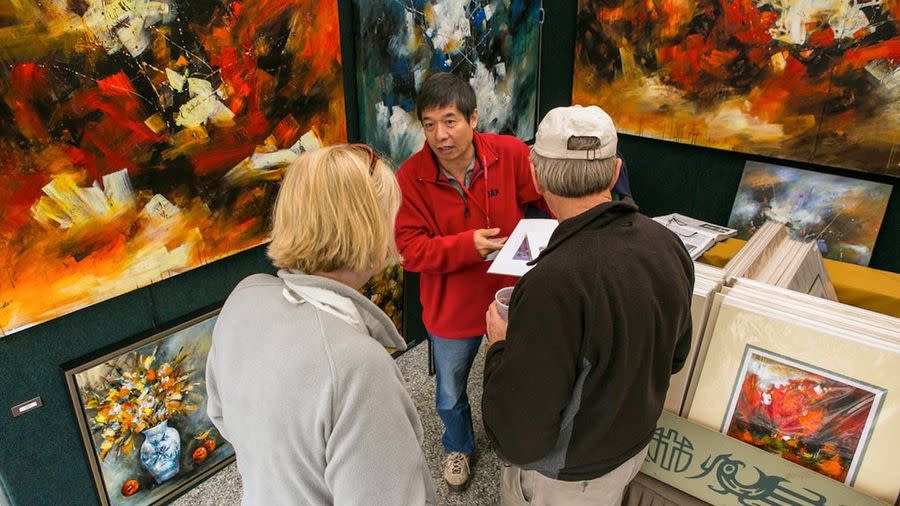 More than 200 national artists and craftsmen share their creations in a weekend including music, food, and fun for the whole family. Held on the grounds of the Indianapolis Art Center, the fair is the perfect opportunity to purchase unique gifts, add to your personal collection, and even learn through hands-on workshops inside the center's studios.
The 107th Running of the Indianapolis 500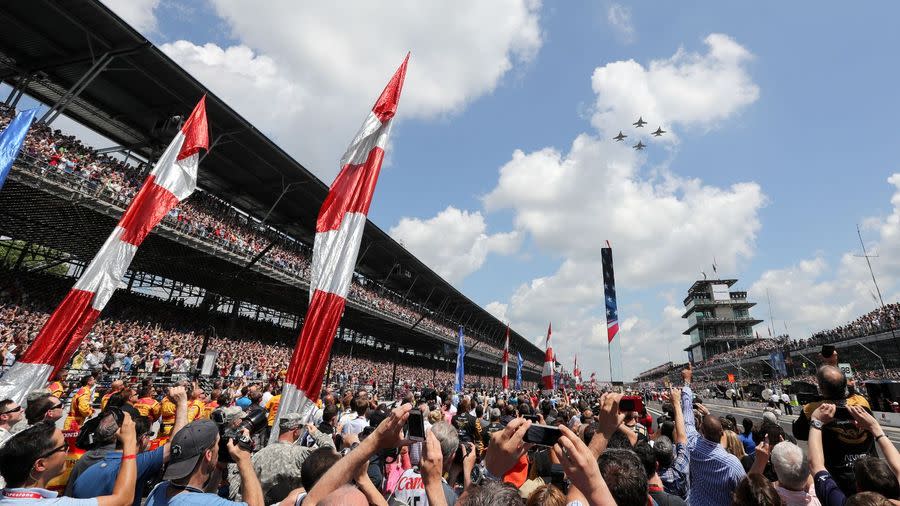 "The Greatest Spectacle in Racing" caps off the Month of May in legendary fashion: 33 drivers, 200 miles, the 2.5-mile oval. Exciting practice and cutthroat qualifying lead up to the world's largest single-day sporting event. The last Friday is Carb Day, an event that not only sees the final practice before the race, but also the famous pit stop competition and a concert that will rock your world. Saturday is Legends Day with opportunities for driver autographs and a country show to knock your boots off.
---
 June
Indy Pride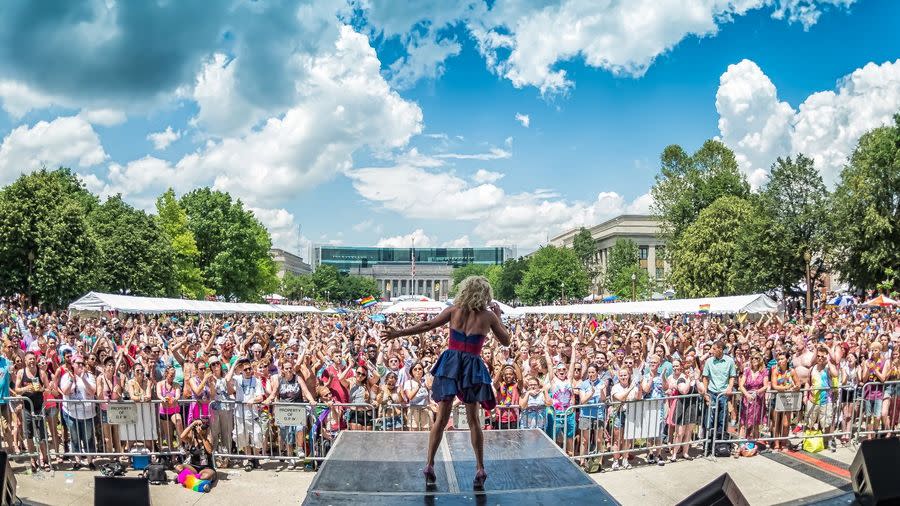 Pride Month in Indy celebrates LGBTQ+ with Pet Pride, #TransGlam, Interfaith and Shabbat, Bi and Pan Pride, a community picnic, bands, drag, movies, a bar crawl, and the most fabulous parade and party with two stages full of entertainment.
Christ Church Cathedral Strawberry Festival

Indy residents look forward to this sweet celebration on Monument Circle. Live music and people watching make waiting in line for some of the best strawberry shortcake you'll ever eat very pleasant. Get "The Works" with shortcake, strawberries, ice cream, and whipped topping.
Vintage Indiana Wine and Food Festival

A beautiful day of food and music in Military Park that just happens to include more than 30 Indiana wineries pouring more than 300 wines. Bring your lawn chairs and blankets, find a nice spot, and have a leisurely day with unlimited samples of the best Hoosier vino.
Monumental Yoga

Imagine the spectacle of more than 4,000 yogis surrounding Monument Circle and celebrating the ancient practice. The single largest yoga event in Indy promotes health, wellness, and mindfulness with vendors and free mini yoga classes throughout the day. Bring your mat and join the main event in the evening.
Indian Market & Festival

More than 140 native artists from across the US and Canada bring their jewelry, paintings, pottery, beadwork, and more to this festival at the Eiteljorg Museum celebrating Native American culture. Cultural performances include music, dancing, storytelling, family art activities, and even authentic cuisine.
---
 July
Fourth of July Celebrations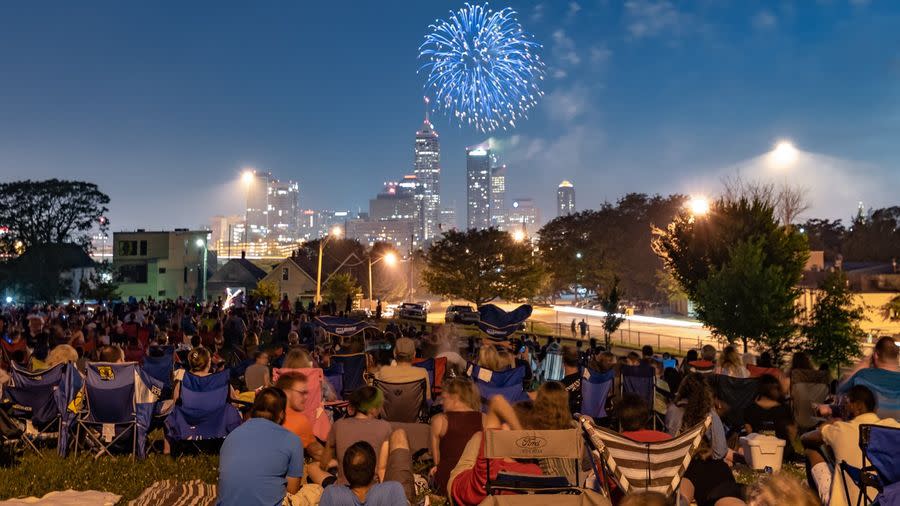 Independence Day in Indy is serious business. We have the largest collection of monuments and memorials outside of Washington, DC,  an extended home stand with the Indianapolis Indians baseball team which includes fireworks at Victory Field after each game, the Star-Spangled Symphony featuring the Indianapolis Symphony Orchestra and Glorious Fourth historical celebration at Conner Prairie,  an ice cream social and naturalization ceremony at the Benjamin Harrison Presidential Site, and a massive fireworks display launched right from the heart of downtown.
Indiana Black Expo Summer Celebration

Summer Celebration has been one of the largest cultural events of its kind in the country for more than 50 years and this impactful annual festival features live music, a black and minority health fair, employment fair, education conference, youth entrepreneur series, cultural arts pavilion, fashion show, and much more. 
---
 August
Indiana State Fair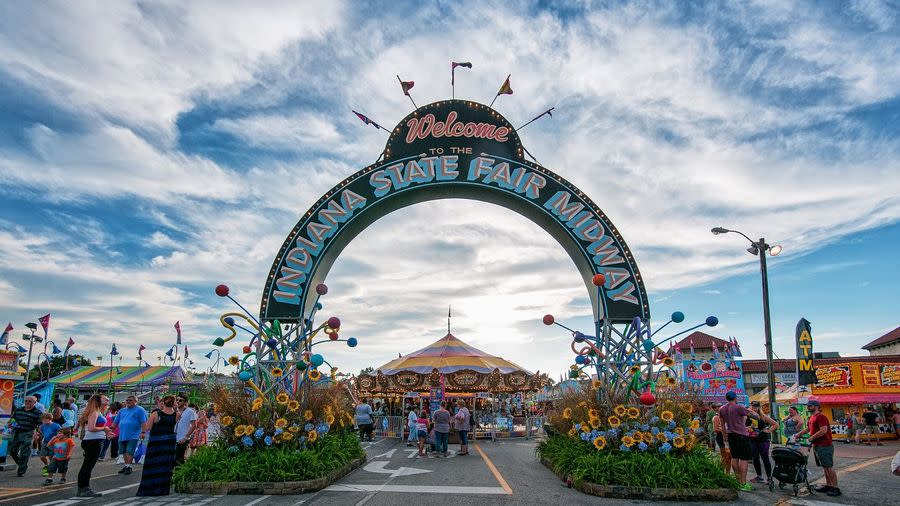 For nearly three weeks each summer we turn our minds fully toward celebrating Indiana's agricultural roots, meeting a variety of farm animals from the world's largest hogs to baby chicks, hopping on daredevil rides, playing games to take home stuffed animals larger than we are, catching free concerts, and indulging in fair delicacies like pickle pizza, everything at the Dairy Bar, and deep fried ANYTHING.
Brickyard Races

July burns up the track at Indianapolis Motor Speedway with the NASCAR Xfinity series Pennzoil 150 at the Brickyard,  the INDYCAR Gallagher Grand Prix, and the NASCAR Cup series Verizon 200 at the Brickyard. Paint will be traded and bricks will be kissed during these events on the road course at the Racing Capital of the World.
IndyFringe Theatre Festival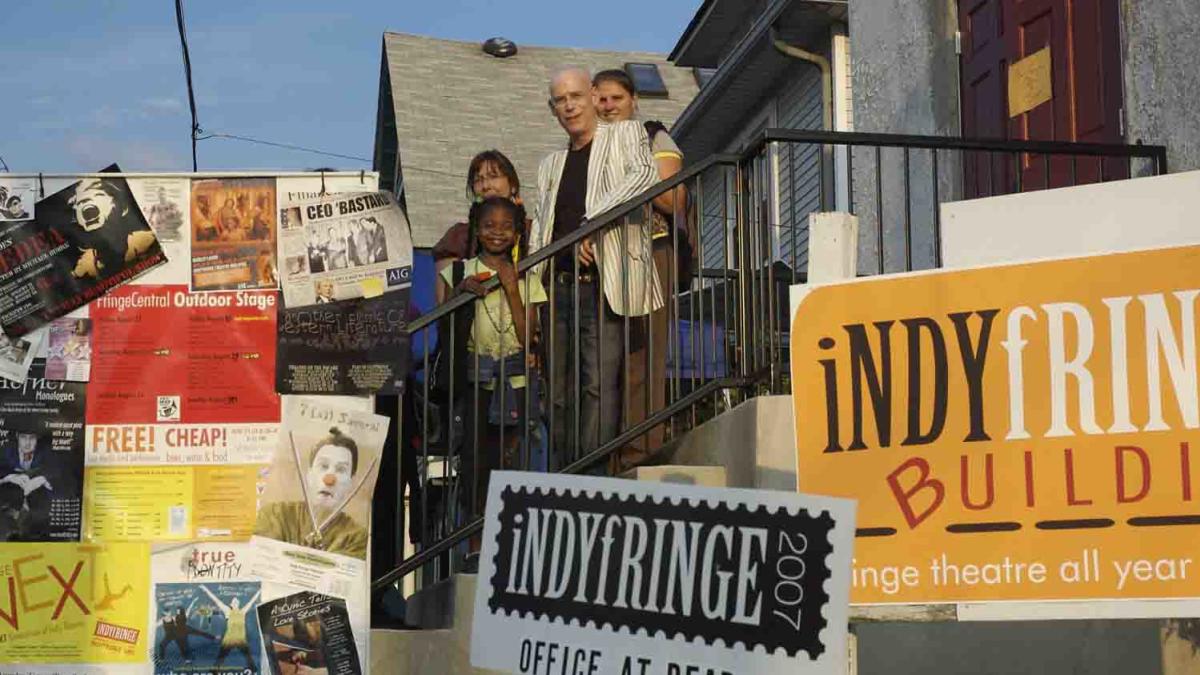 IndyFringe's mission is to support and encourage taking risks, being experimental, and deviating from the norm through the arts. Mass Ave comes alive for the almost two-week festival featuring comedy, drama, dance, magic, cabaret, musicals, and much more.
Gen Con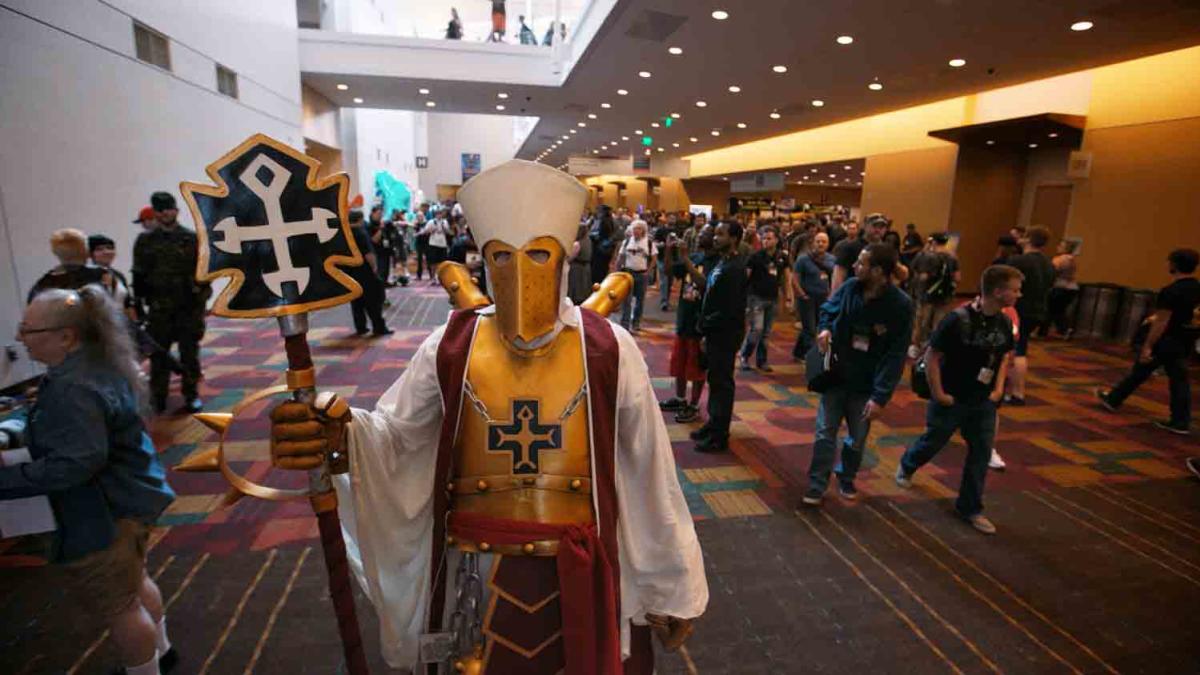 The Best Four Days in Gaming takes place every August inside the Indiana Convention Center and Lucas Oil Stadium. The fun and games spills out to Georgia Street for a giant block party complete with food trucks for three meals each day, a beer and wine garden, and nearby restaurants offering special dishes and drinks with the con's theme in mind. Shop more than 500 vendors, demo games, hit the auction, bring your best cosplay, and take part in some of the 15,000 events offered.
Devour Indy - Summer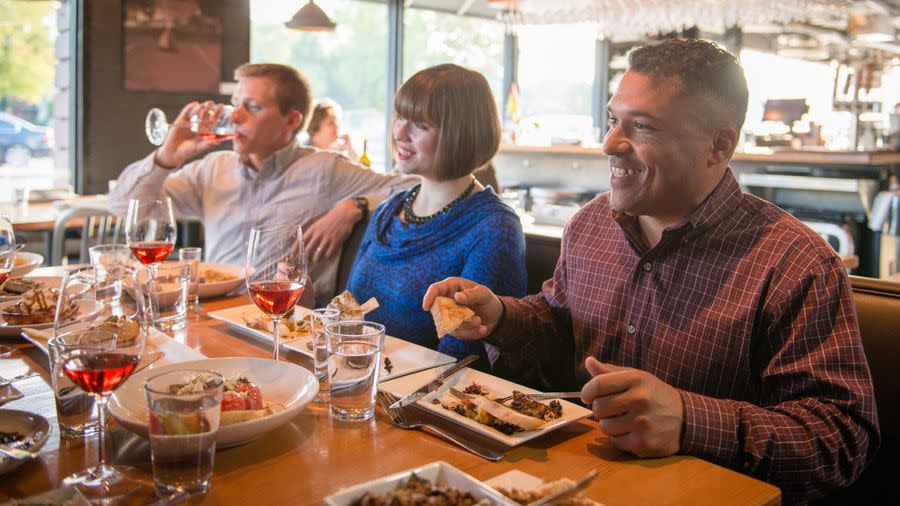 Food & Wine named Indy one of "America's Next Great Food Cities" in 2022 due to the diversity, deliciousness, and innovation in our food scene. Take advantage of this two-week foodie frenzy to see what the buzz is about while you stretch your dollar with specially curated discount menu deals.
---
 September
Indy Ultimate Adventure Race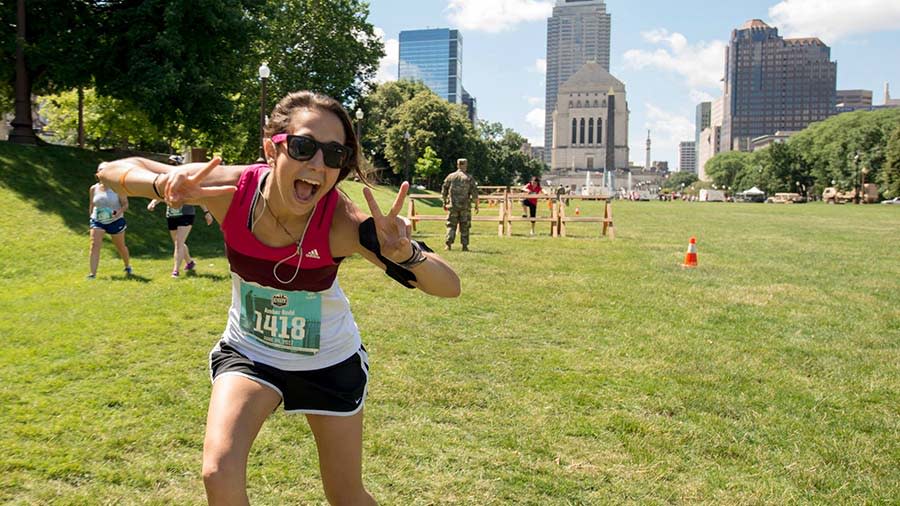 Most of us think we'll probably never get the chance to kick a field goal at an NFL stadium, shoot a layup in an NBA/WNBA arena,  or kick goals and run bases at professional stadiums. Don't be too sure of that. The Indy Ultimate gives participants the chance to do all those things and even more during a one-of-a-kind casual race through the city's sports venues, monuments, cultural institutions, and iconic spaces.
---
Penrod Arts Fair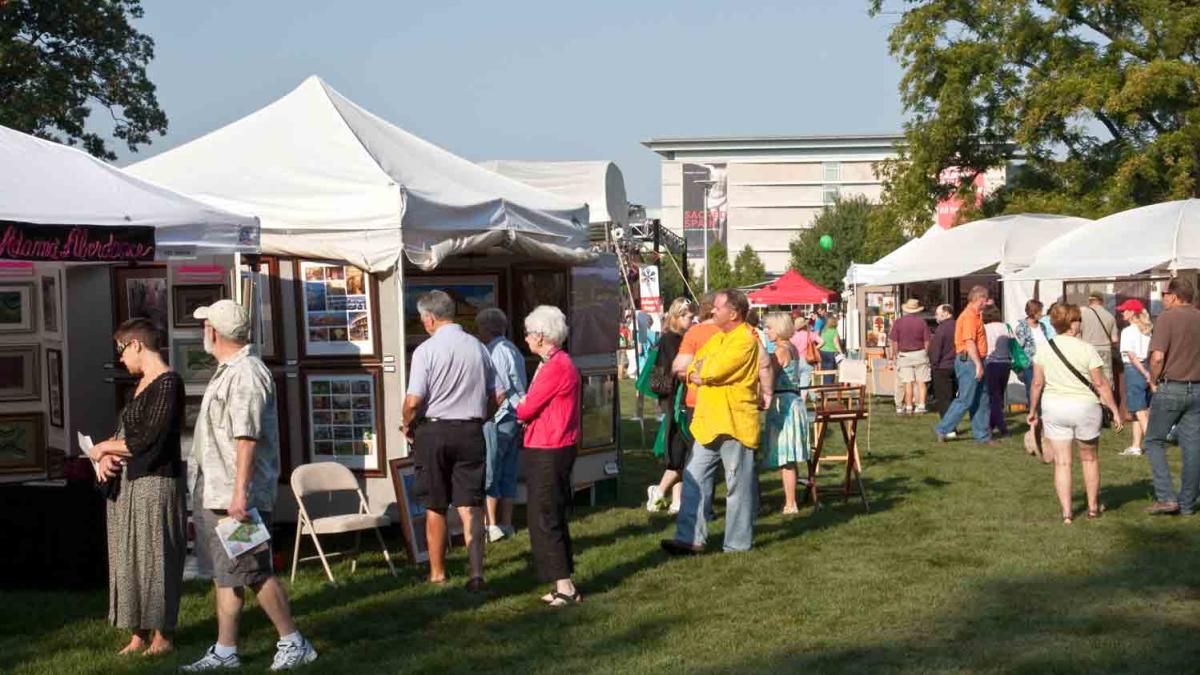 Discover why this is called 'Indiana's Nicest Day' when you visit Newfields to see work from more than 300 artists, multiple stages of entertainment, a large children's area, and a selection of arts-related organizations. One of the largest single-day arts fairs in the US, the festival also includes a large beer garden featuring favorite Indiana craft brews.
---
Dodge Power Brakes NHRA U.S. Nationals

A highlight of Labor Day weekend, the U.S. Nationals is the most prestigious drag race in the world. Buckle up for five days of high octane excitement at Lucas Oil Raceway. Fans can get up close and personal since every ticket is a pit pass. Talk to the drivers, get their autographs, shop vendors, then see the teams and mechanics in action.
---
 October
Heartland International Film Festival

Honoring a vast variety of cinema, Heartland awards storytellers who take a purposeful approach to filmmaking. The festival showcases more than 200 independent films for nearly two weeks via in-person and virtual screenings, red carpet premieres, and many more events and parties.
Bands of America

If you love the intricate, innovative shows marching bands create, you'll want to be in Lucas Oil Stadium for this festival featuring almost 100 high school bands from nearly 20 states. The family-friendly competitions showcase talented musicians with complex choreography performing in the final showdown of their seasons. In addition, several college bands also perform in exhibitions.
---
 November
CNO Financial Indianapolis Monumental Marathon

One of the 15 largest marathons in the US, the CNO Financial Indianapolis Monumental Marathon is also Indiana's largest, fastest marathon and ideal for everyone from first timers  to elite athletes. Start and finish at the Indiana State Capitol, then follow a course through landmarks and historical neighborhoods. Along with a half marathon, 5K, and kids fun run, race weekend is full of events for the entire family. The Monumental Health and Fitness Expo at the Indiana Convention Center kicks off the event with two days of talented expo speakers and vendors.
Tonic Ball
For 20 years, Tonic Ball has raised money for local "food rescue" Second Helpings via spectacular concerts featuring local bands covering music icons. It all takes place in Fountain Square's live music venues on one night with one legend assigned to each. Your ticket allows access to all the shows. Come and go as you please to catch a reggae band covering Dolly Parton, a country band covering The Ramones, or a funk band covering Queen. It's rare to have so much fun while supporting such a great cause.
VonnegutFest
Born and raised in Indy, Kurt Vonnegut published 14 novels as well as short stories, plays, and nonfiction. His satirical style and dark humor are still viewed as genius. Each year on his birthday, November 11, VonnegutFest pays tribute to the man, his legacy, and the power of the arts and humanities to improve individuals and society. A variety of programs and events happen all day and evening.
Circle of Lights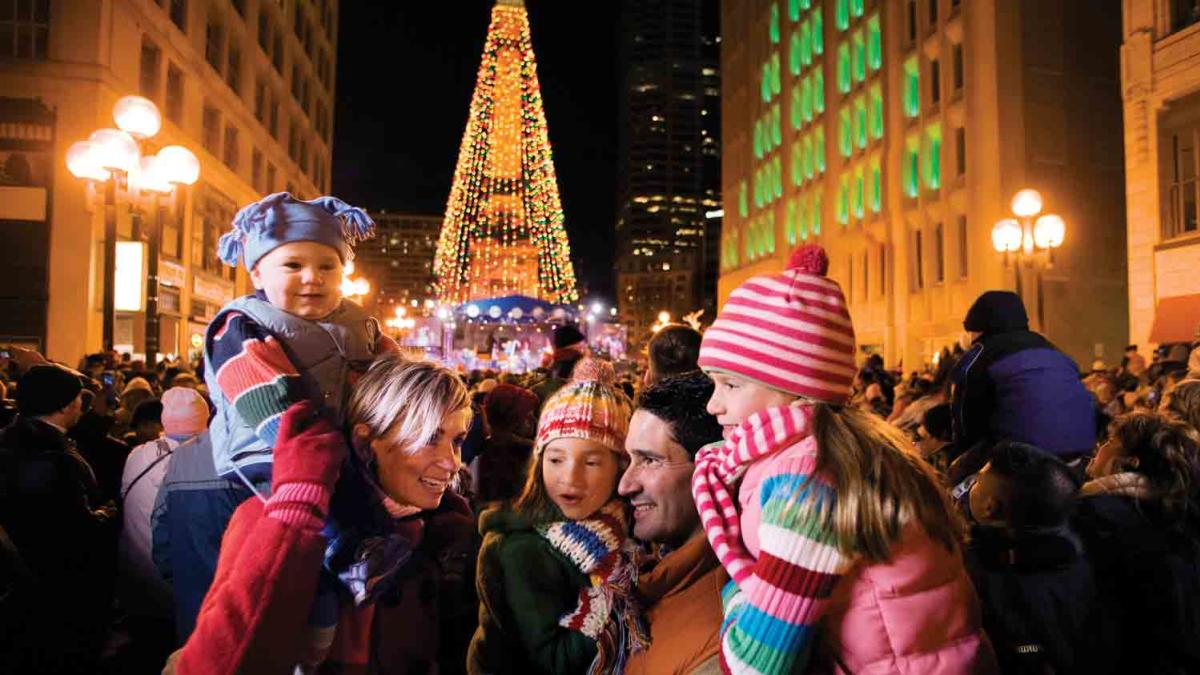 The spectacle of the Soldiers and Sailors Monument lit with nearly 5,000 lights is a delight for all ages. One of Indy's beloved holiday traditions, the tree lighting ceremony falls on the Friday after Thanksgiving and includes many live performances to get rid of anyone's grinchiness. The lights stay up into January, so bundle up, grab a cup of hot chocolate, and let that holiday spirit flow.
---
 December
Big Ten Football Championship

The Midwest loves its football and especially the Big Ten Conference. Indy hosts the biggest game of the season each year at Lucas Oil Stadium with the winners of the East and West Divisions facing off for the title. In addition, the Big Ten Fan Fest lets fans be a part of the game with fun, exhibits, and pep rallies inside the Indiana Convention Center, while the Tail Greater Party on Georgia Street has food, drinks, live music, and the World Famous St. Elmo's Shrimp Eating Contest featuring legends of Major League Eating including defending champion and GOAT, Joey Chestnut.