Black Culture Local's Perspective
Written by: Ebony Chappel, Community Servant, Radio Personality
"I live in an amazing city. It is a place whose charm cannot be distilled into buzzy marketing or packed into one distinct landmark. Indianapolis is an onion of a place, with layers that unfold upon further inspection, rewarding the curious and patient.
In my travels, stateside and abroad, typically a mention of Indianapolis is immediately followed by a joke about corn or a sports reference – namely the Indy 500 and, for a while, Peyton Manning.
Corn is just corny, and given that I am not a sports aficionado, I prefer to leverage such moments to talk about the things I know and love most about my town. Not all of the spots mentioned here are Black owned and operated but they are some of my personal faves. Enjoy!"
Get Your Grub On
Food is especially important, and thankfully, Indy has tons of options. From James Beard-level culinary experiences to amazing neighborhood eats, there is a little bit of something for everyone.
For those who like to get their day started with coffee or tea, there's Cleo's Bodega located on Dr. Martin Luther King Jr. Street. Cleo's, named for Indiana legend Cleo Blackburn, boasts fresh coffee, great smoothies, and a variety of snacks. They even have vegan options! The Red Ryder smoothie is my personal favorite and is named after my late uncle, George Ryder, a multidisciplinary artist.
Another great place to start is Tea's Me Café, owned and operated by Olympic athlete and philanthropist Tamika Catchings. Tea's Me has a robust selection of tea but as a creature of habit, I always go for the refreshing Moroccan Mint.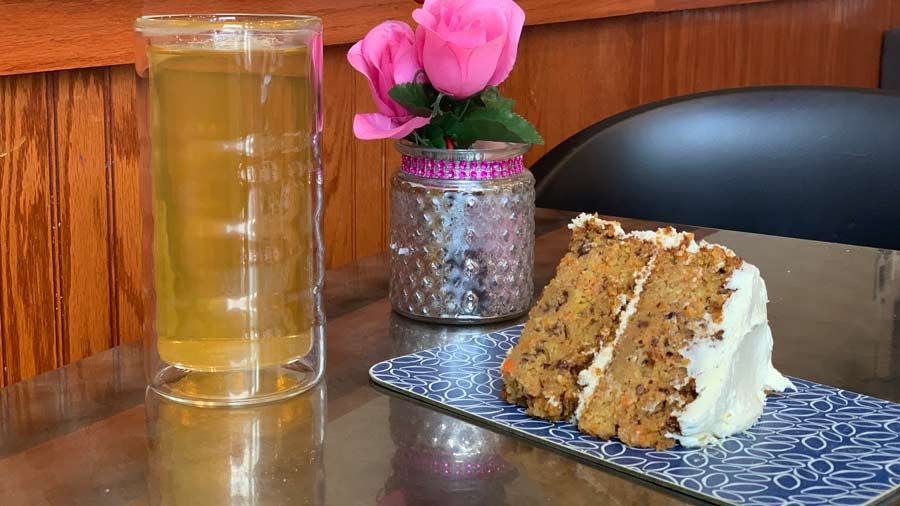 When visiting a landlocked city, seafood is obviously not top of mind. Enter, The Trap, brainchild of seafood goddess Chef Oya Woodruff. In the cooler months, the Trap Chowder with a generous helping of oyster crackers is the best bet. Other offerings include shrimp tacos on Tuesdays and an assortment of seafood platters (crab, lobster, salmon, etc.) complete with corn on the cob, potatoes, and broccoli smothered in one of her custom sauces and sprinkled generously with Young Bae, a seafood blend made by another Black business owner, Candace Boyd Wylie.
For an upscale dinnertime experience, I would recommend Michael's Soul Kitchen. The space is beautifully decked out in a luxe red velvet and antique gold motif and the cuisine; everything from collard greens, mac and cheese, fried chicken, and other soul food staples does not disappoint. Michael's hosts live music nights, brunch events and has a full-service bar.
I grew up on the westside of Indianapolis (#Haughville to be specific), and I am so proud that this part of the city is home to some of the best food I've ever had, namely the International Marketplace (IM). IM is a foodie's dream as there are more than 80 diverse restaurants to explore from all over the world. My faves are Abyssina Ethiopian Restaurant (I always have the vegetarian platter with doro whet on the side, honey wine, and coffee ceremony for the end.), Guanajuato Restaurante (Gather 10 taco-loving friends and order the meat plate. Trust me!), and Asian Snack inside the massive Saraga International Grocery (Great Chinese classics like chive pancakes, beef noodle soup are sure to please.)
For those with a sweet tooth, do yourself a favor and stop by the holy of holies located at the corner of 16th and Tremont - the one and only Long's Bakery. There are lots of things to try but I always grab the OG yeast donuts and every now and then a couple glazed cake. Grab cash (no credit or debit accepted, sorry!) and prepare to have your life changed.
Cool Vibes
Indy is home to a strong Black Arts scene that stretches back to jazz and be-bop all the way to modern hip-hop. There is literally something for everyone.
There are a number of amazing festivals that showcase the best talent this town has to offer like Open Bite Night (happens throughout the year) and Chreece, one of the Midwest's top hip-hop events that takes place in Fountain Square every August.
One of the things I find most inspiring are the creative souls we have who are good at so many things. People like Maxie who is not only a bomb lyricist and performer but a business owner as well. Veer away from the basic Indianapolis t-shirt and support true local artists. A stop by Nap or Nothing, inside Lafayette Square Mall, will get you together. Everyone from professional athletes, radio personalities, and even our mayor Joe Hogsett has worn the bold, iconic designs dreamt up by one of the city's shining sons.
Stepping Out
When it comes to choosing a watering hole, I usually go with a place that fits the following criteria: fair prices, friendly service, and a relaxed atmosphere. The new AJ's Lounge is one of my new favorites. AJ's is one of Indianapolis' oldest Black owned bars. Still going strong after a tumultuous decades of gentrification, AJ's thrives as your favorite spot to get a solid whiskey and coke and enjoy good conversation Plus, if your stomach starts rumbling, you can order fried fish, chicken wings, and a variety of other bar fare made fresh to order. On the weekends, AJ's has a live band as well to take the party up a notch.
I'm not a club person these days so a cool night out for me looks like a soul or R&B show at the Jazz Kitchen or art-gallery hopping during First Friday's followed by dancing to an eclectic mix from the city's best DJ's at Back to the Future at the HiFi. On the rare occasion, I go out on a "school night'" #TakeThatTuesdays, an old-school hip-hop set at Coaches Tavern, is the move. When linking up with friends or family that come into town, I usually insist on taking them to Karaoke Fridays at the Living Room Lounge for great people watching and their world-famous chicken wings. To start the week off right and add a nice cap on the weekend, I enjoy having a glass of wine and taking in some world-class jazz music on Sunday evening at the Chatterbox. Be warned that it is a tiny spot with limited seating so you may end up standing. It's all good though and totally worth it.
A Legacy of Black Excellence
Black people have a rich and complicated history in not only the city of Indianapolis but across the entire state. At one point, there were settlements inhabited by mainly free Black people in each of the state's 92 counties, and Indianapolis (specifically Indiana Avenue) was a mecca of Black art, commerce, and culture that people from all over the country flocked to.
Unfortunately, the powers that be, through redlining, gentrification,  and other systematically oppressive tactics - have made it so that there is not much left to look at on the Avenue from those hey days. Buut thankfully, some of the history is housed in local museums and shared verbally amongst elders in the community.
The Indiana Avenue Cultural District, once home to hundreds of Black-owned establishments, now boasts one last relic of that time, the Madame Walker Theatre. The Walker, now named the Madam Walker Legacy Center, was the dream of Madam CJ Walker, the first self-made Black female millionaires in this country. It opened after she passed away and was a place where residents could go and see movies, performances, and attend social events. The Walker has recently gone through a renovation and will reopen soon to the public.
The year 1968 was a tumultuous one for our nation, and Indy experienced its own moment the night Dr. King died. That evening, Robert F. Kennedy who was campaigning at the time for president, was meeting with Black leaders at the home of Cleo Blackburn when news came of King's assassination. Kennedy made a speech announcing the tragedy to a large crowd in Center Township and today, that land is home to Dr. Martin Luther King, Jr. Park and Landmark for Peace Memorial.
If you are looking for other enlightening activities the whole family can enjoy, the Power of Children exhibit at The Children's Museum of Indianapolis is a must see. The exhibit takes you inside the lives of legendary young heroes: Ryan White, Anne Frank, and Ruby Bridges, who was one of the first students to integrate the New Orleans school system in 1960.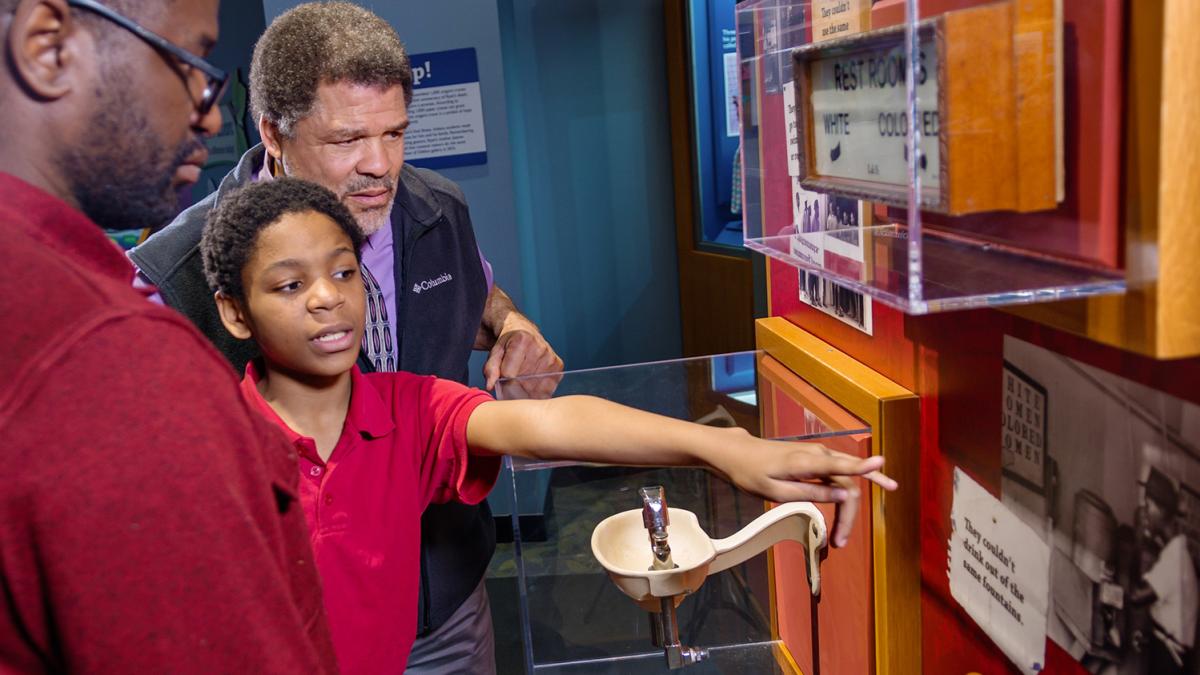 Though not a Hoosier, Crispus Attucks' legacy is celebrated here as well. The Crispus Attucks Museum, named in honor of a Black man who was the first person to die in the American Revolution, sits alongside a high school which also bears his name. The museum features exhibits dedicated to African diasporic history, local figures of interest, and more.
The Center for Black Literature and Culture inside the Central Library is another great attraction. The space holds thousands of volumes of Black literary work, interactive digital kiosks, and posters bearing the faces of famous Black Hoosiers like Mari Evans, Babyface, and Vivica A. Fox.
Indianapolis' Black residents make up roughly 30 percent of the population and have contributed mightily to the city's history, culture, and charm. A visit to any of these cool places or one of the many festivals held throughout the year like; Art & Soul, held every February where local Black performers put on free shows inside the Indianapolis Artsgarden, or the Black Owned Business Block Party, which happens quarterly and attracts hundreds of local Black vendors and thousands of attendees, are worth a visit to Indy. They'll hip you to what many of us already know: Black culture is vibrant and alive in Indianapolis.

By Ebony Chappel
Community Servant, Radio Personality
Follow: @ebonythewriter