BLACK HISTORY IN INDY
From early black settlements of the 1820s, to stops in Indianapolis along the Underground Railroad, African Americans have played an essential role in the growth of Indianapolis. The Indiana Avenue District was the commercial and social hub of black Indianapolis where some of the hottest jazz spots in the Midwest drew the likes of Duke Ellington and Ella Fitzgerald. 
The ACT was created in 1990 to foster feelings of empowerment and enable self-discovery through the performing arts. The youth development organization uses traditions of African American performing arts to inspire and educate the performers and community through dance, song, and storytelling.
This interactive mapping tool directs you and your family to highlighted stories of black culture in Indianapolis. A project from the Kennedy King Memorial Initiative, the mapping experience is guided by the ideals of Dr. Martin Luther King, Jr. and Robert F. Kennedy in an effort to diminish racial conflict, inspire courageous action, and strengthen Indianapolis. Using this unique mapping tool, you can select a location of interest, learn about its history and contributions to black culture in Indianapolis, and plan your visit. Locations on the map include but are not limited to:
Alpha Home: Championed by a former slave in 1886, Alpha Home for Aged Colored Women provided a place for disadvantaged elderly African Americans.

Edna Martin Christian Center: Edna Martin began serving her Indy neighborhood in 1941, bringing food, clothing, and education to residents as part of her home mission with American Baptist Churches USA.

Flanner House: Flanner House Guild showcases the dedication African American women have for social services in Indianapolis. Originally named after philanthropist Frank Flanner, a white mortician and philanthropist who donated the property, Flanner House has served thousands of black individuals from 1898 to the present. 

Frederick Douglass Park: Now a 43 acre public space, Douglass Park was originally a gathering place for African Americans on the Eastside. The park was a byproduct of systemic segregation, and was the sole park for African Americans in the first half of the 20th century. 

Indiana Federation of Colored Women's Clubs: Lillian Thomas Fox, a reporter and correspondent editor for the Indianapolis Freeman, founded the Indiana Federation of Colored Women's Clubs in 1904. She was later hired by Indianapolis News, becoming the first black woman to work as a full-time journalist for a white, mainstream Indiana newspaper, and paved the way for many African American women's organizations to take root in Indy. 
You can access the map here. 
The Crispus Attucks Museum, named for the local Indianapolis Public School of the same name, houses memorabilia from the first all African-American high school in Indiana. Crispus Attucks, a Black man, was the first hero to die in the American Revolution, and the high school named in his honor was established in Indy in 1927 as a segregated school.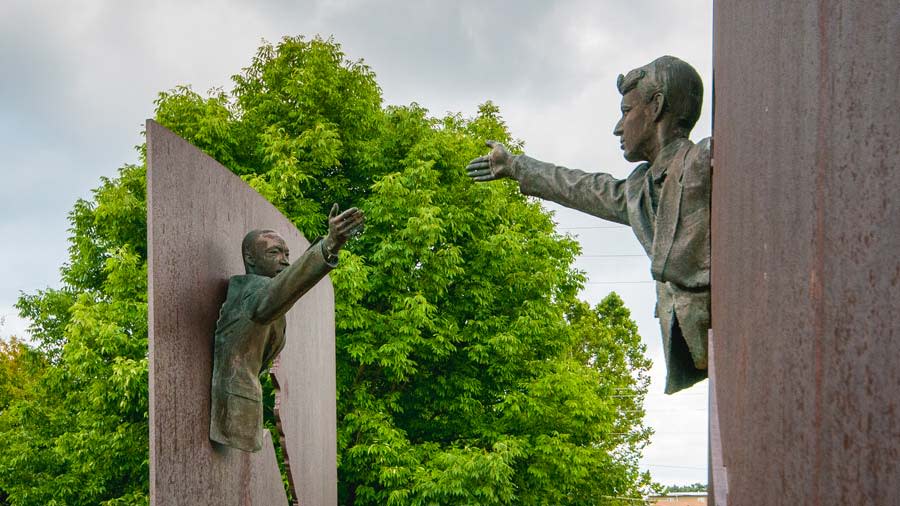 The memorial was named for the famous civil rights leader and extends over 14 acres in Center Township of Indy. In 1968, Robert F. Kennedy visited the park initially to campaign, however instead had to deliver the news of Dr. King's assassination. The video below was created to commemorate that fateful day. Landmark for Peace was dedicated by former President Bill Clinton in 1995 to honor both Dr. King and the late Mr. Kennedy for their contributions to our nation.
This collection was gifted as a teaching collection to coincide with classes offered in the Art History Department. Consisting of various objects including materials made from wood, iron, ivory, clay, and brass, many pieces had ceremonial uses and relate to other activities which define the traditional, historical, and cultural aspects of West African life. Today, 32 African objects remain in Butler University's collection.
Freetown Village
Freetown Village Living History Museum presents African American history and culture in unique, entertaining formats. Programs include storytelling, music, hands-on crafts or heritage workshops, and special events. "The Madam Walker Story," an ongoing program, tells the story of Madam Walker's life.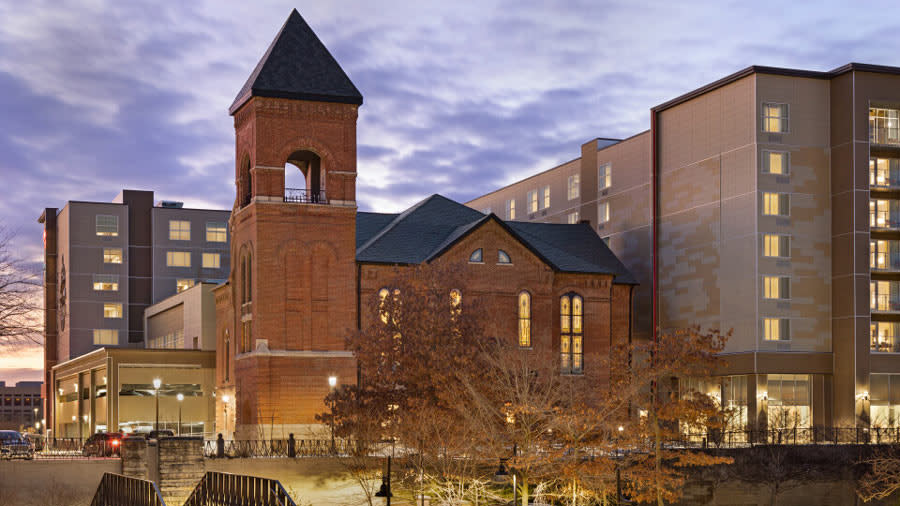 Formerly the home of the Bethel A.M.E Church, this historic church building is now part of the new Hampton Inn/Homewood Suites on the Canal downtown. Explore the impact the church had on Indy's Black within the church walls. Initially the church was organized in 1836 and was added to the National Registry in 1991. The church was also a member of the Underground Railroad and has local chapters of the National Association for the Advancement of Colored People (NAACP) and the Indiana State Federation of Colored Women's Club (ISFCW) was organized in the previous church in the early 1900s.
Just 30 miles north of Indianapolis stand the remains of an African American pioneer farm settlement founded in 1835 by free blacks of mixed racial heritage who migrated from the South. The pioneers pursued economic, educational, and religious aspirations with greater freedom and fewer racial barriers, goals which were achieved through hard work and assisted by racially tolerant Quaker and Wesleyan neighbors. Today, a chapel and cemetery are the physical reminders of a once thriving community.
This theatrical program shows the varying, pre-Civil War attitudes towards African Americans in Indiana. Started in 1998, the program seeks to educate participants ages 12 and up about the struggles, dangers, and conditions that fugitive slaves experienced as they headed north to freedom.
Indiana Avenue Cultural District
Indiana Avenue is home to the Madam Walker Legacy Center, and beginning in 1821 was home to a popular jazz scene that lasted until the 1970s. At the height of its jazz era, "The Avenue" featured over 33 jazz clubs with headliners including Duke Ellington, Ella Fitzgerald, Nat King Cole, and more. Indiana Avenue also housed the first black-owned business in Indianapolis. In 1865, Samuel G. Smother opened a grocery store and later in 1879 The Indianapolis Leader was the first African American-owned newspaper in Indy.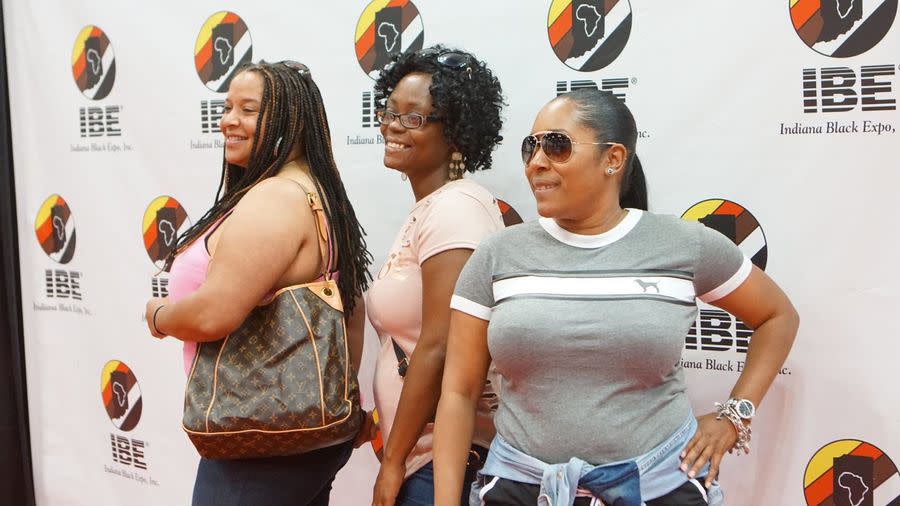 Indiana Black Expo (IBE) has been a community pillar for more than 50 years. IBE encourages and empowers individuals through education, events, and hands-on initiatives.
A new initiative of the Indianapolis Public Library celebrates the literary and cultural contributions of African Americans in Indy and elsewhere. Located inside the beautiful, historic Central Library.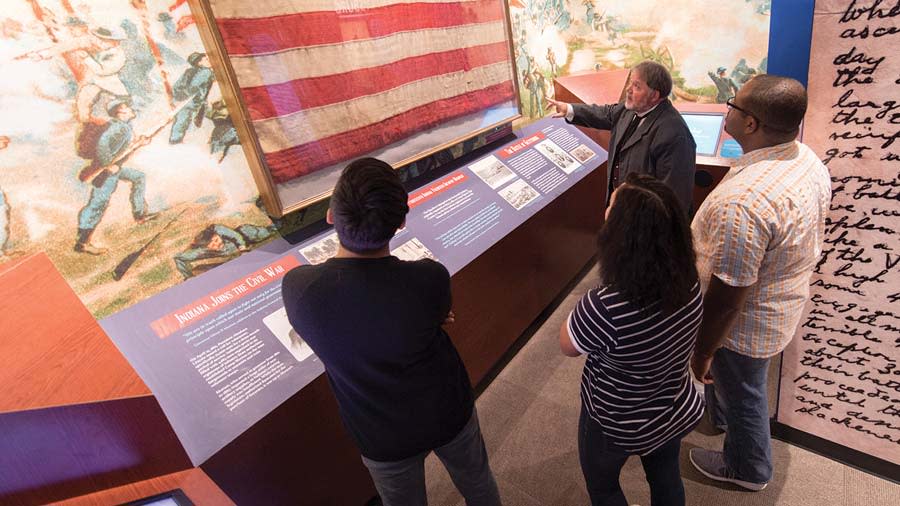 From the Civil War and Indiana's role on the Underground Railroad, to the legacies of Madam Walker and others, explore Indiana's rich history via interactive exhibits, historic images, manuscripts, artifacts, and more.
James & Sophia Clemens Farmstead
James and Sophia Clemens were former slaves and the first free black people to purchase land in Darke County, Ohio, in 1818. They became thriving farmers, and due to their success, attracted other former slaves to the area. Longtown became Ohio's earliest free, black settlement. The Clemens farmstead is the oldest and last remaining agricultural resource of Longtown. As a stop in the Underground Railroad, escaping slaves stayed on the settlement and worked on the farm before continuing their journey north to Canada.
Jazz Masters of Indiana Avenue Mural
Along Indiana Avenue, a street that buzzed with nationally and internationally renowned jazz musicians, you'll find a mural adorning the side of a music shop and featuring jazz greats like Wes Montgomery, Jimmy Coe, Slide Hampton, and others who developed their craft in Indy.
Levi and Catharine Coffin State Historic Site
As conductors on the Underground Railroad, Quakers Levi and Catharine Coffin helped more than 1,000 freedom seekers to safety in Fountain City, Indiana, formerly known as Newport. The city was home to many abolitionists, and Levi reportedly boasted about being the "President of the Underground Railroad." Their 1839 Federal-style brick home become known as "Grand Central Station" and has been beautifully restored.
Madam Walker Theatre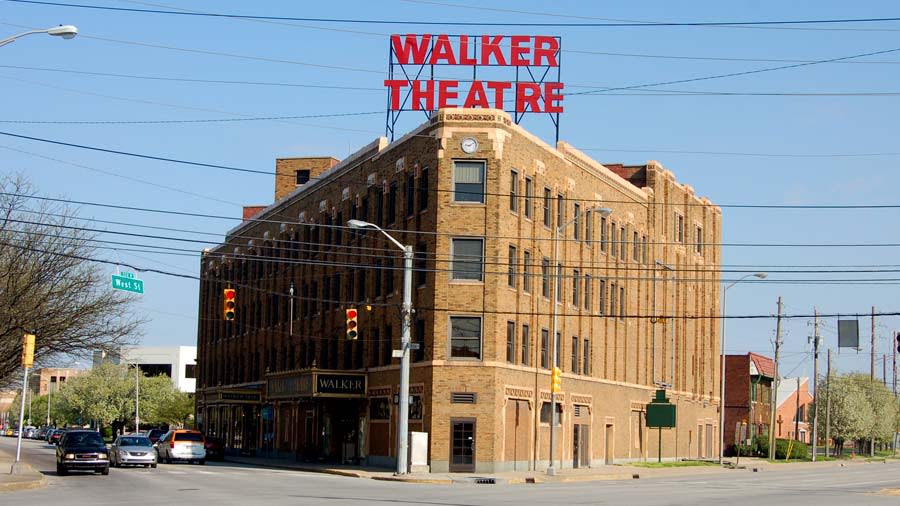 Madam C.J. Walker is famous for being self-made. The daughter of a former slave, Walker worked her way up to run an empire which made her one of the wealthiest, successful women in the 20th century. The Walker Manufacturing plant is now the Madam Walker Legacy Center which commemorates her zeal and drive for success. The building itself is a symbol of African-American pride and continues to be a beacon within the community. 
Marshall "Major" Taylor Mural on Washington Street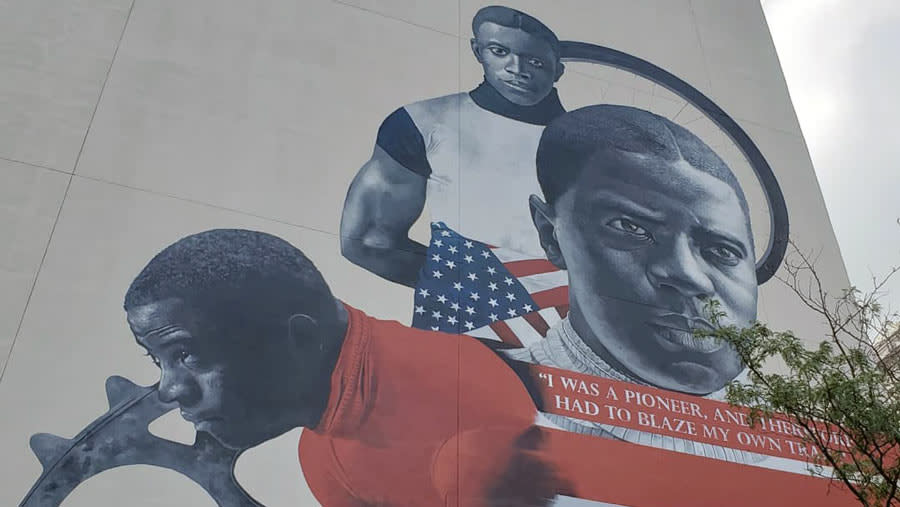 Born and raised in Indianapolis, American bicycle racer Marshall "Major" Taylor was the world's first Black sports superstar. He was world cycling champion in 1899, American sprint champion in 1900 and set numerous track cycling records over the course of his career. In this mural, Shawn Michael Warren captures Taylor across three stages of his career—as a youth, as an adult at his competitive peak, and upon his return to racing after a two-year hiatus.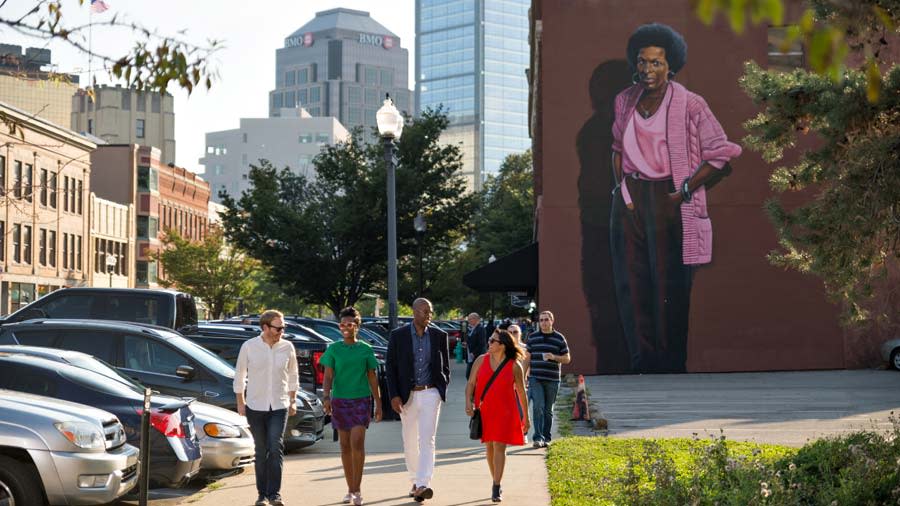 Accomplished poet Mari Evans called Indy home, and her legacy is honored with a three-story mural along Massachusetts Avenue in the Mass Ave arts district. Created by local artist Michael Jordan.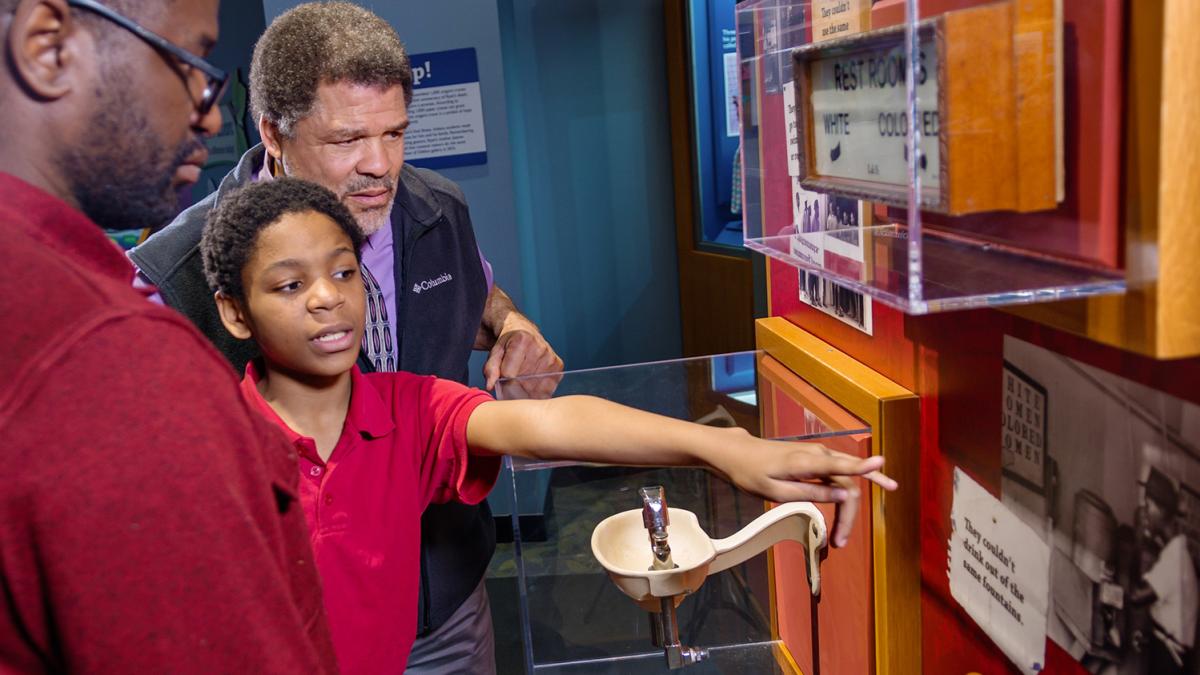 See bravery through the eyes of Ruby Bridges, the first grader who attended the newly desegregated schools of New Orleans in 1960. The largest children's museum in the world explores art, culture, science, and history in a way that appeals to the kid in all of us.
Established in 1897, Ransom Place is the oldest African-American neighborhood in Indianapolis. The neighborhood originally consisted of four dozen homes on six city blocks and inspired the founding of the National Association for African-American Heritage Preservation. Ransom Place was named after Freeman B. Ransom, an attorney and general manager for the Walker Manufacturing Company.
Opened in 1846, the Union Literary Institute in Union City, Indiana, was one of the first schools in the U.S. to admit students without regard to race or gender. Notable alumni of the school include James S. Hinton, the first black elected member of the Indiana House of Representatives, and Hiram Revels, the first black U.S. Senator. The site was also a noted stop on the Underground Railroad.