From delicious French pastries to South American-style cheesesteaks, your next food and drink adventure awaits at Indy's new the AMP artisan marketplace and food hall.
Located in the 16 Tech Innovation District in Downtown Indianapolis, the AMP offers Indianapolis residents, visitors and 16 Tech tenants with a one-stop-shop for enjoying a diverse array of innovative restaurant and retail concepts. The 40,000-square-foot space features colorful shipping containers, food stalls, an open-air bar, communal seating and community gathering/event space, offering visitors with the option to either dine in or grab-and-go.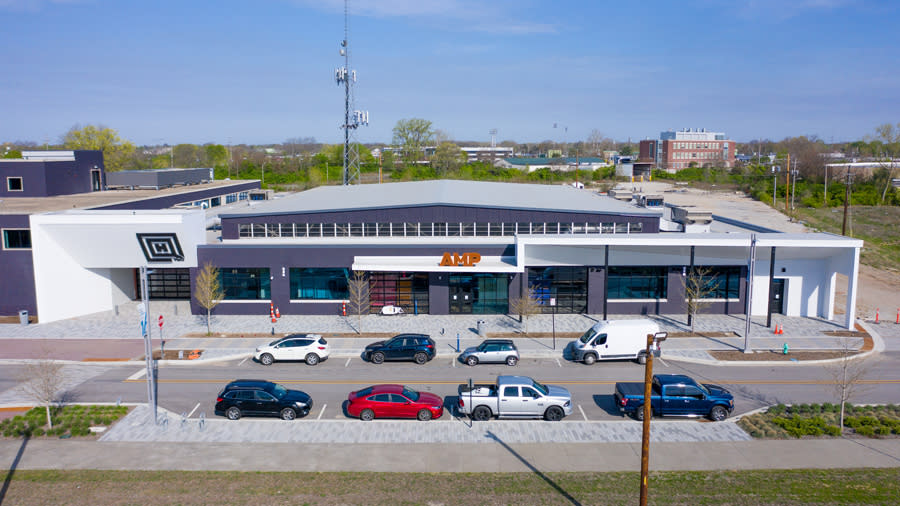 Below is a list of what you can expect at the AMP:
Andres BBQ and Seafood*: Home of the fainted rib. Fusion cuisine featuring international seasoning used in everyday cooking.
Azcuar Morena*: Arepa bar focused on showcasing the classic Venezuelan household recipes in every bite.
Black Orchid Barbers (Coming soon): Contemporary barbershop offering traditional services such as hot shaves, customized haircuts and beard trims.
Boba & Everything: Bubble tea and bagel shop.
Circle City Sweets: All from scratch French and American Patisserie specializing in croissants, artisan breads and pastries.
Frankie's Pizza Parlor: Family-owned New York style pizzeria utilizing quality Indiana ingredients. Pizza by the slice and delivery available.
Fresko*: Italian and Latin cuisine including traditional pastas, Latin street foods and a fusion of both.
Healthy Soul*: Healthy farm-to-table soul food on the go.
Hiatus Bar: A locally owned bar serving a rotating menu of fresh, innovative cocktails, beer and wine.
Limon: Taco Bar concept.
Mambo's Cheesesteak*: Philly cheesesteaks and sandwiches with a South American twist.
Melon Kitchen (Coming soon): Delivery-only restaurant accelerator, designed for local Black chefs to help them scale their businesses.
PB&J Factory*: A sandwich shop and cereal bar injecting the fun into food with modern nostalgia, operated by co-founder of Code Black Indy and operator of Exotic on the Run.
Poke Guru: Fast healthy, nutritious and delicious poke bowls with chef inspired, from scratch sauces.
PROX Salads: Chef-designed salads.
Punkin's Pies*: Decadent/petite Bakery specializing in chocolate dipped fruit and gourmet apples.
Purdue University – Marion County Extension (Coming soon): Focused on urban farming, featuring local growers, produce, hydroponics and classes.
Taste of Innova Wings & Greens*: Innovative and traditional recipes that incorporate comfort food ingredients for diverse palates.
Tinker Coffee: Elevated coffee shop with breakfast, lunch and treats to compliment coffee.
The Food Architect: The Food Architect Natural Drink and Sea Moss Bar serves natural, whole fruit, herb infused drinks, Alkaline water, sea moss, and herb mixes that promote healthy lifestyle changes.
Waterway Fish Market: A fish market serving only the finest, freshest fish and seafood available; committed to hiring interns from Second Helpings Culinary Job Training Program.
Yamallama Delicatessen: Chef inspired, grab-and-go salads, sandwiches and soups.
*minority-owned businesses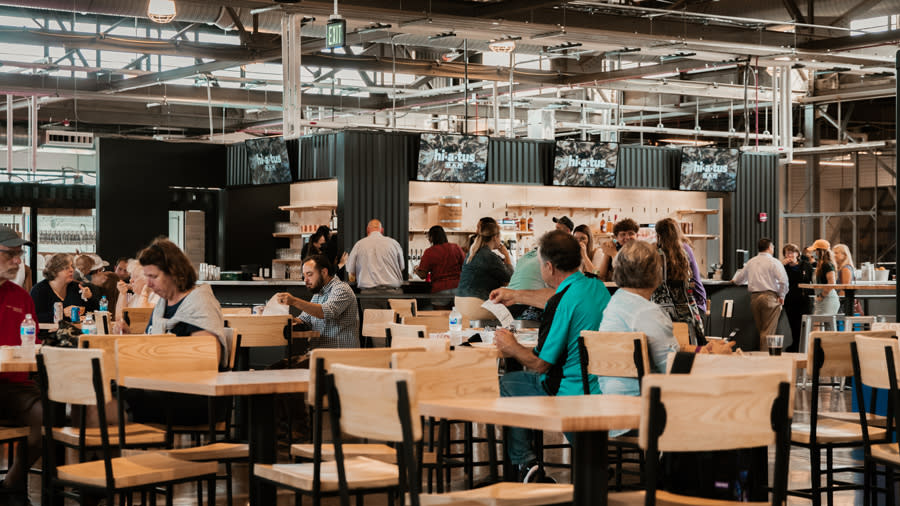 The AMP is focused on uplifting the Indianapolis culinary/retail community by offering a diverse array of concepts from emerging business to established concepts, an approachable leasing structure designed to allow entrepreneurs a place to start out and scale up, and a first-of-its-kind restaurant accelerator for Black chefs, Melon Kitchen. In fact, the AMP is home to a number of minorit-owned businesses, as denoted in the list above. 
The AMP is open Monday-Thursday 7 am – 10 pm; Friday 7 am – 11 pm; Saturday 8 am – 11 pm; Sunday Closed, except for special events. Tenant hours may vary.
Follow the AMP on Instagram @TheAMPIndy. Learn more about the AMP at theampindy.com.