Does it get any better than a national holiday centering around food? Did I just mark my calendar for October 4th so I don't miss National Taco Day? Maybe. Did I set a reminder on my phone for July 15th so I'm sure to imbibe in a cone on National Ice Cream Day? You betcha.
Perhaps the best combination of all is a food holiday that coincides with a holiday when many people have the day off, too. Enter National Burger Day on May 28th. But what should one do when faced with so many choices and options? I mean you can't just burn National Burger Day with a drive through. No, my friends, you need to do this thing right.
Lucky for you, I'm here to help. Today, I'm hand delivering via this handy list of 10 Burgers you simply must try in Indy. In fact, if you're not up for trying each and every one of these burgers today (after all, that could possibly give you a heart attack), you could very well make a burger bucket list and cruise through these delicious picks over the summer months.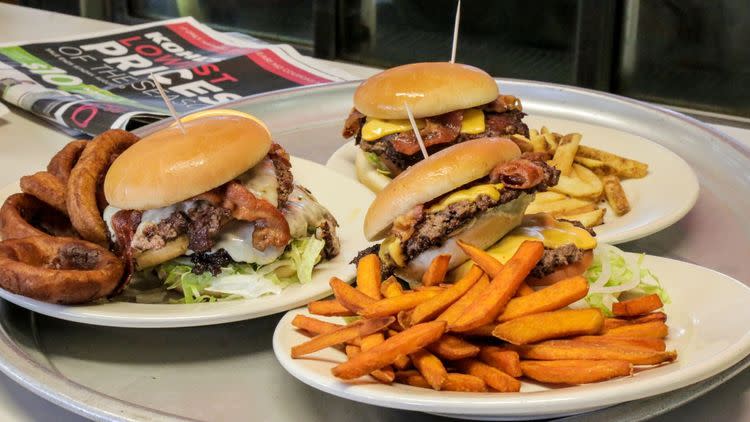 The Double Cheeseburger at the Workingman's Friend
Have your burger with a side of history when you visit this Indianapolis beer and burger joint that's over one hundred years old. One single glance at the Double from Workingman's Friend is certain to make your mouth water. Want to know a bit about this Indy treasure? Read all about it this Indy Star article.
The Pineapple Express at Next Door
Relatively new to Indianapolis, Next Door American Eatery is located on College Avenue in Broad Ripple. Serving dry aged Black Angus Beef from Indiana's own Fischer Farms, each burger delights. However, you should put the Pineapple Express on the top of your "must try" list. Topped with Fischer Farms bacon, swiss, pineapple (of course), arugula, and honey sriracha, make the Pineapple Express arrive at its final destination - your mouth.
Burger Snack at Bru Burger
Want a high taste burger at a low cost? Look no further than Bru Burger where you can order the Burger Snack topped with a classic American cheese, special sauce, and garden for only $5. Bru Burger offers a wide variety of some of the tastiest options in town, too. From gourmet burgers to simple fare, there's a little something for everyone.
The Walk of Fame at Burger Study
Late night, delicious burgers are the muse of any college student cramming for finals. Get the Ivy League feel whether you went to class or skipped school at Burger Study in downtown Indianapolis. Be sure to try the Walk of Fame - an all-natural, hormone free, USDA Prime Black Angus Beef Patty, seasoned with a coffee rub and topped with a fried egg, applewood smoked bacon, lettuce, tomato, and mayonnaise. 
The Tuscan at Burgerhaus
Take a stroll along the Indianapolis Canal Walk and then visit Burgerhaus where you can even sit outside and watch the people (and ducks) glide by. You don't want to miss the Tuscan, a burger topped with fresh mozzarella, beefsteak tomato, thinly sliced red onion, basil, baby spinach, garlic mayo, and a balsamic reduction. Bonus: Burgerhaus' Haus Fries come served in an adorable little basket of their own. Double Bonus: for every burger sold, Burgerhaus provides a well-balanced meal to a hungry child through Kids Alive, International.
El Camino at Burger Fuel
Only available for a limited time, the El Camino at Burger Fuel needs to be at the top of your list. A patty of 100 percent pure grass fed beef is topped with New Zealand Egmont cheddar, jalapeno slices, refried beans, freshly smashed avocado, corn chips, salad, batch brewed tomato relish, and sour cream. Burger Fuel is located in the heart of Broad Ripple and waiting for you to step inside its world.
The Mug-A-Nator at The Mug
Specializing in burgers from Farm to Curb, The Mug brings the classic American drive in up to speed. With burgers (and bacon) from Tyner Pond Farm, the Mug's menu delights with classics like burgers, hot dogs, fresh cut fries, tenderloins, milk shakes, and of course root beer. Visit the original Greenfield location or The Mug in Irvington. While you're there, go big or go home and order the Mug-A-Nator with three ¼ pound pastured raised all beef patties, seasoned with hickory smoked Celtic sea salt. On top of that, you'll find three thick cuts of bacon and three slices of American cheese. Add lettuce, tomatoes, pickles, onions, and of course Mug Sauce and you've got the burger to end all burgers.
Punch Burger's Burnt Cheese Burger
Burnt cheese is one of life's happiest accidents. Don't miss the opportunity to spoil your taste buds at Punch Burger when you try the Burnt Cheese Burger. The food is served quickly but the flavor lasts for hours. All of the burgers (beef, turkey, and duck) come from Indiana farms. You can order off the traditional menu or try a Burger of the Moment (BOTM) - always changing, but always delicious.
Spoke and Steele's Spoke Burger
The Spoke Burger takes a classic to haute culinary status. Beginning with a Fischers Farms custom beef blend, your burger is topped with both American and Sharp Cheddar cheeses and served on an Amelia's Brioche bun. Don't miss the malt fries served on the side. Ah-mazing, Spoke & Steele.
White Cheddar and Bacon at Hops and Fire
Located on the southside of Indianapolis, Hops and Fire offers gluten free options galore - including chicken tenders, breaded tenderloins, and of course their amazing burgers. Whether you're GF or not, don't miss the White Cheddar and Bacon Burger - a Hoosier Ground Chuck Burger and topped with White Cheddar. You'll also love its crisp pepper bacon, Beefsteak tomatoes, Baby Bibb lettuce, and mayonnaise served on a toasted egg bun.
---
Now I know what you're going to say. But wait a minute, why didn't you list...or you forgot...or what about...?! Here's where you can help. Add your favorite Indy burger pick in the comments on Facebook so we can try out all of those, too.
And burger enthusiasts, rejoice. The burger mania continues on through June with Indy Burger Week. Great burger spots all around the city will offer special gourmet burgers for only five bucks. Sponsored by Nuvo and benefiting Second Helpings, this special fundraiser helps you make a difference in our community and devour a fantastic burger feast at the same time. Win, win, win, win.
What are you waiting for? Get your burger on, Indy.