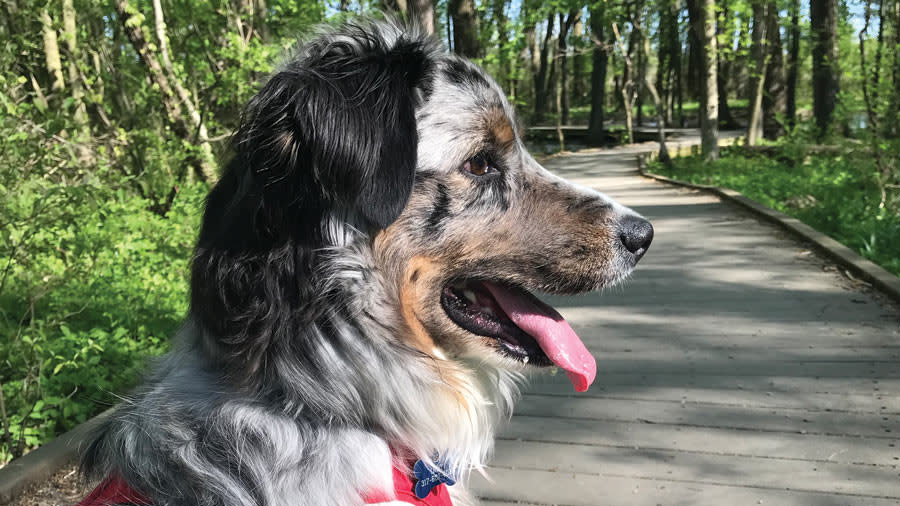 My best friend has been a source of comfort, love, and companionship during this time of extended quarantine. Together, we have logged hundreds of miles on streets, sidewalks, and trails. A calming walk with by buddy (his name, not surprisingly, is Indy) at the end of a day clears the mind while getting some much-needed body movement.
My dog perks up every time I walk toward the door, and I am not alone. While most of our walks traverse the streets around the neighborhood, we do branch out for some "destination walks." In Indy, there are obvious places to take your favorite pooch for a stroll, including: the Monon Trail, Indianapolis Cultural Trail, White River State Park and the Central Canal, Fort Benjamin Harrison State Park, and Eagle Creek State Park. In the era of social distancing, the popularity of these spots can make social distancing a problem.
For the safety of you and your furry friend, here are some recommendations for less-trafficked trails and paths for your consideration:
Pogues Run Art & Nature Park: If you've ever driven I-70 into downtown Indianapolis you've seen it, but it may not have registered. Pogue's Run is actually an underground creek that run into downtown, and this park is one of the few areas where it is visible. Walk a 1.5-mile walking trail with a spattering of art to enjoy and, while work is being done on the highway, is surprisingly peaceful.
Nina Mason Pulliam Ecolab: A 55-acre natural oasis on the Marion University campus is a hub for environmental science experiences and is used for life science education. The trail system guides visitors through a landscape designed by renowned architect Jens Jenson and includes stone bridges and spring-water cisterns.
Marott Park: While most people flock to the nearby Monon Trail or Holliday Park, Marott Park sits quietly just north of Broad Ripple. Two miles of trails treat visitors to a forested canopy and views of Williams Creek.
White River Wapahani Trail: As the White River Vision Plan works to reimagine life along the city's key waterway, this is your opportunity to walk and wonder about the possibilities. This trail spans over 6 miles along the White River in the heart of downtown. So, bypass the crowds on the canal and invest time quietly thinking about the future of our city.
---
This is a small sampling of the places you and your dog can experience while logging miles and enjoying a change of scenery without crowds. Maybe Indy and I will see you (from a safe distance).