Take it easy. Drop your burdens. Chill out. Cool your jets. Take a load off. Simmer down now. RELAX. We have more expressions than we know what to do with when it comes to encouraging people to calm down and breathe. Even though we're cognizant of the benefits of relaxation for our mental, emotional, and physical well-being, it's difficult to schedule the time to take care of those needs. And then once we actually pencil it in, it's challenging to know what to do.
When you visit Indy, you'll find a wide variety of high quality spas, offering traditional treatments associated with relaxing. But new on the scene in the Circle City are a few notable destinations where you can move beyond the massage and into a whole new space of breathing. Don't miss these three relaxing locations in Indianapolis.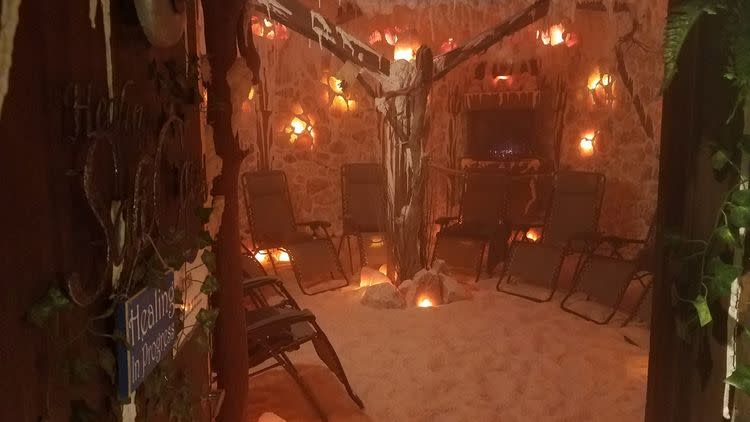 Wish Indy had more sea breezes? Maybe you should check out the Indianapolis Salt Cave and Halotherapy Center. Sit in the midst of nine tons of Polish pink salt from Klodawa, Poland, in a humidity and temperature controlled space. As you relax in a zero gravity chair, the salt travels through the air to renew and refresh your body via a Halogenerator. You're encouraged to put your phone away and meditate, relax, or even take a nap as your body absorbs the nutrients it needs. Other services offered at Indianapolis Salt Cave include a hand and foot detox using glowing pink salt blocks and Infrared Sauna sessions. Treatments start at as little as $30. Have more questions about the process and the benefits of salt therapy? You'll find all of the information and answers here. You can even book your appointment online. You'll also find a Salt Room at the Irvington Wellness Center.
What would it really be like to let your anxieties and worries float away? You can find out at A Place to Float. Offering a chance to unplug, a Place to Float features 90 minute therapeutic sessions in sensory deprivation tanks. Filled with a solution of water saturated in Epsom salts (magnesium sulfate), you can choose from either open or closed tanks depending on your comfort. The water brings with it healing powers to provide relief from joint and muscle pain. The process of floating restores your mind and emotions as you're carried away from your everyday distractions. You can schedule your first float for as little as $45 online and be sure to check out the special packages to make this practice a regular routine in your life at a discount. 
Hot yoga provides relief for the mind, body, and soul. And The Hot Room Indianapolis allows you to sweat, stretch, and transform all of the above. If you're new to the practice, the website gives you all the pertinent details including what to wear, what to expect, whether or not you should eat before coming, what to drink, and the answers to all of the questions you were too afraid to ask.
Take advantage of the special introductory offer if you've never been before. For $39, you'll gain access to unlimited classes for an entire month. Don't worry if you've never taken a yoga class before. The Hot Room Indianapolis specializes in coaching beginners through 26 postures and two breathing exercises. Toxins and stress will leave your body in the 105 degree heat tempered by a low 40 percent humidity. Gain flexibility, increase your endurance, and leave your worries behind on the mat.
In a world where it's increasingly difficult to unplug, Indianapolis offers a wide variety of relaxing opportunities at an affordable price. Whether you float, breathe in the benefits of salt, or find your bliss in downward dog, you can restore your mental, emotional, and physical health. So go ahead - take a load off. What are you waiting for?