Indianapolis has gotten more colorful over the past few years, thanks to a number of public art projects. It would take days – literally – to explore all of the city's public art. But it would only take an afternoon to visit these four larger-than-life murals.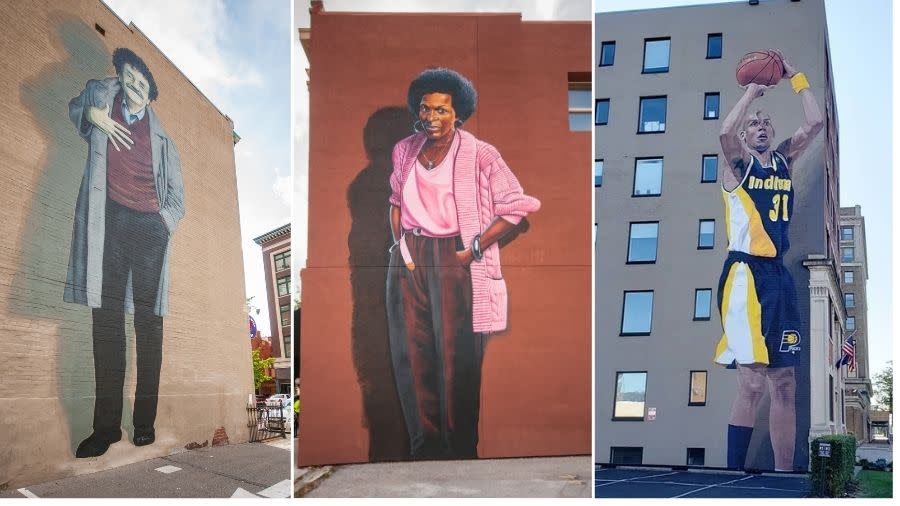 From left to right: Murals featuring Kurt Vonnegut, Mari Evans, and Reggie Miller
---
Reggie Miller
127 East Michigan Street
Artist Pamela Bliss painted this mural in the fall of 2018. It honors Pacers legend Reggie Miller, a Basketball Hall of Famer. The mural, titled Reggie, Reggie, Reggie! Boom, Baby!, is 60-feet tall. The sweatband on Miller's wrist is three feet tall, and his eyes are 10 inches wide. 
---
Mari Evans
448 Massachusetts Avenue
This 2016 mural honors Mari Evans, a renowned poet, author, and playwright. Evans, who died in 2017, spent the bulk of her writing career in Indianapolis. She's best known for her poems Celebration and I Am A Black Woman. Michael "ALKEMI" Jordan painted this 30-foot-tall mural in 2016.
---
Kurt Vonnegut
345 Massachusetts Avenue
Artist Pamela Bliss painted My Affair with Kurt Vonnegut, part of the 46 for XLVI program. (The 46 for XLVI was a city-wide initiative that commissioned artists to complete 46 murals ahead of the 2012 Super Bowl.) Vonnegut, who was born and raised in Indianapolis, often referenced the city in his writing. The 38-foot-mural was created using a compilation of photos of the artist, writer, and essayist.  
---
Eva Mozes Kor 
21 Virginia Avenue
Eva Mozes Kor was a Holocaust survivor and forgiveness advocate. Although she and her twin sister were subjected to human experimentation at Auschwitz, Kor publicly forgave the Nazis decades later for what they had done to her. She was known internationally for her message of hope and healing and known locally for her close ties to the 500 Festival. Because of her relationship with the organization, the south side of their building was deemed "perfect" for the 53-foot-tall mural. It's based off a photograph taken at Auschwitz a few years before Kor died. In the photo, Kor is smiling, giving the peace sign, and displaying her never-give-up attitude.
It's a personality trait artist Pamela Bliss – who also painted the Reggie Miller and Kurt Vonnegut murals – captured perfectly. Bliss started working on the mural in October 2020; the mural was dedicated the following month. Now, whenever someone drives up Delaware Street or runs up the Indianapolis Cultural Trail, they are greeted by Kor's smiling face and the words "hope," "healing," and "forgiveness."