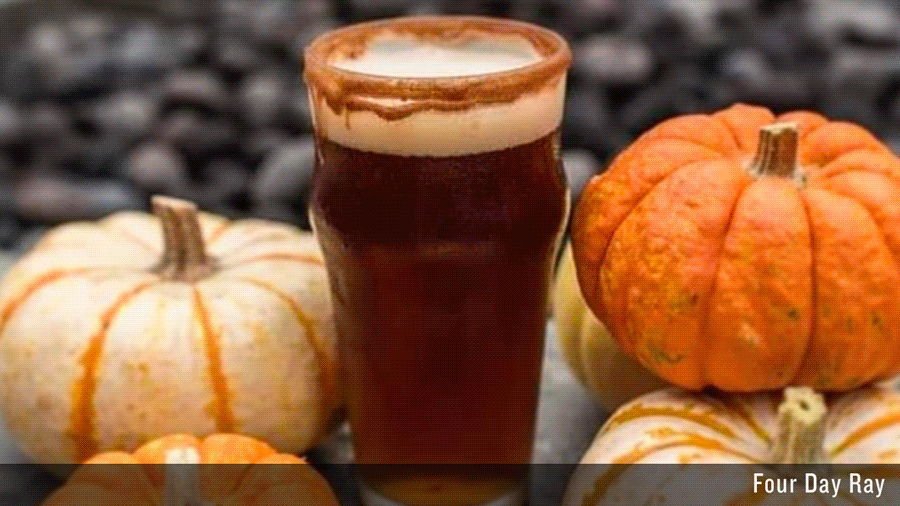 What do we love about fall? EVERYTHING. Pumpkin spice is nice, but to celebrate sweater weather in a more adult manner, check out the selections of special fall beverages Indy Craft Pass partners have on tap.
Haven't registered your pass yet? Get it done!
The fall cocktail menu just launched and features 15 new drinks. The focus is on the popular Old Fashioned with 7 of the 15 being variations on that classic. Also try the Ugh Boots (rum, pumpkin, cinnamon) and the Autumn Sour (cinnamon whiskey, creole bitters, citrus, nutmeg, egg white).
Earl Grey is the cider of the month here, with the calming flavor of the tea, while Autumntide is the fall seasonal, made with real pumpkin and hand-ground baking spices. Mulled cider will be released October 16 to give you a warm-all-over feeling.
Both locations have both Pumpkin Porter and Pumpkin Ale on tap, as well as Marzen Oktoberfest, a German-style amber lager. Persephone spice hefeweizen coming soon.
The cocktail of the month is Brown County Pumpkin Patch in which Hard Truth spirits add a kick to this creamy, spiced punch with pumpkin spice and pecan liqueur. As for beer, Put a Fork in It pumpkin ale, a seasonal favorite, is going fast.
Cooler temps mean darker beers, like Vanilla Porter. Look for Brown Rye and Coffee Porter to warm you soon.
Two great fall additions launch this week: Pumpkin Spice Blanc (sweet wine with notes of pumpkin, nutmeg, and cinnamon) and Harvest Pear Rosé (semi-sweet rosé with notes of pear, guava, and white flowers).
The Oktoberfest Marzen is pouring. An authentic German lager with rich, toasty flavor and a crisp finish is the perfect fall refresher. Prost!
Nothing warms on a cool, autumn night like a nice mulled wine. Grab a few bottles to get through the season.
Fall beers are Amber, a beautifully colored amber ale with aromas of fruit and biscuits, and Early House Irish Red with caramel flavors.
It wouldn't be autumn without Cinnamon Girl. Made with 10 pounds of Ceylon cinnamon sticks and 8 whole vanilla beans, this light bodied ale is a perfect fit.
Pumpkin π ale is full bodied with hints of pumpkin, cardamom, cinnamon and other spices. For the ultimate dessert-in-a-glass experience, order it with a cinnamon and sugar rim.
Real pumpkin and a custom blend of spices make Pumpkin Milk Stout smooth with fall aroma (think pumpkin pie). Coffee Milk Stout is just around the corner.
A new fall menu highlights darker ingredients for holiday-inspired cocktails like Grave Digger (pictured), Sleepy Hallow, and the Zombie Mule. Old Fashioned fans will also enjoy a few new takes on the classic.
Popular annual Death by Pumpkin was tapped last week. The result of 180 pounds of pumpkin as well as brown sugar and other spices may very well be worth dying for. And since we're finally enjoying some football, a few cans of Kickoff, a fruited hazy pale, should be at your tailgate.
Harvest Weekends continue through October 18 with live music in the cool air with plenty of wine (including warm, mulled wine) and hard cider (cranberry is the seasonal option made with tart cranberry juice).
No need to fear Elvira Pumpkin Ale. This pumpkin pie in a glass would please any mistress of the dark. Caramelly-sweet and available October 16. Also look for Munich Festbier tapping soon.
Ruth Berry Ginsburg blackberry blonde ale has inimitable style just like the late justice honored by its creation. May make watching the debates a little more palatable, eh? October also brings a stein special and fall events like pet trick-or-treating.
To celebrate the new tasting room at the Circle City Industrial Complex, New Day is offering a 10% discount on all carryout cases. Fall is a perfect time to discover a new cider favorite.
Don't miss Tropical Confessions, the guava/mango variation on the brewery's award-winning IPA, as well as Oktoberfest, another award winner.
Try Oktoberfest in its regular form and also maple variant Oktober Forest, GFJ, Hefeweizen, Caramel Apple Tripel (caramel, dried apple, brown sugar), the Pumpkin Pie slushy, and cocktails like Autumn Sauce, Apple of My Rye, and non-alcoholic Apple Cider Punch.
Fall favorite Bean Counter (coffee brown ale with Tinker Coffee) is back, and the annual lambic Sour Broker (this year in apricot and cherry versions) returns later this month.
Snuggle up with Teddy Bear Kisses on October 16. This Russian imperial stout is aged on fair trade cocoa nibs for a malty mix of bitter and sweet. As always, variants will follow.

Remember, once your 18-month anniversary on the pass passes, you're eligible to start working on a second round of rewards.