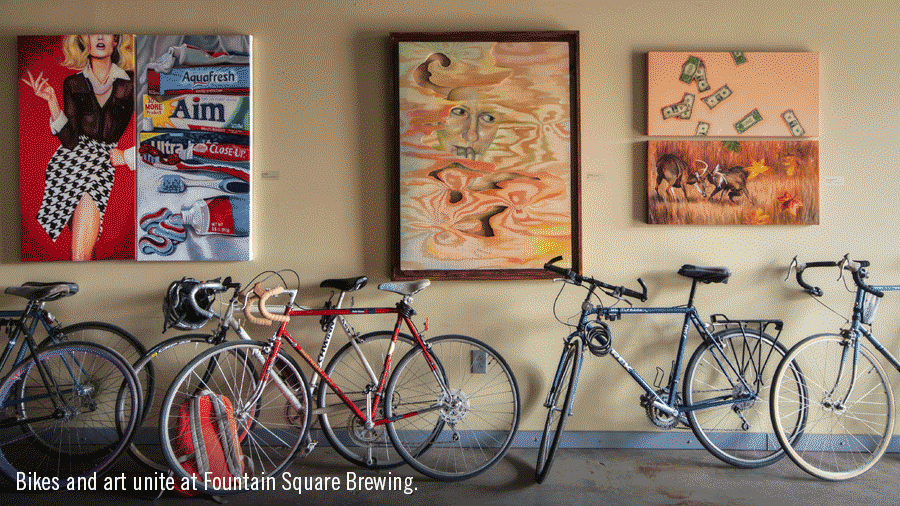 As warm spring air finally rolls into Central Indiana it's a perfect time to jump on two wheels and explore the city. Thankfully for craft beer enthusiasts it's easy to plan your next ride with an Indy Craft Pass location (or two, or three) as a destination. Any biker knows that a proper reward makes the journey that much sweeter.
Indianapolis Cultural Trail
The crown jewel of the Indy trail system is an eight-mile landscaped and art-studded journey that connects downtown neighborhoods (and breweries).
South Fork: Ride through Fletcher Place and stop in for a cocktail at Hotel Tango or pedal to Fountain Square and check off two stops with Fountain Square Brewing and Upland FSQ.
Eastside: On the eastside of the city a jumping off the trail at Alabama and Market Streets gets you access to the Indianapolis City Market and the Tomlinson Tap Room where you can taste craft beers from across the state of Indiana.
Northeast Spoke: The Bottleworks District has become one of the hottest destinations in the city and inside The Garage food hall you'll find Hard Truth Distillery and a huge selection of dining options.
Monon Trail*
Indy's original greenway goes from downtown Indy in the south through Broad Ripple and eventually to Carmel and beyond. It's also near some prime Indy Craft Pass destinations.
South: The Circle City Industrial Complex is a block away from where the trail meets downtown. It's also home to Centerpoint Brewing. A short diversion at 17th St. will take you to the front door of fast-growing West Fork Whiskey.
Carmel: A short turn off 116th St. takes riders to the Upland Carmel Tap House. Further north, where the Monon dissects Midtown Carmel, there is undeniable energy and excitement. Art and shopping flank the trail as does Sun King Spirits, where you can grab a draft, slushie cocktail, and a bite from one of their food vendors.
Westfield: As you venture north of SR32 into Grand Park, a jaunt east at 181st St. rewards riders with European-inspired drafts in what used to be a former lumber company building at Grand Junction Brewing. With an active events calendar, you never know what you might encounter.
Saddle up, be safe, and plan your next ride with the Indy Craft Pass. Cheers!

*Please note that ongoing construction to widen of the Monon Trail in Indianapolis will cause detours.