Indianapolis Ag & Culinary Tour
The Food We Love
Indianapolis is the capital city of one of America's leading agricultural states. So it stands to reason that visitors are always treated to the freshest produce, meats, and poultry served up by creative chefs of renown. Discover how the locals produce, harvest, and prepare delights for all tastes and interests.
---
AGRICULTURAL ATTRACTIONS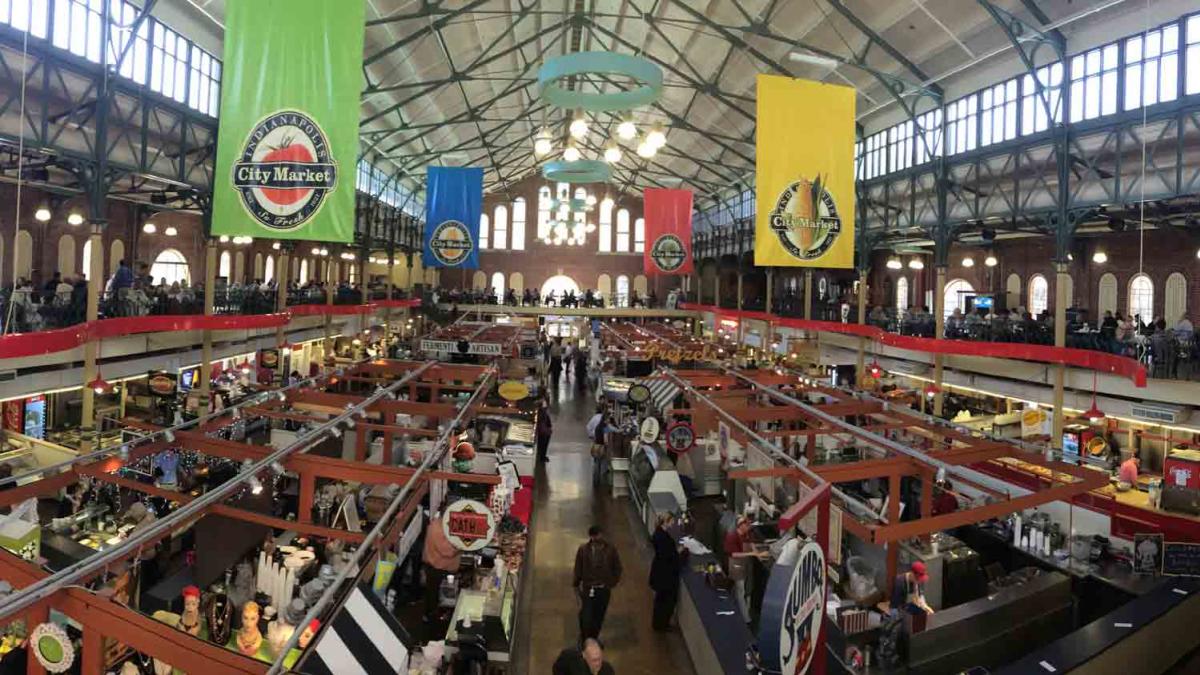 Indianapolis City Market – since 1886, the City Market has been the hub of fresh farm goods. Housed in an historic landmark, sample Hoosier fruits, vegetables, and more, with a variety of dining options that will tempt every palate. Cooking demonstrations are available and every Wednesday during warm weather months, enjoy the outdoor Farmers Market. (1-1.5 hours)
Sky Farm at Eskenazi Health – this is a one-of-a-kind farm resting atop the seventh floor of the Eskenazi Health complex in downtown Indy. A sky farmer will escort the group through the variety of produce raised and harvested for the enjoyment of hospital patrons. Bring your camera for great downtown Indy skyline photos.
Hunter's Honey Farm – the Hunter family has been in the beekeeping business for four generations with 500 hives and thousands of honey bees producing a wide variety of honeys and related items. Tour groups have many options including bottling your own personalized honey. (1-1.5 hours)
Indiana State Fairgrounds – Multiple agricultural shows take place throughout the year, culminating in the great Indiana State Fair, annually held in August.
---
EXPERIENTIAL DINING & WINING

Tastings, A Wine Experience – wine novices or aficionados may sample a variety of wines, or simply enjoy a bottle of their favorite, at this unique wine bar. Small plate bistro items complement the wine tasting. (1-1.5 hours)
Tomlinson Tap Room – is the place in Indianapolis to taste 20 Indiana craft beers, many of which are brewed in Indianapolis. The Tap Room is located on the second level of the City Market, with multiple dining options from which to choose. (1-1.5 hours)
Taste Indy Food Tours – discover Indy's unique neighborhoods on guided tours that include stops at a variety of restaurants. Meet the locals, see their hotspots, and enjoy their favorite eateries. (2-3 hours)
Chef JJ's – with a location in downtown Indy, Chef JJ invites groups for culinary experiences using the Big Green Egg grilling system. Indoor and outdoor dining options available. (2-3 hours)
Cafe Patachou – locally-owned and famous for using Indiana food products, Patachou serves up breakfast and lunch in comfortable dining settings, all at reasonable prices.  Hang out with the locals.  (1-1.5 hours)
Traders Point Creamery – located at Traders Point Creamery, lunch and dinner menus feature delicious farm-to-table entrees and homemade ice cream in a rustic setting overlooking the dairy farm. (1-2 hours)
Hollyhock Hill – a treasured dining experience since 1928 found in a beautiful north side home, Hollyhock Hill is known for its country-style meals, including fried chicken with all the trimmings, served family-style. (1-2 hours)
Rick's Cafe Boatyard – on scenic Eagle Creek Reservoir, Rick's lunch and dinner experiences can be indoors or on the spacious outdoor deck where diners watch boats sail by. Private rooms and special group menus are available. (1-2 hours)
Please contact John Mellinger, Visitor Experience Manager/Information Specialist - Incoming Tours, for more detailed information about the venues and activities on this itinerary.