Circle City holiday magic is just around the corner, with Indy holiday attractions bringing smiles to both guests and visitors despite the pandemic. One favorite holiday tradition, however, will look a bit different than its past 57 years.
For the past week, electrical workers and volunteers of IBEW 481 have been decorating the Soldiers & Sailors Monument with the usual 52 strands of garland, transforming the monument into the iconic Christmas tree to grace downtown. 26 life-size toy soldiers, 26 peppermint sticks, and 4,784 LED colored lights will all come to life on Friday, November 27. 
But the "flipping of the switch," the event that typically welcomes thousands of spectators to Monument Circle, is going all virtual this year. The Circle of Lights event will be streamed live with a made-for-TV only event.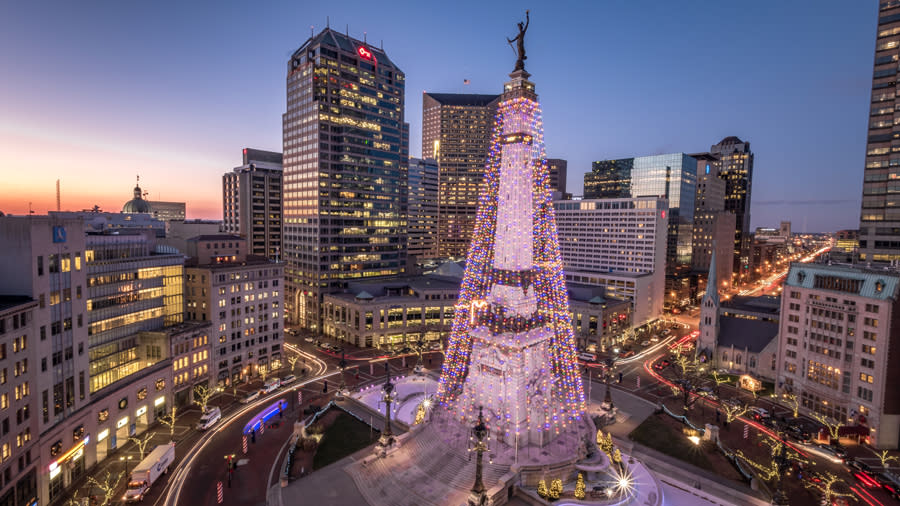 On the Friday after Thanksgiving, catch the special television event aired exclusively on WTHR Channel 13. Programming will begin promptly at 7 pm and will include musical acts and the flipping of the switch. Viewers will be able to see the tree illuminate in real-time, bringing the holiday spirit into every home that tunes in.
Live performances will include:
Indianapolis native Josh Kaufman, the 2014 winner of The Voice
Opera singer Angela Brown
The Best Kept Secret, a singing duo from Purdue University
Meridian Moon, a local band performing in their free time from being healthcare workers.
The Rosettes of Le Rose Dance Academy
Anneliese and Ali, a singing duo from Morgan County
Make it a celebration to remember and order take-home packages from local Indy restaurants. Many local eateries are offering takeout this season, so choose your favorite spot in the city and order some food to go. Soupremacy, the popular soup shop on Monument Circle, is even offering a Circle of Lights at Home package, including their beloved soup, cookie dough, and hot cocoa.
"The show must, and will, go on," said Downtown Indy, Inc. president Sherry Seiwert. "We are so thankful for IBEW 481 and its dedication, care and craftsmanship shared year after year to install the lights and present the Circle of Lights for the entire community to enjoy. The TV event, in place of the live celebration, will still be wonderful. We look forward to uniting back Downtown this holiday season in small and measured ways."