We in Indy are blessed to have some talented and imaginative folks crafting great beers all around us. The challenge is not in finding a brew to call your favorite, but in finding the time (and designated driver) to travel about the city (and state) and sample them all.
Cue the cheesy dream sequence in which I sing and dance much better than I did in those childhood recitals and tell you about the fairy tale adventure coming January 30 that is Winterfest.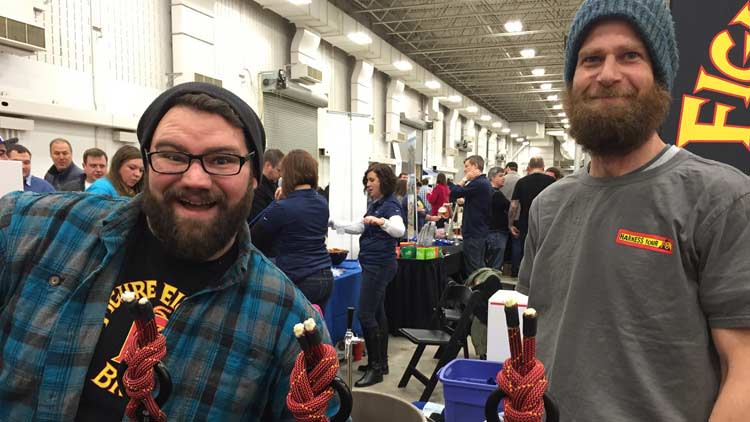 This will be the eighth year the Brewers of Indiana Guild has treated us to this glimpse of heaven with more than 100 breweries bringing multiple beverages for sampling. And it's not just the standard house beers that will be warming you up inside the Champions Pavilion at the fairgrounds. Oh no. The brewers use this opportunity to introduce you to some very special limited releases. Follow #IndyWinterfest on Twitter and Instagram to learn more about these.
A few tips for a successful afternoon:
Do NOT come to this event without a clear plan for getting home. There's no way you're driving yourself, so buy a friend a $10 designated driver ticket or keep the Uber app handy on your phone.
If you didn't spring for the VIP tickets (sold out weeks ago) that get you in at 2 pm, get there early. There are some long lines for the 3 pm general admission entry. An alternate theory is don't sweat it and come a little later. The folks who've been there since VIP opened may be on their way out.
Study the map and make sure you know where your must-taste tents are located so you can go there first. 
If you're not doing VIP, chances are the more rare beers are already gone, so don't waste time going to tents of breweries you already know well. Pogue's Run Porter always makes me smile, but this is the time to try something that isn't blocks from home!
Check your coat. This is a crowded event and you will be warm, even if you're a DD.
Bring something to snack on. Many find the pretzel necklace to be the perfect solution, while just as many find it the height of geekiness. You make the call, but whatever you do, just be sure you have something to balance the beer. I cannot stress enough the importance of this. 
Also bring a sealed, clear bottled water. You know you're going to need it and you don't want to waste time and $$ buying one inside. Refill at a water fountain.
Don't feel obligated to finish every pour. Most of them are generous and if you want to remain upright, you migth want to utilize those rinse troughs.
Keep moving, but do pace yourself. I'm sure you're a good judge of when you need to pull back a little and the last pour is at 6:45 pm.
The longest lines often lead to deliciousness. Plus, they give you a little more time to re-focus your chi, especially if you just downed something with an ABV like that bourbon barrel aged Dark Lord.
Talking to the brewers is great. You obviously share a love of beer!
Some people complain about there not being a lot of food selections at the fest, but you'e better off saving that vital stomach room for beer anyway. Treat your DD to a nice brunch before the fest. They'll be satisfied and you'll have a good base for the consumption to come. Once you're in, you'll be fine with your pretzels.