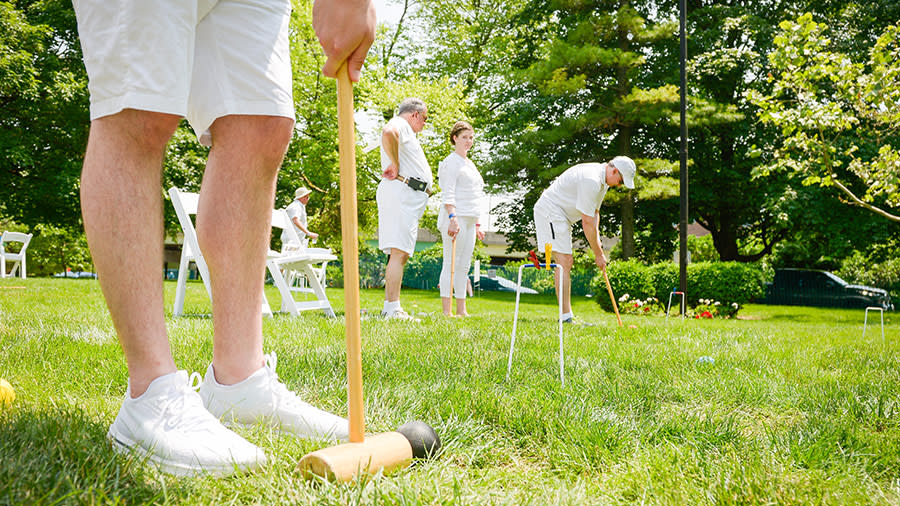 As I looked out my window this morning at the sunshine reflecting off the green grass it had me dreaming of gathering with friends on the lawn of the Benjamin Harrison Presidential Site (BHPS) for my favorite annual event, The Wicket World of Croquet. The irony is, I'll have to wait until 2022 to revisit that fantasy because this year's tournament is moving.
 
I invite you to join me on Saturday, June 5, for a day of fun and fellowship in the heart of downtown at White River State Park. The shadow of the NCAA headquarters will stoke your competitiveness and the calm of the flowing river will ease your nerves. This one-year-only move is to allow major improvements to the BHPS that will benefit this event for years to come.
 
This year they worked with the JW Marriott to offer a package that includes tournament registration (competitive or leisure) and a hotel stay (for a very low rate). Take advantage and make the weekend a staycation!
Expect delicious food and tasty beverages from our partners at Sun King and Hotel Tango. Expect music from the White River Brass Band. Expect friendly competition in either the Leisure or Competitive Tournaments. Or, opt out of playing altogether and buy a Porch Party ticket to mix, mingle, and enjoy a day of imbibing in the park. All attendees are required to wear white so get your wardrobe dialed in and you could walk away with the coveted "Best Dressed" award.
Money raised through the Wicket World of Croquet is vital for advancing the mission of the BHPS by allowing local students the opportunity to visit and learn the importance of civic engagement through the legacy of the 23rd President of the United States.
I look forward to seeing you for Croquet in the Park!