The glow of the midway lights up the night sky. The smell of food, glorious food, wafts to your nose. Hard working 4H kids whisk by ready to show off their skills and knowledge. Concerts fill the late summer evenings with music and entertainment, while exhibits and displays offer opportunities to learn more than you ever knew possible. The bands, the cheerleaders, the tractors, the animals, the ribbons, and so much more - we just can't wait.
It's time for The Greatest 17 Days of Summer in Indianapolis - the Indiana State Fair! This year's fair kicks off today and runs through Sunday, August 19. Of course all of your favorite annual traditions will make their appearance at the fair, but this year be sure you're in the know for new and exciting features certain to take an amazing experience to the next level.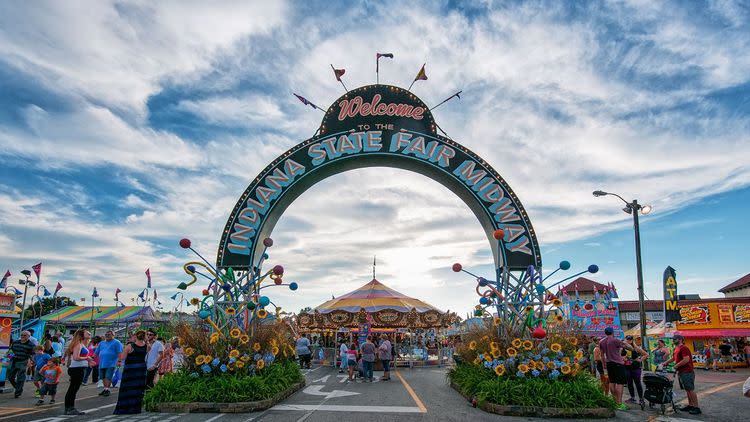 The Big Top Circus 
Step right up, ladies and gentlemen. Get ready to live out your fantasies from The Greatest Showman. This year, admission to the Indiana State Fair includes your special ticket to the Big Top Circus. Choose from three shows each day at 1 pm, 4 pm, and 7 pm (no 1 pm show on Thursdays). Be prepared to be entertained by all the circus has to offer, featuring special performances by headliner Bello Nock!
The Ninja Experience
What's that you say? You've never seen a ninja at the Indiana State Fair before?! This year, your family can enjoy the amazing feats of The Ninja Experience in the Metro PCS Family Fun Park. With three free shows daily at 12, 3, and 6 pm, don't miss your chance to see a one-of-a-kind show complete with hydraulic staging, special effects, athletic feats, massive stunts, and Ninja Warrior obstacles.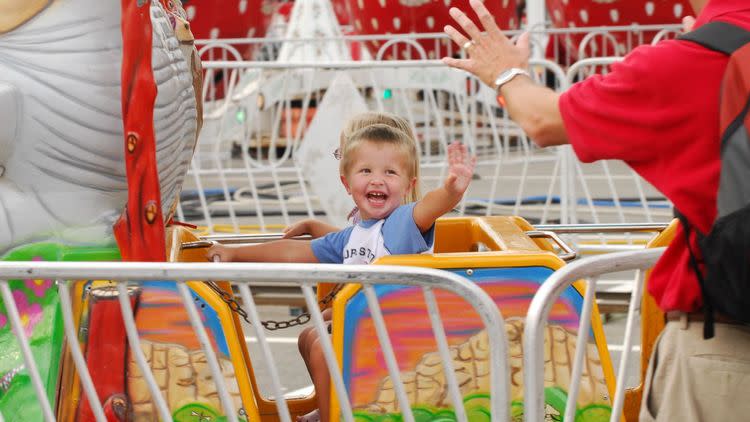 World Championship Ice Cream Eating Contest
On Sunday August 5th, don't miss your chance to witness the spectacle that is the World Championship Ice Cream Eating Contest. Did you know the record was set at the 2017 Indiana State Fair? Come and see if current world champion eater Joey Chestnut can consume an all new, enormous record amount of ice cream.
ANvitational ($50 Value)
Discounted Penrod Arts Fair Ticket ($5 Value)
50 Percent Off Indianapolis Symphony Orchestra Happy Hour on 9/20 ($15 Value)
The Bullet Train and Subaru Skyline
Thrill seekers and ride lovers won't want to miss this year's newest addition to the Midway - the Bullet Train. The home to the largest Midway in the Midwest also features the Subaru Skyline. New in 2017, this high flying ride gives you one of the very best views of the entire Indiana State Fair and is open daily.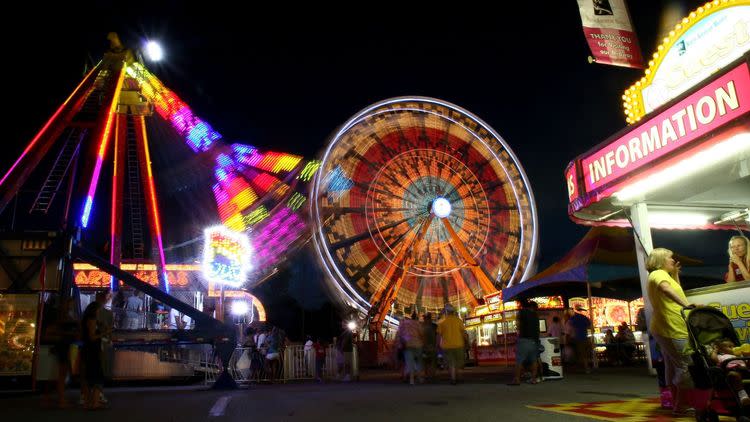 Celebrating Indiana's Circus History
Take your circus experience to the next level by checking out the all new, hands-on, interactive and educational exhibit in the Ball State Harvest Pavilion. Featuring pieces from The Children's Museum of Indianapolis, the Indiana State Museum, and the International Circus Hall of Fame in Peru, Ind., this unique and fun encounter brings the history of the circus in Indiana alive! You won't want to miss this opportunity.
Unique Culinary Options
Every year, the Indiana State Fair offers fare of every variety. From traditional favorites to odd and unusual concoctions, you're certain to find something to tickle your tastebuds. This year's new offerings include: peach cider slush, deep fried sugar cream pie, inside out grilled cheese sandwiches, BBQ pork potachoes, and more.
Animal Town
Have a kid constantly peppering you with questions about animals? Or, are you curious about the barnyard favorites at the fair? Don't miss this year's new educational experience Animal Town presented by Indiana Farm Bureau. With daily animal chats and the chance to interact with eight species of animals, make time to learn and love even more about the animals at the fair.
Discounts and Deals
The Indiana State Fair provides numerous opportunities and methods for you to save money on your visit each year. Don't miss this year's special deals and discount days:
Buy in Advance: Score Midway Wristbands online for $20 online if purchased before August 5th. At the fair, you'll pay $30.
Chevrolet Military Day: On Monday August 6th, military personnel and their families get in for free. 
$2 Tuesdays, Presented by the Indiana Secretary of State: On Tuesday August 7th and Tuesday August 14, enjoy $2 admission at the gate, $2 Midway rides, and $2 food options. 
Indiana Pork Day: On Wednesday August 8th, get in FREE with your Indy Star ticket. Plus, seniors (55+) ride the shuttles for free all day long.
BMV Discount Day: On Thursday August 9th, get $6 admission with a special voucher printed at myBMV.com.