Speedway may be "The Racing Capital of the World," but there are plenty of places to slow down, too. Family-owned businesses line Main Street, and include a 60,000-square-foot karting facility, as well as a barbecue joint specializing in Memphis-style ribs. So, before you hit the track, swing by one of these local establishments for a local beer or a bite to eat.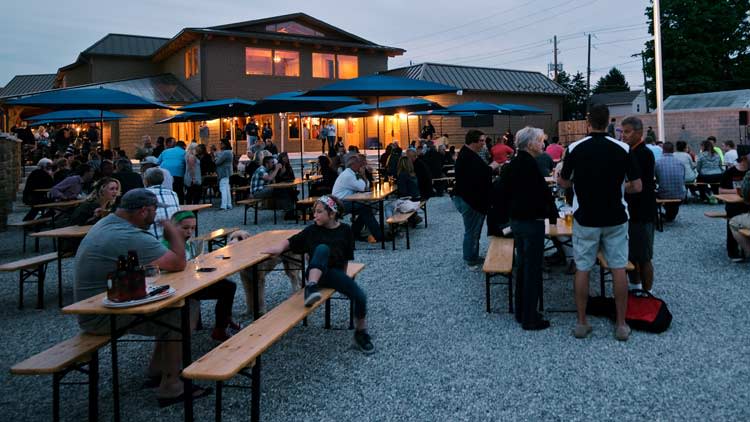 1002 Main St.
Big Woods got its start in 2009, when its founders opened a brewpub in Nashville, Ind. Today, there are several Big Woods restaurants around Indiana, Speedway being the largest to-date. It features a bar area, as well as a family-friendly dining room. There's an outdoor beer garden as well, and a 21-and-older saloon that serves spirits. Big Woods is stocked with Quaff ON! Brewing Co. beer, which supplies all Big Woods restaurants with its renowned porter, Busted Knuckle, and American IPA, Hare Trigger. 
---
1414 Main St.
Whiskey, wings, and wood-smoked barbecue. … Is your mouth watering yet?  Swing by this family-owned and operated restaurant, which is open seven days a week. It has quite the selection of bourbon – more than 30 varieties, in fact – and owners Marcia and David Huff use a one-of-a-kind, 30-foot smoker to prepare Memphis-style barbecue. So, go ahead. Order the "Heartbreaker" and try the "7-Pepper Mustard." And don't forget dessert, either; we hear it's often infused with bourbon, as well. 
---
1201 Main St.
In search of espresso? Gelato? Paninis? Then don't miss Lino's Coffee, a European-style bistro located in the Dallara INDYCAR factory. Lino's, also known as Misterlino, has roots in Parma, Italy. It attracts Italian drivers and engineers – among others – and is the only Lino's in the Western Hemisphere. The bistro receives its beans from Italy, as well as fresh shipments of Italian meats and cheeses. Order pasta or pizza, then pair your dish with one of the Hoosier craft beers from the full bar. Bon appétit!  
---
1464 Main St.
Dawson's is the perfect place for a pit stop. It's located directly across the street from the Indianapolis Motor Speedway and serves Hoosier favorites, such as tenderloins. The full-service restaurant also boasts an array of steak and seafood dishes, including filet mignon, horseradish-crusted top sirloin, Atlantic salmon, and crab cakes. On Tuesdays, Wednesdays, and Thursdays, Dawson's offers a variety of drink specials. But on Friday, snag a seat on the patio and order a seafood dish – they'll be on special. 
---
1182 Main St.
There's something for everyone at Foyt Wine Vault, which is part wine bar, part lounge, and part A.J. Foyt museum. The Foyt family opened the establishment in 2015 and named it for A.J., who won the Indianapolis 500 four times. Foyt Wine Vault carries more than a dozen different wines, from Rieslings to Merlots to Cabernets. Not into wine? Not to worry. The casual, yet modern, wine vault also carries several craft beers and spirits, and serves some tasty treats. Bacon-wrapped jalapeños, anyone? 
---
1067 Main St.
Speedway Indoor Karting is the brainchild of retired INDYCAR driver Sarah Fisher and husband Andy O'Gara. The facility includes a two-level, European-style road course and a mini speedway. Karters of all skill levels are encouraged to give the tracks a try. Also on the site? 1911 Grill, an independent family restaurant named for the inaugural Indianapolis 500. 1911 Grill serves American cuisine, and has both indoor and outdoor seating. (Sit inside if you'd like to watch the kart drivers race around.)