As someone who has always been fascinated by both modern and ancient Greece, I have been eagerly awaiting June at The Children's Museum of Indianapolis. Not one, but two new exhibits all about Greece opened this past weekend at the largest children's museum in the world - right here in Indy. 
Treasures of Ancient Greece and Take Me There: ® Greece each celebrate the mysteries, magic, and traditions of the more than 6000 Greek islands across the sea. From a vast collection of ancient artifacts – including a near-perfect statue of the fearless goddess Artemis – to original costumes from Greek-inspired media, Treasures of Ancient Greece show how the Greeks made an impact on our daily lives. Guests about the origins of democracy, the art of pottery, the wonder of the world's first computer, and the bravado of the Olympic games.
Both original and replica statues inspire curiosity, especially when one discovers that these classically imagined white-hued sculptures were originally blossoming with color!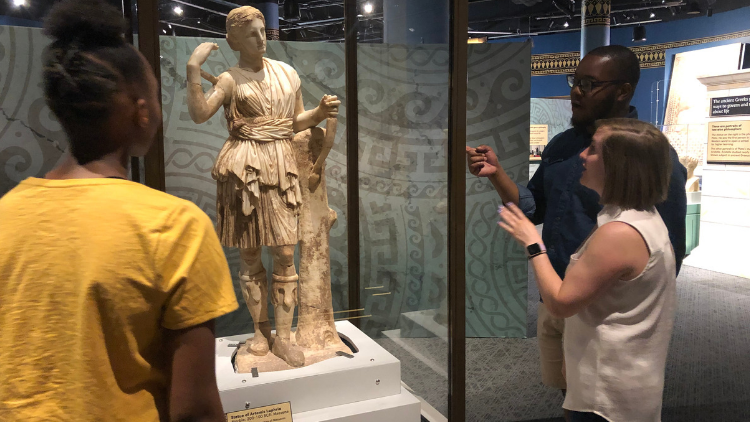 What I find most impressive about Treasures of Ancient Greece is the scope of what both children and adults can learn. There are lessons to be learned about philosophy, science, art, culture, sports, architecture, and beauty. The exhibit is divided into two parts – one devoted gods, goddesses, and mythical beings, and one explaining "real life" (if the gods don't strike me down for saying so).
Yet rather than separating and isolating each facet of ancient life, the exhibits molds them together to create a snapshot of a relatable, 2500-year-old Greece.
Speaking of a relatable Greece, just around the corner from Treasures of Ancient Greece is the closest you'll get to Greece without the airfare. At Take Me There: ® Greece, guests get "flown" 5300 miles across the ocean to visit the modern country.
You'll see how families live in a variety of different Greek cities, including Athens and Corinth, learn the intricate process of making olive oil, fish in a Greek lagoon, and save endangered sea turtles along the way.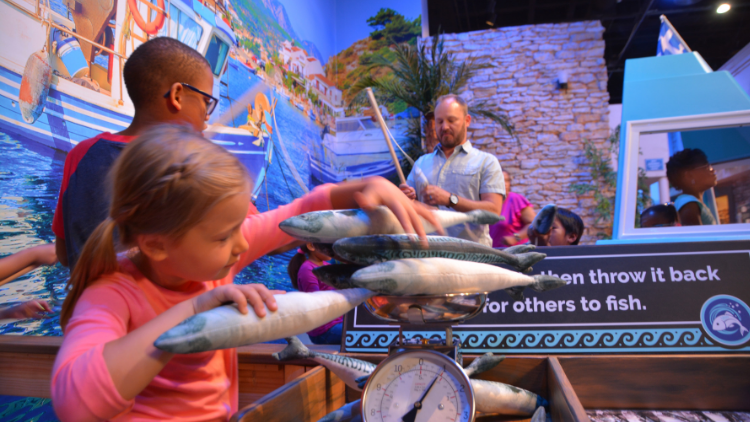 The exhibit is so similar to the actual country, in fact, that Greek natives who installed Treasures of Ancient Greece said they were reminded of home just through a quick tour. As someone who has traveled extensively through Greece – and misses it every day – I was amazed at how transported I felt walking through this exciting new exhibit.
To learn more about The Children's Museum, visit here.