The Indianapolis City Market has been an institution since 1886 with a rich history. The market has always been a place to buy local goods, but that is a simplistic view. At its heart, City market is a place where Indy gathers. We gather for lunches, coffees, shopping, haircuts, and the occassional game of bocce. It's also a place we gather for Indiana-brewed beers at Tomlinson Tap Room.
The Indy Craft Pass is pleased to welcome Tomlinson Tap Room as the newest location to check in as you work your way toward rewards. While Market Street on the south side of the market is in the final phases of construction, the market doors are still open. Under the leadership of new Executive Director Keisha Gray (pictured enjoying a "Here Comes The Reaper" American IPA from 18th Street Brewery), exciting things are happening and there has never been a better time to check in and check out Indianapolis City Market. To help plan your visit, we asked a few questions to help you prepare.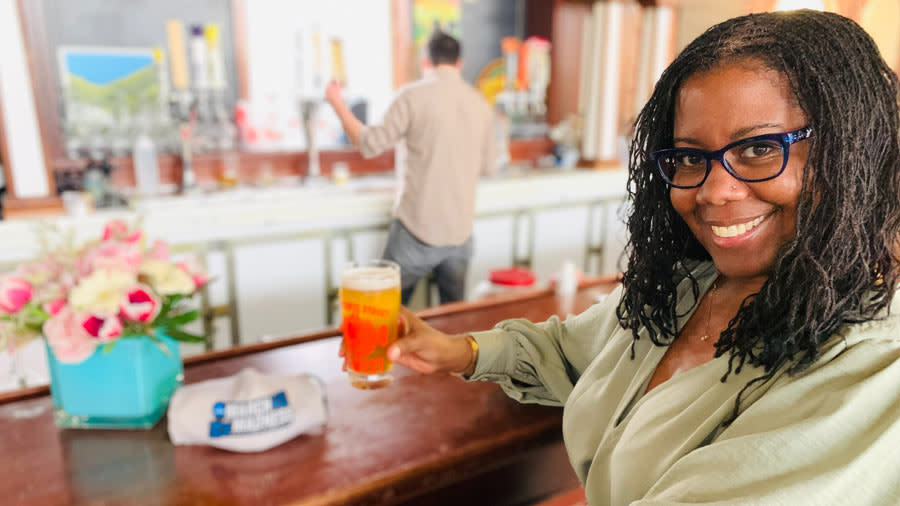 Q: The Tomlinson Taproom is the only Indy Craft Pass location that isn't also a beverage producer, and that is because you exclusively offer Indiana beers. For those who don't know, what can they expect to find on tap?
 
The Tomlinson Tap Room opened inside the Historic Indianapolis City Market in 2010 in partnership with the Brewers of Indiana Guild. In 2010, market leadership sought ideas to activate and expand life at the market into the evening hours and weekends to compliment the long term success of the market's traditional lunch business. City Market leadership over time has identified and activated ways to tie Indiana agriculture to experiences at the market and introducing a craft beer bar that featured all Indiana breweries was in alignment with the market's mission. Indiana breweries across the state are pleased to be on tap at a central downtown location to reach not only downtown residents but also tourists. Those visiting Indianapolis would have the opportunity to try up to 19 all Indiana craft brews inside the Historic Indianapolis City Market including rare finds that you may not be able to pick up at a more traditional bar.
 
Q: How often do you change the tap lineup? Are there beers they can here that are hard to find elsewhere in Indy?
 
We change the lineup as beers are naturally sold. Often enough to post and share a new tap list across socials every week. You will absolutely have the opportunity to try some hard to find beers at Tomlinson Tap Room. Our model has historically been to feature a diligently catered tap list of varying beer styles that features both popular, local favorites and the rarest and newest creations from around the state. Our bar manager Matt Spiller will in some cases make requests from distributors and breweries and sometimes a local brewmaster may stop by or give him a call with a request to pick up something special.


Q: What is the significance of the Tomlinson name?
 
Tomlinson Tap Room's namesake comes from Stephen D. Tomlinson, a druggist who financed the legendary Tomlinson Hall which was a 4200 seat entertainment venue in operation for 40 years before a devastating fire took hold in 1958. 
 
Q: How do you view the future of City Market and Tomlinson Taproom? For those who haven't been for a while, why should they come back?
For locals and visitors alike, there is likely something new to experience on the City Market campus. Whether it be enjoying the rotating list of Indiana craft beers at the Tomlinson Tap Room or supporting one of the other 20+ merchants, local small businesses, in the Market House. Or plan your visit around our City Market Catacombs Tours in partnership with Indiana Landmarks (available first and third Saturdays May through October). 
------------------
To start your Indy Craft Pass adventure, sign up here.