Easter Seals Crossroads wants you take you underground to the creepiest, darkest, spookiest place Indianapolis has to offer - the City Market Catacombs.
On Saturday, October 24 from 7 - 11 pm, guests at Hallow's Eve: A Night for Ability will have the chance to test their bravery by stepping down into the historic underground catacombs. Located in Indianapolis City Market's Platform, patio and catacombs areas, Hallow's Eve will feature four psychic readers, delicious treats from a variety of City Market food vendors, beer from Sun King Brewing, a signature cocktail crafted by Joshua Gonzalez from Thunderbird, daring entertainment from fire spinners, and a costume contest with hair-raising prizes.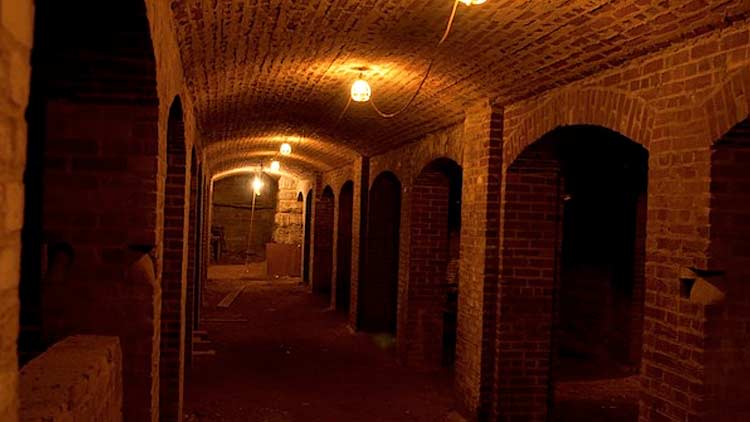 During Hallow's Eve, guests will experience the 20,000 square feet of musty, dusty, spooky, and scary space that is full of history and mystery. Until then, stay on the edge of your seat with these ten facts to uncover some of the unknown:
The Indianapolis City Market catacombs are over 100 years old.
The catacombs are one of only a dozen catacomb sites in the United States today.
The catacombs are what are left of Tomlinson Hall, which was built in 1886. The hall used to hold 3,500 people.
In 1886, the City Market vendors served food in the underground catacombs.
One hundred years ago, the catacombs also served as a nightly homeless shelter to men and women to seek warmth during a bad Indianapolis winter.
Concerts were conducted by John Phillip Sousa in this space, and the first basketball game ever played in Indianapolis was in Tomlinson Hall - Yale University vs. players from the local YMCA.
Tomlinson Hall burnt down in 1958. All that remains is limestone, brick archways, dirt floors, and deep, dark rooms.
According to Stevi Stoesz, City Market Executive Director, "There is a haunted chair in one of the rooms leading off of the catacombs. It don't think it has been moved for years."
To date, over one thousand people have toured the City Market catacombs through Indiana Landmarks.
Guests attending Hallow's Eve: A Night for Ability may hear whispers or see something out of the corner of their eye, as many have visited the catacombs to look for paranormal activity. A 90-minute investigation in May 2012 by the Otherside Paranormal Research group records activity of voices that seem to be attempting to communicate information relevant to the history of Tomlinson Hall.
Hallow's Eve will be spread across the underground catacombs, City Market Platform and patio spaces, providing you with spooky entertainment, food and drinks, music and eye-catching decor and costumes.
Join us at Hallow's Eve: A Night for Ability to uncover more of the creepy, dark, spooky, space the Indianapolis City Market has to offer. Purchase your tickets here. Proceeds from the event support Easter Seals Crossroads' programs and services for children and adults with special needs, disabilities and challenges in central Indiana