Free public art + books = a dream come true for a bibliophile like me. After all, what's more inspirational than a soul challenging read combined with a striking visual in the public space? And what's easier on your budget than not having to pay for either? Enter The Public Collection.
At the core of this public art and literacy project is its belief in the promotion of social and educational justice in the communities it serves. You may have seen the extraordinary lime green installation Monument created by artist Brian McCutcheon located on Monument Circle since August of 2015. Emblazoned with the words of Mark Twain, this unique piece proclaims "A public library is the most enduring of memorials, the trustiest monument for the preservation of an event or a name or an affection; for it, and it only, is respected by wars and revolutions, and survives them."
While this well loved installation will be removed during the month of September, two new projects are sure to become new favorites of readers, tourists, and art lovers alike. The Public Collection has added Mind Sails by artist Atsu Kpotufe, enhancing the physical beauty of the space at Dr. Martin Luther King, Jr. Park. No doubt the minds of those visiting the park will be enhanced by the book share stations, too.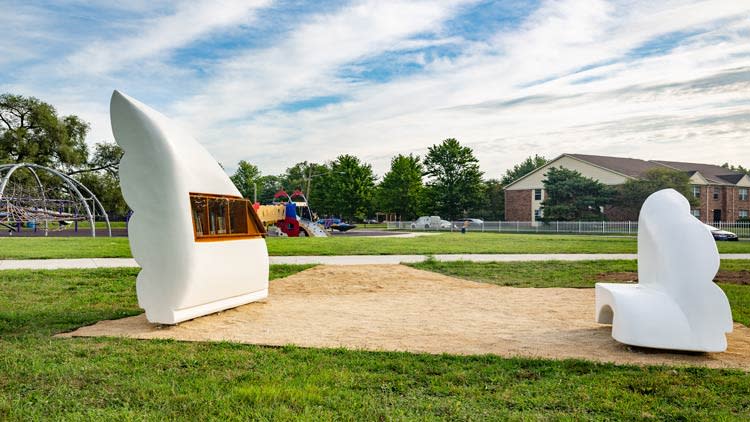 The colorful Fissure located at the Anthenaeum also joins The Public Collection. Created by artists Quincy Owens and Luke Crawley, this installation's combination of color, line, and a challenging quotation from American columnist, novelist, and poet Aberjhani literally draws the viewer deeper into a space filled with the powerful written word.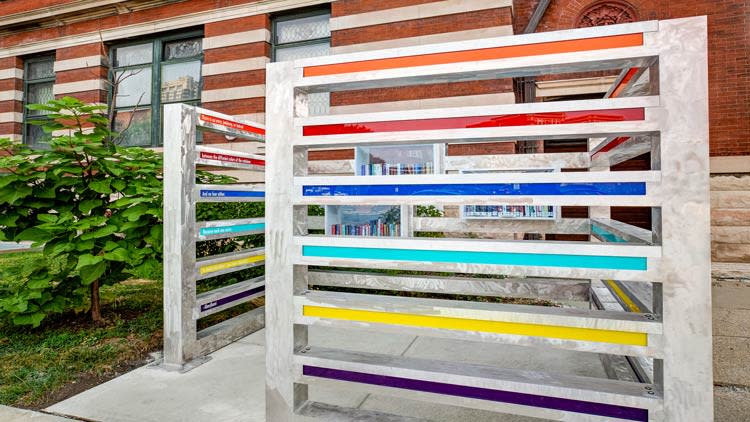 The Public Collection features three other current public art book sharing destinations, too. You can find Play Station by LaShawnda Crowe Storm at Riverside Park. Conveyance, created by Project One Studio is located at The Alexander Hotel at Cityway. And Table of Contents, the collaborative piece by Stuart Hyatt and S+Ca brings both books and beauty to The Horizon House.
Why not make a day of soaking up the beauty of art and books visiting all of these life giving installations when you Visit Indy? For more information and to plan your route, check out The Public Collection.