Gather 'round, gentle readers, but do take care – for mystery and history fill the air. Expect superstition and some folklore, too, because Irvington is where legends are true. So what else can happen in a place like this, where October is heralded, and Halloween is bliss? 
Good question. Read on, readers. 
Irvington was founded in 1870 and is named after Washington Irving, author of The Legend of Sleepy Hollow. It was Indy's first suburb, officially. Unofficially, it's Indy's Creepiest Neighborhood.
If you believe in superstition, you should know that Irvington is home to Masonic Lodge No. 666. Some believe it's along a ley line. Others say it's just a bunch of hocus pocus.
Anyway. Back to Washington Irving: When he described Sleepy Hollow as a place where "a drowsy, dreamy influence seems to hang over the land, and to pervade the very atmosphere," he may as well have been writing about Irvington. The neighborhood is home to the nation's oldest and largest Halloween festival, which brings together tens of thousands of residents, neighborhood organizations, and businesses. The annual festival – now in its 74th year – typically includes a week's worth of events. 2020 is no different.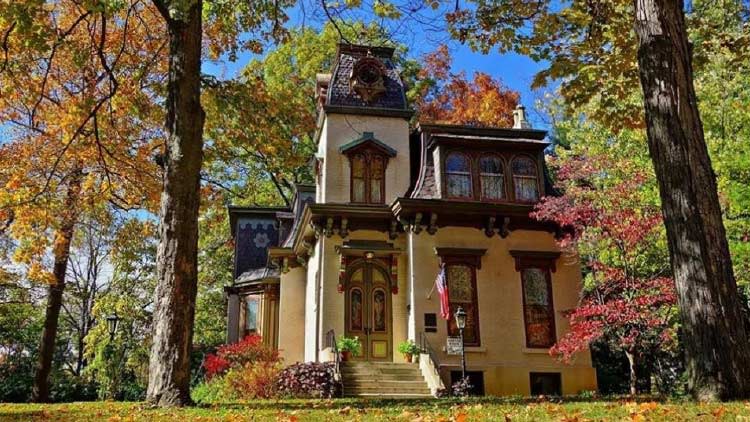 The celebration kicks off with a Spooky Organ Concert at 6 pm, October 25 at Our Lady of Lourdes Church. It's family-friendly and admission is free, but attendees are encouraged to bring a canned food donation. Also free? The Slightly Haunted Puppet Show held at 6:30 pm, October 26-27 at the Irving Theatre. Currently scheduled for October 26, 27, and 28 are the Art & Silent Auction, A Night of Spirits, and Spooktacular Halloween Bingo, respectively. Due to COVID, all subject to change or cancellation, so be sure to check IrvingtonHalloween.com for updates. 
The Spooky Stories event in Irving Circle Park and the annual Zombie Bike Ride round out the rest of the week. Then, on Halloween proper, there is the Vampire Run (wear your easiest-to-jog-in costume!), the Indy Grimo Coffin Race, and the Beer Garden. 
For more spooky fun, sign up for an Irvington Ghost Tour. The tours start at 7 pm, last about two hours, and are held every Friday and Saturday in October. They will be following CDC guidelines, which means masks are required which means social distancing is required which means tickets are limited which means you should buy a ticket now. They cost $20 and can only be purchased at The Magic Candle, 203 S. Audobon Road.
And then, of course, there are the contests: Halloween House Decorating, Window Painting, Writing, Costume, and Canine Costume. If you don't have a costume idea yet, that's okay. Just say "Headless Horseman" into the mirror three times. He'll appear behind you* to give you ideas and share makeup tips.
More Haunted Happenings
Speaking of the Headless Horseman, Conner Prairie is commemorating the 200th anniversary of The Legend of Sleepy Hollow by hosting a "Headless Horseman" event every Thursday-Sunday in October. Another family-friendly event is ZooBoo, held October 7 - November 1 at the Indianapolis Zoo. Yet another fall festival worthy of attending? Harvest at Newfields. For one entire month, guests can enjoy spectacular seasonal horticulture displays and appearances from some of the city's most well-known breweries and wineries. For more information and more events, check out Visit Indy's Fall Festivals guide.