When Matt Rubin and his wife learned she had a dairy allergy, Matt spent two days researching how to make dairy-free chocolate. He bought some whole cacao beans, an $11 coffee grinder, and a mortar and pestle. A couple hours and some elbow grease later, Matt had his first batch of dairy-free chocolate. From those initial three ounces, a business was formed: SoChatti. 
Rubin, the CEO of SoChatti, uses only three ingredients: cacao nibs, cacao butter, and sugar. It's chocolate in its simplest form—no emulsifiers, preservatives, or additives. And because of its elegant simplicity, SoChatti chocolate is dairy-free, gluten-free, soy-free, vegan, kosher, and halal. That doesn't mean it's without flavor, though. Their six-step process—sourcing ingredients, producing cacao nibs, roasting, grinding, packaging, and cleaning—preserves flavors that typically get lost during traditional chocolate manufacturing.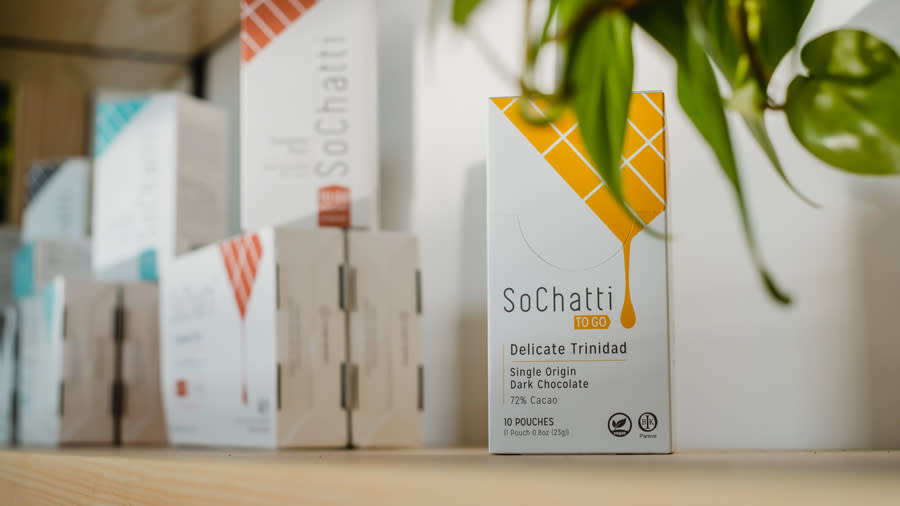 "Chocolate should be an emotional experience," said Rubin. "When something has enough flavor, you have an emotional response."
That relationship—the one between taste and feeling—is at the forefront of SoChatti's new tasting room at the Circle City Industrial Complex. It's one part chocolate store, one part chocolate factory, and three parts divine. When you go, SoChatti will provide you with a complimentary "flight." Flights feature four chocolates made from the cacao beans of the four countries SoChatti sources from. The Tanzanian chocolate, for example, has a dominant blueberry peak. The cacao beans from Honduras, however, create a rich, creamy, and stout chocolate.  
"People are always surprised by the amount of flavor in our chocolate, and then by the breadth of flavor," said Rubin. "It's one of my favorite things, seeing people's minds open. It's like watching them experience chocolate for the first time." 
Visitors generally spend half an hour to forty-five minutes tasting and experiencing the flight. If you find something especially satiating, you can purchase it in-house (including snack-sized to-go packets, chocolate warmers, and tasting sets). And while walk-ins are accepted, parties of more than a few people should schedule a time to come in. That said, SoChatti is a family-friendly environment.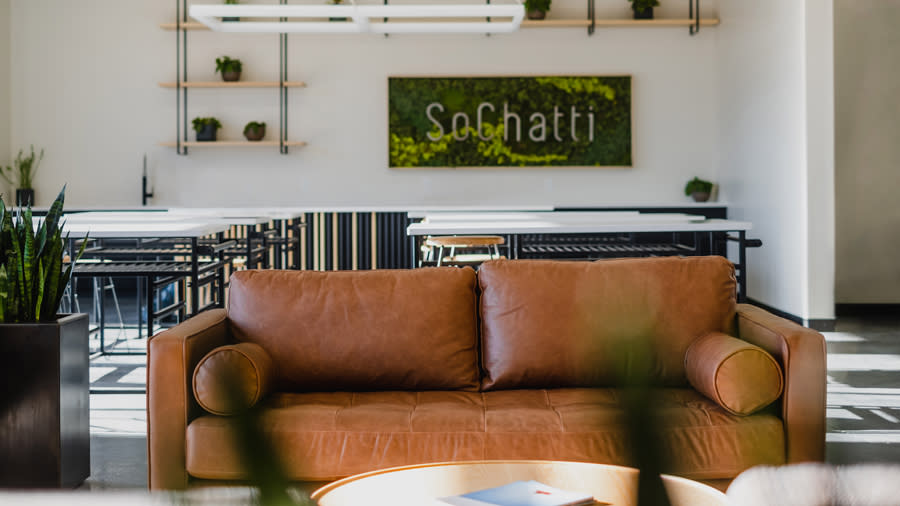 "It's kind of like a nice brewery experience for the whole family," Rubin joked. "You can't do a flight of beer with your kids, but you can do a flight of chocolate." He explained that SoChatti had hosted a birthday party for an 11-year-old girl who had just finished reading Charlie and the Chocolate Factory. The girl and her family were able to schedule a private class, which SoChatti also offers. (They accept groups of up to 20 people.) 
SoChatti is open 10 am to 4 pm, Monday through Thursday, and 10 am to 7 pm Friday and Saturday. To schedule a class or private event, email tastingexperience@sochatti.com.