You made it. Your beloved red team landed a spot in the Big Ten Championship Game once again. Congrats and welcome back to Indy! Let's celebrate.
For those of you who stumbled your way over here and might not know what the hubbub is all about, we have the 12-0 Wisconsin Badgers up against the 10-2 Ohio State Buckeyes on Saturday, December 2 at Lucas Oil Stadium. That's not all we have, however. From Fan Fest and RV Nation to tailgates and Taps and Touchdowns – we've got your weekend lineup covered.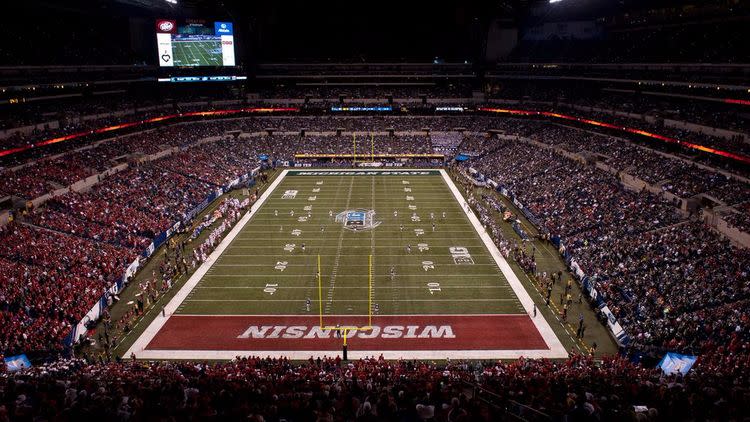 2017 Big Ten Football Championship Weekend
The festivities start Friday, December 1 as the Big Ten Fan Fest opens up at the Indiana Convention Center. Jump into the action with games, pep rallies, and food/drink. Tickets to Fan Fest are free with a Championship Game ticket or $8/adults and $4/youth. From 6-10 pm, head across the street to The Pavillion at Pan Am for Indiana Taps and Touchdowns, for all-you-can-taste craft beer, wine, hard cider, and snacks from dozens of local breweries and food vendors.
Saturday calls for football, food, fandom and…shrimp cocktail? Yessir. Promptly at 10 am, the gates open to the Meijer Tailgate Party on Georgia Street, which is free and open to the public. The party includes contests, games, a live band, plenty of college football action on video screens, a beverage garden, photo ops, and more. You'll want to take a break from your libations at 3 pm to watch the St Elmo Shrimp Cocktail-Eating Championship, featuring none other than legendary Major League Eater, Joey Chestnut himself, who will attempt to beat his own world record of 15 pounds of the fiery treat in only eight minutes. The ultimate tailgate experience will last until the clock strikes 8 pm and the showdown begins. Don't worry, if you do not have tickets to the game, there are plenty of places nearby to tune in. Some of my go-tos include Kilroys Bar and Grill, Scotty's Brewhouse, Punch Bowl Social and High Velocity at the JW Marriott. For more options, check out our Sports Bar guide here.
---
Once all is said and done (and I hope your team won) you're probably not ready to head home yet, so we've hand-picked a few fan-favorite holiday events for you to check out while you're here.
Now back to football….kind of.
OSU Fans, we hear you like your nuts. Or more properly put, your buckeyes. Either way, check out some candied confections at The Best Chocolate in Town or South Bend Chocolate Company.
And for the cheese heads, go ahead and saunter your way up to Trader's Point Creamery for some delightful cheese and dairy products. We think they're to die for, but you be the judge. We also know Wisconsin fans love their beer – well, so do we. Check out our brewery guide here.
---
Match Up
JT Barrett, who is starting for what feels like his 8th consecutive season, is having the best year since his inaugural one at OSU. Take away his four-interception game at Iowa and he's looking like a top Heisman candidate. Get the Bucks rolling, and they're hard to catch. On the UW side, I'm not going to tell you I'm all in on the Badgers yet, but nothing speaks louder than a 13-0 record. Pair that with the fact Wisconsin's defense has allowed 216 rushing yards…in the entire month of November, and we've got a team worth talking about. This game is sure to be a doozy, as it's shaping up to be a potential play-in game for a spot in the College Football Playoff.
We'll let the boys figure this out for themselves on the field Saturday.
See you in Indy.