Halt your workouts, the Indiana State Fair is back in town! You can pick up where you left off after August 19. You still have over a week left to get to this year's fair. It's that time of year where we enjoy our favorite fried and grilled foods and don't have to feel bad because it is only temporary.
Personally, I enjoy everything fried: from elephant ears and funnel cakes to deep fried Oreos, fried vegetables, and more. Let's not forgot the fresh potato chips followed up with ice cream, slushies, sweet teas and lemonades – and of course, sweet corn dipped in melted butter.
We all have our fair traditions, but did you know that each year, the fair presents new culinary creations? Enter: "Taste of the Fair," a contest that encourages the bravest and hugriest fairgoers to choose their favorite new item. You can vote at any Information Booths, presented by Pairie Farms, throughout the fair. By next weekend, the winning food will receive a $2,500 cash prize! 
Time for YOU to try new foods and vote.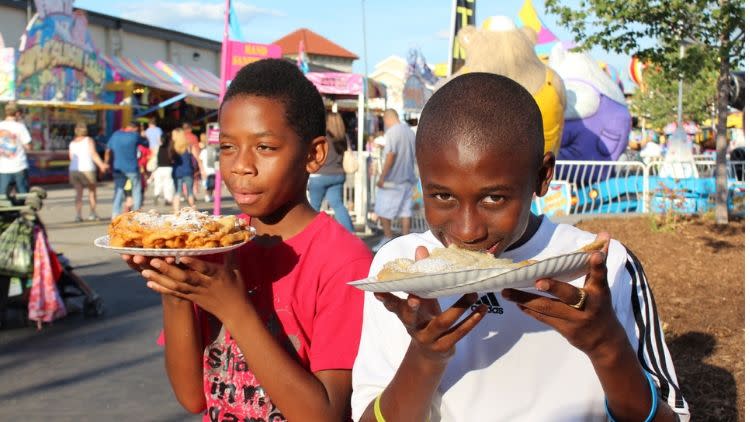 ---
Here are just some of the new items at the 2019 Indiana State Fair:
Angry Pretzel Poppers with Mad Ranch Sauce
These are spicy pretzels with jalapenos mixed in the dough, butter and salted then paired with their special Mad Ranch Sauce (jalapeno ranch) from J. Wilson Group LLC.
Bison Hush Puppies
Cornmeal batter, jalapeño and Red Frazier Bison – deep fried and served with seasoned sour cream. Red Frazier Bison is known for having unique dishes, last year one of their items won the fair contest.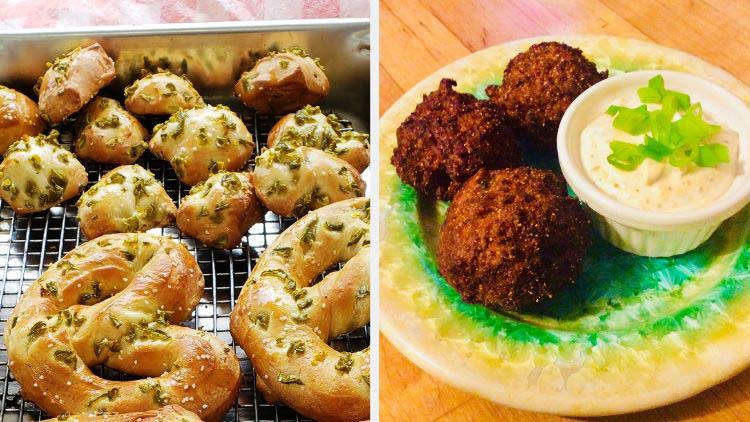 (Angry Pretzel Poppers with Mad Ranch Sauce/Bison Hush Puppies)
Caramel Coffee Milkshake  
This milkshake is made with creamy vanilla ice cream, caramel and coffee. The Dairy Bar right on the main street is a fair staple with their vanilla, chocolate and strawberry ice cream treats.
Relleno de Papa 
A mashed potato ball, filled with seasoned ground beef then fried golden brown served with rice. Da Portable Rican is brand new to the state fair and they offer a variety of Puerto Rican cuisine.
Deep Fried Chocolate Cookie Ice Cream Sandwich
Creamy vanilla ice cream sandwiched between 2 big chocolate chip cookies, dipped in funnel cake batter and deep fried, garnished with powdered sugar and chocolate sauce. If you are not excited about Urick Concessions bringing this to the fair, you don't know how to experience fair food!
The Hawaiian Haminator
As Pork-n-More calls it their Ham and bacon masterpiece mixed with their special BBQ Bacon Sauce and yum yum sauce. Sesame seed bun with provolone cheese and two pineapple slices. Pork-n-More also has Blue Raspberry Lemon Twister you can wash the sandwich down with.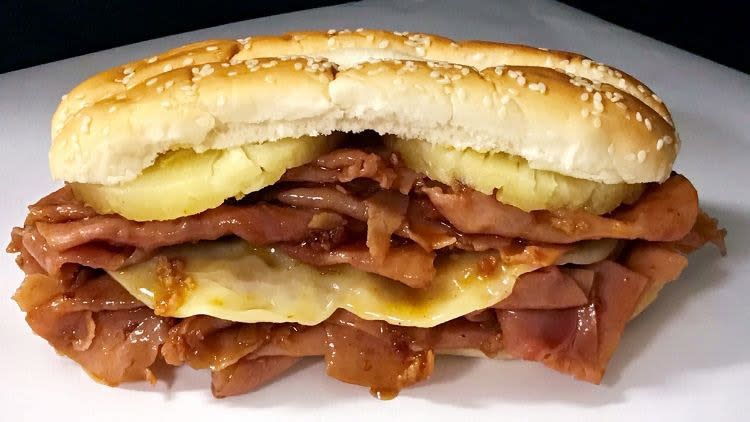 (The Hawaiian Haminator)
---
The delicious options don't stop there. If you have the time, be sure to check out even more new fair foods. 
Buffaloaded Fries
Monroe's Midwest Hero 
Indiana Pork BBQ Split 
Lamb Taco 
Idaho Poutine 
Cajun Queen 
Hoosier Hometown Hash 
American Hero 
Superhero USA All the Way Pancake 
Shepherd's Pie 
Duck Fat Fries 
Rollin' Mac Daddy Egg Roll 
---
My advice to take in the whole experience is to attend the fair a couple days then look at the map and plan out your attack. The first time you go, seek out your usual favorites - this will get those cravings out of your system. The next time,  try some of the new menu items you were too full to eat the first day.
And, if you are one of the rare people on this earth that can eat everything in one visit, please post a photo and let us know using hashtag #LoveIndy. Enjoy the food of the fair and be sure to have a good time.