It's been just over one year since the world changed forever. When health and safety concerns due to COVID-19 swept through, self-care routines likely took a back seat as hair and nail salons and other wellness shops closed. 
Now that Indy's reopening plan is shining brighter than ever, it's time to put ourselves back on top of the to-do list and support local wellness businesses. Here are some places and experiences where you'll find traditional forms of self-care.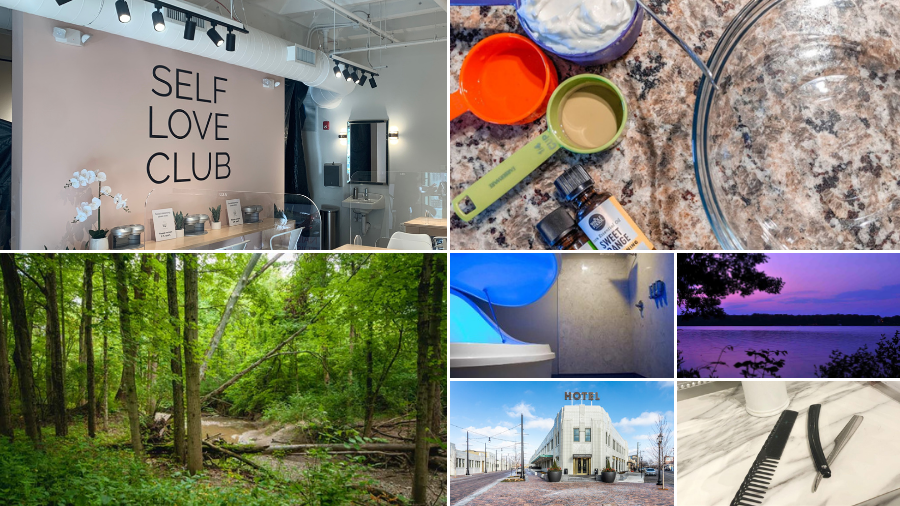 In order left to right: The W Nail Bar at Bottleworks, Make It Classy DIY, Fort Harrison State Park, A Place to Float, Eagle Creek Park, Woodhouse Spa Bottleworks, French Pharmacie
Along with a new nail salon, Indy also recently welcomed another Woodhouse Spa location at Bottleworks. From start to finish, the Woodhouse delivers supreme service and luxurious spa treatments you never knew you needed. Their low-lit environment perfect for unwinding offers services like massage therapy, seaweed body wraps, reflexology, manicures, and even sleep treatments.
Ready to unplug from society for 60 minutes? Visit A Place to Float on Indy's west side for an experience in their state-of-the-art sensory deprivation tanks. Yes, their tanks allow your entire body to float on water giving you the chance to relax, renew and recover in a private space. 
This boutique salon nestled into the heart of Broad Ripple is a favorite for a reason. They offer a handful of spa treatments for those who live busy lives in their space full of natural light and local art. Their list of services includes everything from haircutting to deep tissue massages and makeup applications.
Get ready for an unforgettable girls' night in or at-home spa day alone - you choose! Make It Classy's DIY beauty kits allow you to make your own plant-based beauty product at home (with guidance from their easy recipe cards, of course). It's a great way to create face masks, body scrubs, and more with friends virtually or in small groups. They also have a wide selection of plant-based beauty products seen on Good Morning America like their Blissful Brooklyn Hair Conditioner and Lavish Luna Bath Bombs.
Step into one of the city's few all-natural nail salons when you visit The W Nail Salon at Bottleworks. This new salon boasts offering only natural nail treatments. They're skipping the acrylic, nail drills and dip, and other services found at traditional salons. If you think that means skimping on style, that's where you're wrong. While nail artists at this salon invest in the health of your natural nails, they still offer traditional and gel manicures along with some of those most intricate and fun nail art I've ever seen.
---
Remember, self-care isn't just about caring for your physical body, it involves your mental health too. Depending on what you need, you may find other self-care ideas like hiking through the woods at Eagle Creek Park or Fort Harrison State Park. It's a great way to clear your mind and disconnect. At the very least, get moving on one of Indy's many trails like the Monon. You may also find that journaling can help overcome anxiety and stress. Find a new journal that speaks to you at a local shop like Silver in the City and put some pen to paper.