Written by Visit Indy author Victoria Davis
---
No matter if you started holiday shopping online in September or wait until the last minute every year, you'll find the perfect gift at the Downtown Holiday Market on the Circle.
On December 19 at 3 pm, the south side of Monument Circle in downtown Indy will turn into a holiday shopping extravaganza when local businesses line the red brick with their best-selling and seasonal products. Complete with festive music and lights, you'll find everything from toffee to pottery and beauty products to clothing.
Once you complete your holiday shopping, visit the beer and wine garden provided by Indy Brew Bus on Tap. At 6:30 p.m. you're invited to grab a hot beverage and enjoy the Shining A Light Holiday presentation.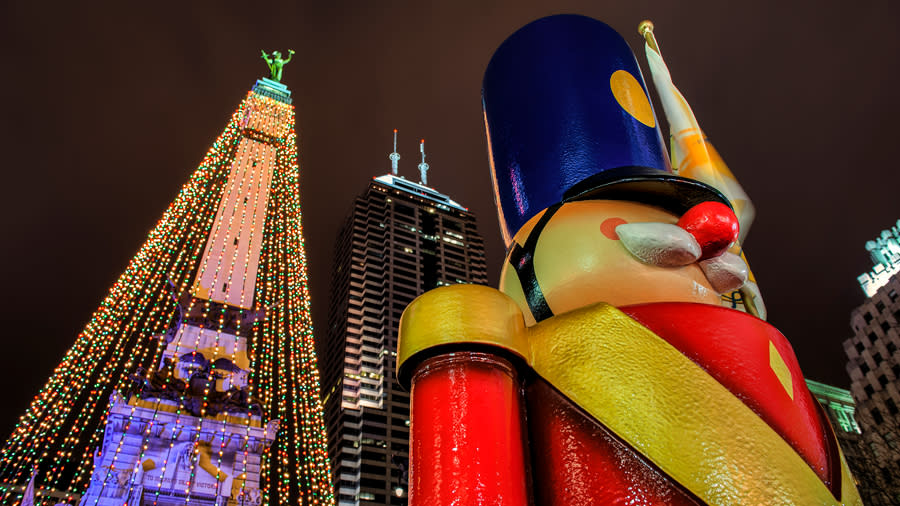 Shopping local directly impacts the livelihoods of small business owners along with their families, and they need you now more than ever. Discover one-of-a-kind items at the heart of Indy.
VENDORS
Indiana Paper Company: hand-made ultra-realistic crepe paper flowers
Make It Classy: plant-based beauty products
Moonshot Games: board games, card games, and toys
Pittman Designs: metal artwork, signs, decor, and unique functional products (bottle openers, magnets, light switch covers)
Savor V: vegan and non-vegan cake jars, cookie jars, holiday dessert spices, and sprinkles
Indiana Sports Corp: 2021 NCAA Final Four Fan Jam: Fan Jam vehicle with Final Four
Dudleys Toffee: English Toffee Aahaa Chai: chai tea loose leaves and concentrates
Tulip Tree: cheese, butter, buttermilk, and pudding
Rooster's: locally sourced snacks and Christmas Dinner packs for delivery/pickup the day before Christmas
Goddess Mountain Naturals: Marvelous Mend Salve
Becker Supply Co.:  apparel and accessories
Blustone Pestos: pestos, salsa, and cheeseballs
Kaps for Kids: Christmas ornaments created from ordinary bottle caps - 10% of sales go toward children's charities
Gallery Pastry Shop: macarons, croissant, various seasonal cakes, and kits for baking at home
Faith Fetzer: mugs, bowls, vases, etc.
Weatherford Studio: found object assemblage robot sculptures, Green Men in various materials, upcycled cutlery creations, hand-cut plasma works, and decorative shovel art
Purple Shamrock Farm: dog treats
Our Sons Bakery: 50 + flavors of gourmet baked confections named Ummmy Bars
Deignan Art: print, stickers, and originals fantasy art
Derek Tuder: multimedia artwork on canvas and wood, steel and print items
J & K Sweek Shop: cinnamon roasted nuts and candy
Aboubakar Allal: handmade carved wood animals like lions, giraffes, elephants
Groomsville Popcorn: raclette sandwiches, popcorn, and roasted pecans and almonds
Indy Brew Bus on Tap
MUSIC