Almost one year ago to the day, Downtown Indy launched the nightly light presentation that has become synonymous with patriotism, civic pride, and a timeless tribute to our nation's veterans. To celebrate the inaugural presentation of Shining A Light, Visit Indy and the Indiana War Memorials Foundation discovered what was to be an inspiring collection of veterans' stories.
Visit Indy and the Indiana War Memorials Foundation read memoirs from veterans who have lost limbs, loved ones, and life moments. We read accounts of unwavering bravery in times of need. And we read about the sacrifices made to ensure our country's safety.
As we reflect on this year's Veterans Day celebrations, these stories of perseverance, dedication, and kindness are a welcome reminder of the true meaning of Shining A Light.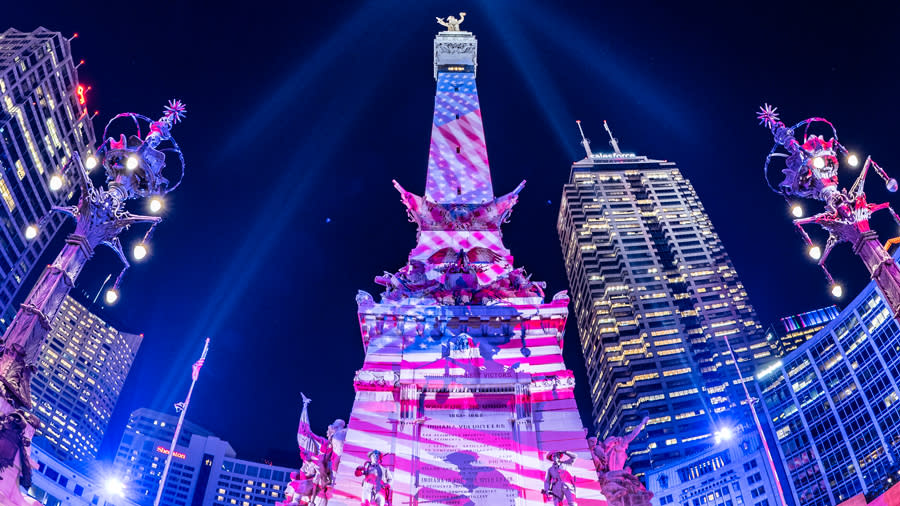 Below are just a few examples of the over 260 veterans' stories Visit Indy and the Indiana War Memorials Foundation received in 2019.
Paul "PG" Gentrup
"If you ask folks about Veterans in South Eastern Indiana, it won't be too long before you hear the name PG Gentrup."
PG, having served in Vietnam in the Army's 25th Infantry Division, has been heavily involved in Veterans activities and programs for many years, from The Moving Wall, to the War Memorial to the Common Man in Lawrenceburg, and the Veterans Tribute Tower in Rising Sun.
As part of his involvement, he's talked to thousands of school kids about what it means to be a veteran. He's also given out hundreds of awards, plaques, quilts, and other honors to his fellow veterans at local festivals and other events, in addition to arranging Honor Flights for WWII veterans in SE Indiana.
PG is currently working on finishing a book about the 50 men from South Eastern Indiana who were killed in Vietnam, working tirelessly to make sure their service and sacrifice is remembered, respected, and recorded.
Robin Axe
"Mom and Dad...that's what I call them. You might call them Petty Officer 2nd Class Axe."
Joseph Axe's parents served together at SeaBee's in the U.S. Navy, at the same time. For 16 years, they saw two Gulf wars, and multiple deployments, all while starting and raising a family of three children.
Navigating the stressful lifestyle of deployments and training, both of Joseph's parents rose through the ranks in the Navy. "It was my mom, however, that always found a way to not only keep us together, but also teach us to grow stronger as a family."
For 16 years, Joseph's mother Robin "never missed a step in her tougher role – 'Mom.'"
The Axes live in Toledo, OH.
Luonna Lancaster
"Luonna is dedicated to ensuring no Hoosier passes alone and unrecognized by connecting people during those hours, so often a time of loneliness."
A resident of Avon, Indiana, Luonna is the "We Honor Veterans" coordinator for the western Indiana Kindred Hospice program. Though her years of service are behind her, she continues to shine a light on her fellow veterans by constant support and honoring their sacrifice.
By coordinating home visits and connecting veterans to resources and fellowship, she recognizes their importance and offers a heartfelt appreciation during the final weeks of their lives.
"Her efforts elevate our veterans and citizens from the depths of obscurity as they approach death by honoring the personal sacrifices they made for all of us as Hoosiers and Americans."