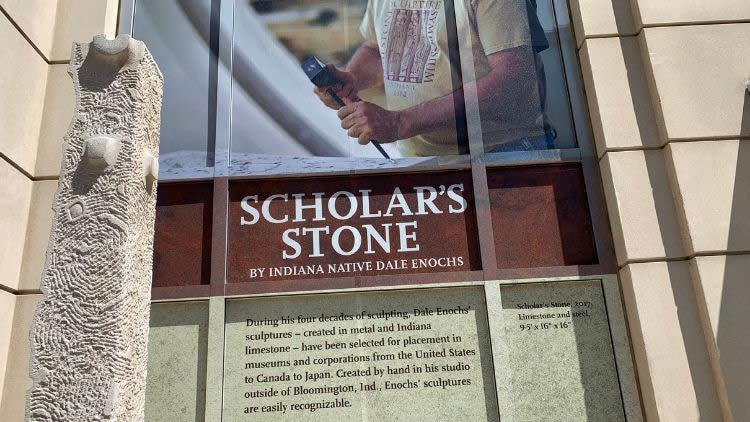 The Conrad is welcoming a new hotel guest, except this one is here to stay. You can now find the Circle City's newest sculpture, Scholar's Stone, located right outside one of Indy's most iconic hotels.  

This hand-made piece of public work was created by Indiana native, Dale Enochs. It was inspired by the Scholar's Stones that can be found in China and Japan. In these cultures, the stones are considered to be sources of reflection and contemplation that embody an individual spirit. 

But this limestone and steel sculpture is not the only piece of public art that exists in the city today. In fact, memorials, murals, sculptures and so much more is what helps enrich Indianapolis' culture. 

Public art matters because our communities gain cultural, social, and economic value through its presence. Art in public spaces plays a distinguishing role in our country's history and culture. It reflects and reveals our society, enhances meaning in our civic spaces, and adds uniqueness to our communities. 

Like The Scholar's Stone, public art has always been a source of reflection and contemplation that helps me embody my individual spirit. Today, Hoosiers are getting that same experience thanks to the Arts Council of Indianapolis. 

It may be time to pay a little closer attention to our surroundings here in Indianapolis. Public art is not going anywhere, in fact, it is just getting started. Some of Indy's best attractions are home to many pieces of public art, which include, but are not limited to – the Indianapolis Cultural Trail, White River State Park, Arts Garden, etc. 

Public art is often times site-specific, which in response creates meaning to the place and community in which a piece in placed. It is time to open our eyes to the cultural pieces that surround us. You may come to find that you walk by 5+ public art pieces on a daily basis. 

If you would like to see more of Dale Enochs' sculptures in Indiana, visit here.