For decades,
Phoenix Theatre
has presented Indianapolis with world-class theater experiences. Now, it's time for the storied institution to turn a new page of the script.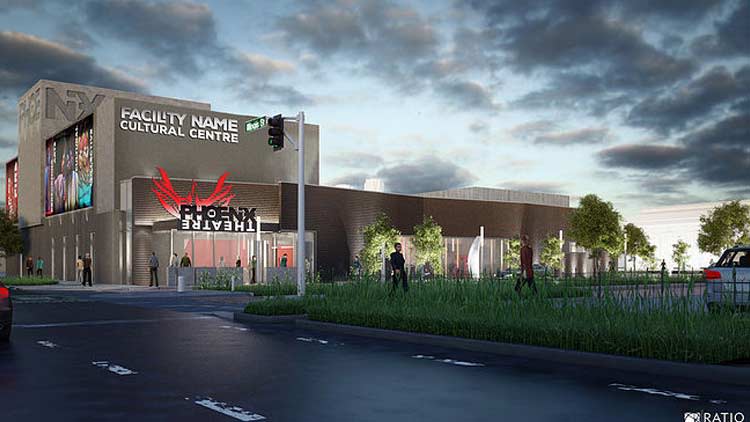 Following three years of planning, two years of campaigning and ten months of construction, the longstanding Indianapolis theater company is set to open the doors of its new facility on April 28. After 30 years of memories at their previous "Old Church" location, Phoenix Theatre invites the city to come check out their new Cultural Centre at 705 N. Illinois St. on the city's downtown north side.
At the April 28 kickoff celebration, join community leaders, patrons, donors, founders, artists and staff in honoring the 30-year home of the theatre and christening the new facility. At 3:00 pm, come into the Livia & Steve Russell Theatre at 749 N. Park Ave. for a short presentation of 30 years of memories in that building. Immediately afterwards, follow the Phoenix (literally-Michael Runge has designed and built a spectacular flying street puppet to lead the procession) down the
Cultural Trail
to the new building at 705 N. Illinois St., where Mayor Joe Hogsett and the Indianapolis Chamber of Commerce will be waiting for a ribbon-cutting ceremony at 4:15 pm.
Everyone is then invited into the new theater for a presentation of hopes and dreams for the future along with a performance by Collective Partner Phoenix Rising Dance Company. Light hors d'oeuvres and champagne will follow at 5:00 pm (complimentary refreshments are for all attendees).
Phoenix Theatre's new home will function as a community center and hub for cultural, intellectual and political thought, anchoring a beautiful link to the Indianapolis Cultural Trail and providing a performing arts and cultural destination in the city's downtown north side. The contemporary design of the building reflects the Phoenix Theatre's programming and serves as an artistic statement unto itself.
To learn more about the new 20,000-square-foot, sophisticated, fully handicap-accessible facility, head over to the
Phoenix Theatre website
, where you can also find a calendar of upcoming events, including
Phoenix Fest
May 7-11, featuring  performers, musicians, artists, food trucks, and tours of the new space.