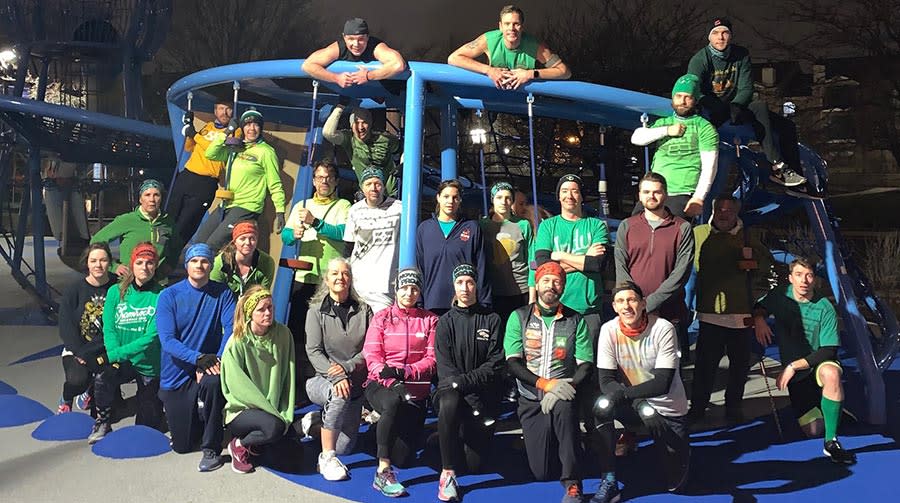 A few years ago a friend told me about The November Project. When I asked him what it was, he described a group of people who gather outdoors to work out early in the morning at spots around the city. It was free and available twice a week. But, he said sheepishly, they like to hug. It was one of those statements that both implied a positive experience and a fear of judgement.
Fast forward, and I was at a meeting where one of the local November Project leaders, Jason Shaw, was addressing a group about Indy's poor health rankings. He shared the history of this movement that traces back to Boston and a group of former athletes who missed team accountability and fellowship. So, they started looking for spots in the city to meet up outdoors and work out together. Soon, it grew and this pair ballooned into a tribe. From Boston, it spread to cities across the city. Shaw and his fellow leader, Casey Seaton, read a story in Runners World and decided to start a local chapter. November Project Indy was one of the first ten in the U.S., but there are 49 tribes nationwide.
Shaw's infectious energy was undeniable, and to not be inspired was an impossibility. It just so happened that they had a workout the next morning by the USS Indianapolis Memorial and the new Colts Canal Playscape along the Central Canal. Spring weather had finally arrived (though they workout rain, sleet, snow, or Polar Vortex). It was time to give this a try.
I begrudgingly pulled myself out of bed early to make the 6 am start time. As I rolled up I was greeted warming by everyone and got a taste of those hugs. I have to say, it's not such a bad way to start a day. Once everyone was gathered, we circled up for a morning bounce and the entire group welcomed us newcomers. Next, they laid out our morning circuit which included a bit of running, box jumps, push-ups, and sit-ups. For the next 20-30 minutes we grinded through the circuit while cheering and encouraging one another. The group dynamic was both inspiring and inclusive.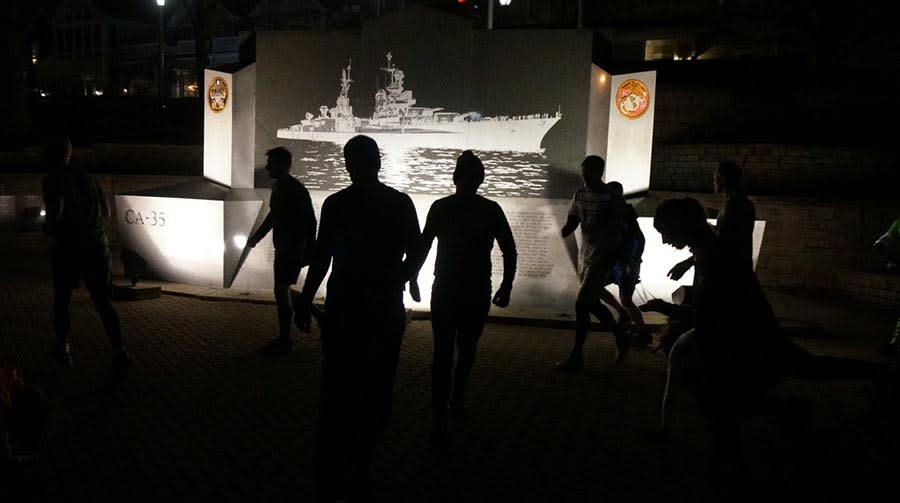 We ended the morning with what they call a 'burn out.' In actuality, it was a relay race up and down a small hill. Again, the activity got us moving while also bringing us together.
If you are a local or you are just in town and looking for a workout, I would encourage you to consider The November Project Indy. They meet every Wednesday morning on the north side of the Indiana War Memorial. The Friday workout moves around the city and has been everywhere from Bankers Life Fieldhouse to Lucas Oil Stadium to parks and plazas across the city. That is the real beauty of this movement. You get to explore and connect with the city while getting in a great full-body workout.
Check out November Project Indy on Facebook to know where and when to show up.