Move over, brunch. Go away, smog. There's a new portmanteau in town: fowling. The combo football-bowling game first appeared at the Indianapolis 500 a few years ago. Now, thanks to Michigan-based Fowling Warehouse, the game is back in Indy and settling into the Circle City Industrial Complex. 
In fowling – which rhymes with "bowling" – players try to knock down bowling pins by throwing a football at them. (It's kind of like cornhole or horseshoes, in that players face each other and focus on the opposite end of the "lane.") To win a game of fowling, knock down your opponents' pins before they clear out yours. You also can try knocking away the middle pin without touching the other pins; it's a game-winning move called a "bonk." Since there's more than one way to win, we recommend giving the official rules a look.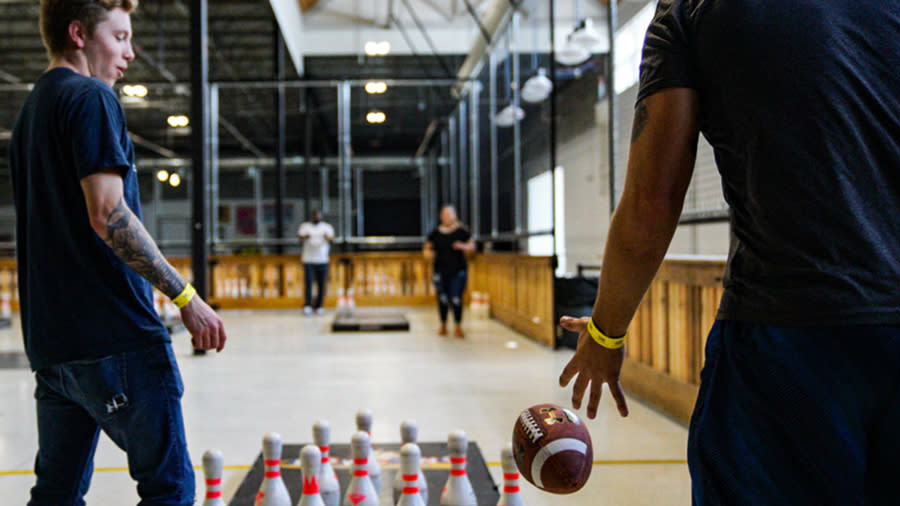 Speaking of official, Fowling Warehouse is home to American Fowling Association league play and competitions. More than likely, you'll see these events in Indianapolis. If competitions aren't your thing, though, stop by for open play or reserve a lane! With 33 lanes available, there's plenty of room for large groups and corporate events. (You can even bring in your own food, though Fowling prefers Cluster Truck and Greek's Pizzeria.) 
The 50,000-square-foot space also features two 45-foot bars. They've got more than 150 different types of beer, as well as a Mystery Beer Machine and Bottoms Up draft systems. Patrons can also request a cocktail, a glass of wine, or a non-alcoholic beverage. Make sure you've got your ID on you – you need to order as well as enter the 21+ venue. Weekends, however, are family-friendly! From noon to 6 p.m. on Saturdays and Sundays, all ages are welcome. (A child must be at least 10 years old to play fowling, though.)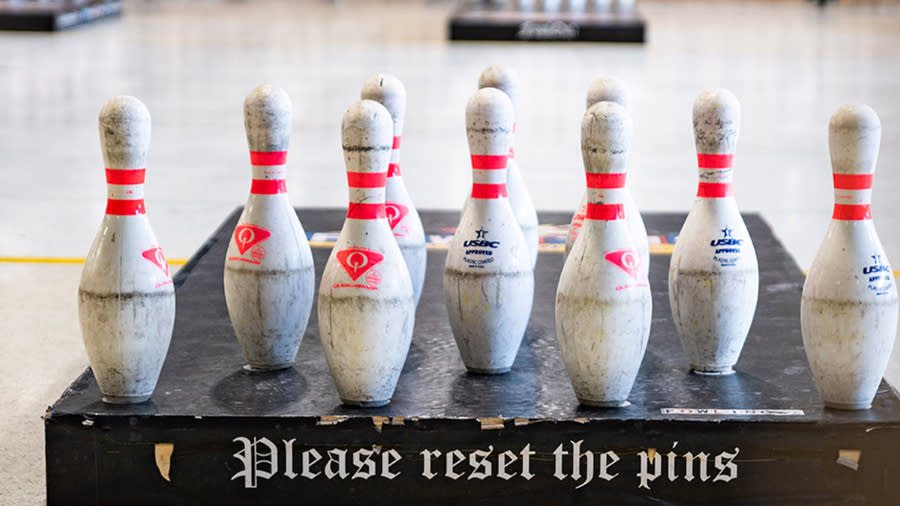 To reserve a lane, call Fowling Warehouse at 317-406-0326. A maximum of 10 players can be on a lane, which costs $120 for two hours. After your reservation time, you and your group can stay and enjoy open play! You don't need a reservation for it, and the rules are simple: If you win, you stay on the lane and accept the next challengers. If you lose, get back in line and be ready for another challenge. Unlimited open play is just $10 per person. 
Fowling Warehouse is located at 1125 E. Brookside Avenue, in the Circle City Industrial Complex. They are open seven days a week and welcome all ages on Saturday and Sunday, from noon to 6 p.m. Because of its size – 50,000 square feet – there is plenty of space for socially distanced fun. What's more, it offers a unique experience as the weather gets colder!