Well, I'll be a monkey's uncle. For the second year in a row, Go Ape Zipline & Adventure Park has been named one of North America's top aerial adventure parks. Initially, the outdoor treetop experience was one of 20 nominees for USA Today's "10 Best Aerial Adventure Parks." After USA Today readers voted for their favorites, Go Ape landed in the Top 5. Tree-mendous.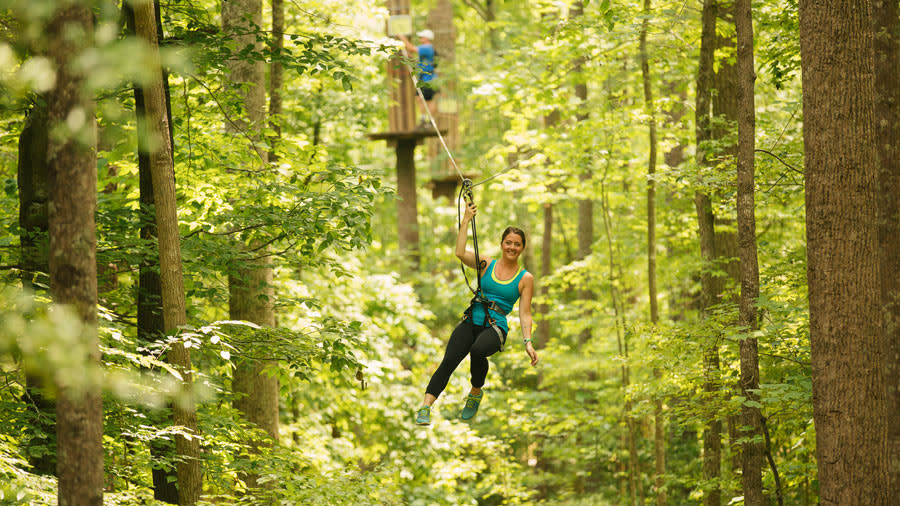 What is Go Ape?
Go Ape is one part Indiana Jones, two parts Spiderman, and three parts Tarzan. 
In other words, it's a highly interactive, two- to three-hour outdoor high ropes and zipline course. With 16 locations across the United States, Go Ape has helped millions of guests connect with nature while stepping outside their comfort zone. At Eagle Creek Park, Go Ape employees guide adventurers over five ziplines and 40 treetop obstacles. It does require some physical endurance, but you can go at your own pace, and the guides are watchful, kind, and helpful. The training they provide before each tour will get you into the swing of things. 
Go Ape Requirements
To go ape, you must be at least 10 years old and four feet, seven inches tall. (The maximum weight is 285 pounds.) Closed-toe shoes are required, and we recommend bringing your own pair of gloves. That way, you won't have to purchase a pair when you arrive. You'll also want to wear something you don't mind getting dirty. Because bark. And leaves. And mulch. 
Summer tours are filling up, so book your session now. The full Treetop Adventure is $54.95 for youth ages 10-15 and $59.95 for age 16 and older. There's also the Treetop Discovery adventure, which is only 90 minutes long and a flat $39.95. (Fun fact: Go Ape gives a percentage of each ticket sale right back to Eagle Creek Park!) 
If you're looking for a new adventure, branch out and give Go Ape a try. And definitely yell "AHHHHHHEEAAAHEHEHHHHAAAAA!" on all the Tarzan Swings.