You know, I never really took offense to the expression "dear, 'ole mom" until I found myself the mother of two in my fortieth year of life. It always sounded so quaint and cozy. But let's face it, few moms want to be called dear or especially 'ole. That's because moms are too busy cleaning up messes and putting the needs of others before their own to worry about sentimental monikers or having their age criticized. While they love any gift from their children (because duh, these children are obviously blooming virtuosos, artists, and the future great American novelists), they long for the opportunity to simply spend time with the ones they love the first Sunday in May. 
If you're looking for ways to honor your mom this Mother's Day, skip the overused sentiments and check out these great ways to celebrate your love for her in Indianapolis this Sunday.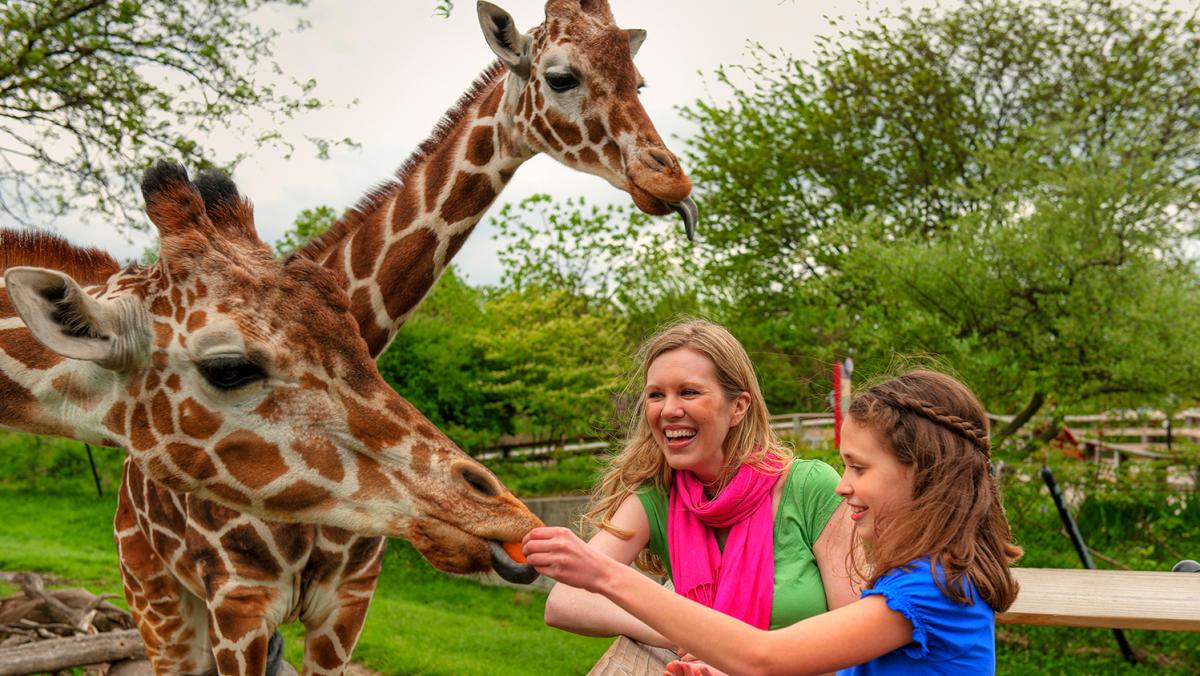 It may feel like she is raising a pack of wild beasts, so why not let your mom flex her inner mama bear at the Indianapolis Zoo. Mother's Day Weekend at the Zoo is packed full of amazing animals and special treatment. From special learning activities about mamas in the wild (What?! Baby Elephants aren't full term until they're 22 months!), to a lovely gift for your mom at the gift shop. The weekend experience is free with your Zoo membership or regularly priced admission. All of the details can be found here. 
---
Breakfast in bed makes any mom smile. But the Prairie Guest House lets you take the first meal of the day to the next level this Mother's Day. The amazing menu of brioche French toast, vegetarian mini quiche, red potatoes roasted with shallots and thyme, and sliced honey-glazed ham and sausage and more, make my mouth water just thinking about it. Plus you have the opportunity to dine in an early 1900s cottage. Seating is limited though so make reservations now. For more details and full menu, go here.
---
Why not sing your heart out with all the ways you love your mama while gliding down the White River Canal this year. You'll create memories of a lifetime and treat her like the queen she is thanks to Old World Gondoliers. For times, rates, and to begin the process of booking your reservation, go here.
---
Give Her Diamonds of the Baseball Variety
If your mom loves the crack of the bat and the taste of peanuts and Cracker Jacks, don't miss the Indianapolis Indians' Mother's Day game. Not only do Kids Eat Free on Sunday, May 8, moms will be spoiled with massages, manicures, Gigi's Cupcakes, and hopefully a win from the Tribe. Check out all of the specifics here. 
---
Does your mom love a good mystery? Don't miss the unique Mother's Day Brunch at the Indianapolis Repertory Theater. Your ticket includes a fantastic meal AND a performance of Agatha Christie's The Mousetrap. Only a limited number of tickets are available and they're not available online so you'll want to call the IRT today. 
---
Special Brunch Menus at Amazing Restaurants
All around town, some of Indianapolis best restaurants will feature special menus to celebrate mothers. From Weber Grill to my favorite Mexican restaurant in Indy Adobo Grill, give mom a day off from the kitchen and let her choose the cuisine for once. Georgia Reese's, the Propylaeum, and so many more! Check and see if mom's favorite restaurant has special dining options and make your reservations now before it's too late.
---
Maybe you should let mom sleep in this year? Instead of brunch consider taking her to the James Whitcomb Riley Home Museum Mother's Day Afternoon Tea. She'll enjoy a lovely meal, a tour of the of the historic home, and a fascinating presentation, too. 
---
No matter how you choose to honor your mother, be sure to get your plan together as soon as possible before your options are limited. Enjoy a lovely day celebrating a lovely woman this year in one of many great Indianapolis Mother's Day activities. Just don't call her old, okay?