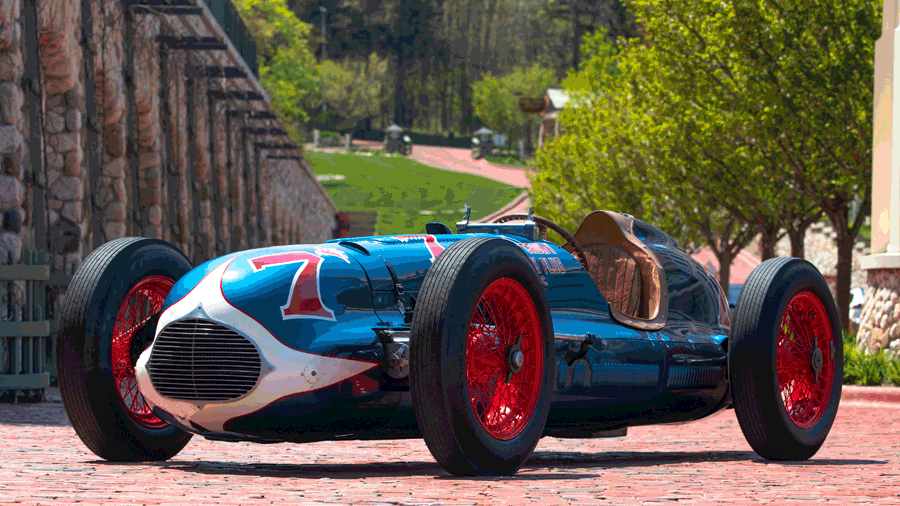 We have a love affair with our cars. We build models of them, give them names, spend as much money on beautifying and caring for them as we spend on ourselves, and some of us even sob like babies when we have to say our final goodbyes to them.
Each year, the Mecum auction brings 100 years of auto history and more than 2,500 cars to Indy. Different cars every year looking for new garages to call home. Pristine collector cars, powerful muscle cars (I can almost hear their engines rev when I get close), classic autos of bygone eras, retired race cars (some have been big winners), and exotics. There are 158 Corvettes alone. Also 25 Ferraris. I think I can guarantee you'll see at least a few cars you've never before seen in the wild.
And it's not just cars. There are trucks, motorcycles, tractors, boats, road art, and memorabilia up for bids. There's also the Dodge Thrill Ride which puts you in either a Charger or Challenger Hellcat for 45 seconds on a quarter-mile course with a professional driver at the wheel who will do some drifting like the racers do. 
Some of this year's featured lots:
the 1947 Deidt-Offenhauser Blue Crown Spark Plug Special which won the 1949 Indy 500 (valued at $4-$5 million)
a 1967 Corvette L88 Convertible, one of only 20 built and the best-documented of its kind, that was owned by Bloomington Gold founder David Burroughs and also Dana Mecum himself
a 1965 Ford GT Competition Prototype Roadster, one of only five built, one of two surviving, and the only roadster to race at Le Mans (valued at $7.5-$10 million)
the 1965 Shelby GT350R Prototype ("Flying Mustang") created by Carroll Shelby to turn the public perception of the Mustang from a secretary's car (really) to a high-performance auto--it's the Flying Mustang because a photographer captured Ken Miles (remember Christian Bale's character in the fantastic Ford v Ferrari movie?) on the way to winning the first race the car entered coming over a rise in the track and getting all four wheels off the ground
a 1967 Ferrari 275 GTB/4 Berlinetta (valued at $3.25-$3.5 million)
Lots of Shelby memorabilia like posters, photos, tires, helmets, even an autographed hood 
It all takes place at the Indiana State Fairgrounds and Event Center July 10-18. Admission is $20-$25 to meander through the buildings and gaze at your dream cars. If you want to bid, you'll need to register for a $150 pass. Bids are accepted in person, by telephone, and online with the new Mecum On Time system. The in-person auction--the bit you see televised--is really an amazing experience. Watching these incredible cars roll across the block while the auctioneer works magic is incomparable.
Be assured that recommended safety precautions are being taken. Daily touch-free temperature screening are required for all attendees and employees prior to entering. Masks will be provided. Hand sanitizer stations are conveniently located throughout the fairgrounds. Auction floor seating will be arranged to manage adequate social distancing.
Photos Courtesy of Mecum Auctions, Inc.