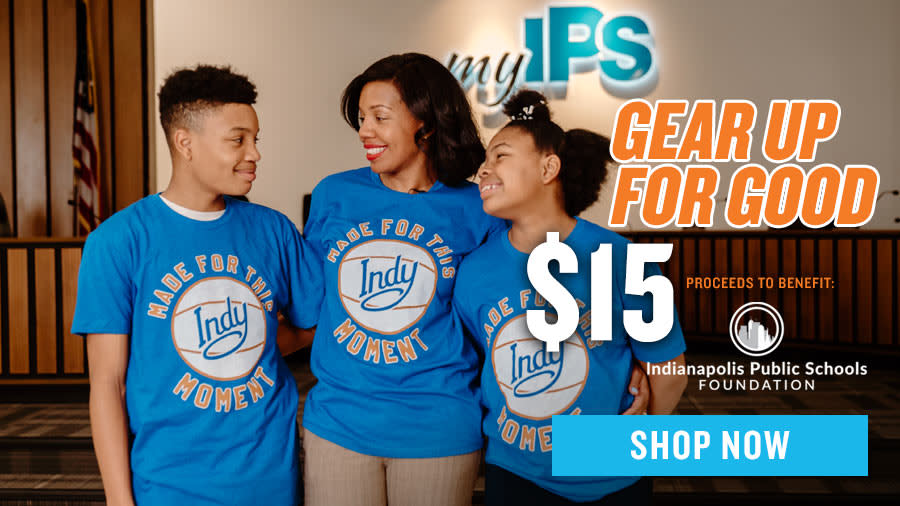 Order Your Limited Edition Made For This Moment Shirt Here.
Made For This Moment
The last time Indy hosted the NCAA Men's Final Four, the city was amidst a crisis. April 2015. Simultaneously, we premiered our NDY Sculptures, giving Indy residents a platform to proudly proclaim why they #LoveIndy. More than 1 billion positive social media impressions rallied civic pride and tipped the ball back to Team Indy.
This time around, we find ourselves amidst a different type of crisis, a global pandemic. And, we are again in need of our strongest brand advocates, our Indy residents, to help love on their city.
Alongside our friends at the Indiana Sports Corp, we've partnered with The Shop to create a limited-edition T-shirt: Made For This Moment. Proceeds from this $15 shirt will directly benefit the IPS Foundation, which has been investing in our community for over 35 years to ensure that all students have the resources and support they need to pursue their dreams with purpose. 
If you care about Indy and stand committed to helping Indy rebound, click and buy. Show your civic pride while helping Indianapolis Public Schools.
Also, participate. Come downtown to be part of the action. Even without a ticket, come celebrate this win for our community. Dine out. Walk around. Find one of our NDY Sculptures and post using #LoveIndy.
Indy didn't arrive here by accident.
200 years of innovation, teamwork, and creativity has uniquely positioned Indy for this moment. A deliberately designed downtown for events. A portfolio including hosting the most high-profile sporting events in the nation, arguably the world. The oldest sports commission in the U.S. The #1 convention city in the U.S.
First it was Lilly, then the NCAA, now Salesforce. Corporations have entrusted Indy as its home. Kurt Vonnegut and Mari Evans have taken pen to paper here. Madam C.J. Walker shattered boundaries in the Circle City, and Hall of Famer Oscar Robertson led on-and-off the court.
Simply put: Indy was made for this moment.