While we aren't actually going to summer camp this year, our friends at IndyHub are bringing you the next best thing: virtual camp – and you're invited. 
Camp IndyHub provides a month-long roster of experiences that you can take in from the comfort of your home. Attendees will explore hidden spots, learn new skills, and experience Indy's arts, culture, and history with a camp-like feel.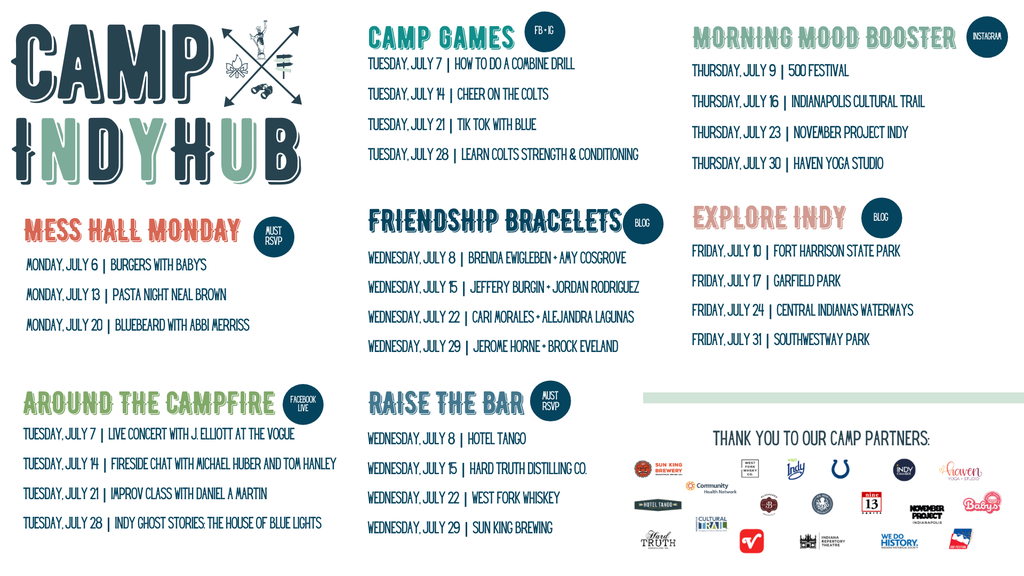 Here's the rundown: On Mondays head to the mess hall to learn some new skills in the kitchen from some of Indy's top culinary talent. Tuesdays bring camp games and campfires featuring NFL Combine drills, lessons with Colts Cheerleaders, improv classes, and ghost stories. On Wednesdays talk friendship and learn how to make some drinks via virtual cocktail classes across the city. Thursdays mean fitness tips alongside a spotlight on different health and wellness organizations and on Fridays, it's time to embark on a little adventure to some of the best outdoor spaces and places to visit and explore in the city.  
All activities are free to attend but some do require registration.
The summer's not completely lost, so let's have some fun and connect with old friends and new at Camp IndyHub.