If I can speak for those as excited as I am, cheer with me - it's here, it's finally here! It's the original, longest running, and best-attended gaming convention in the world. More than 61,000 people from all 50 states and more than 54 countries will walk through the convention halls in cosplay with card games in tow. It's Gen Con 2016 and it's bigger and better than ever.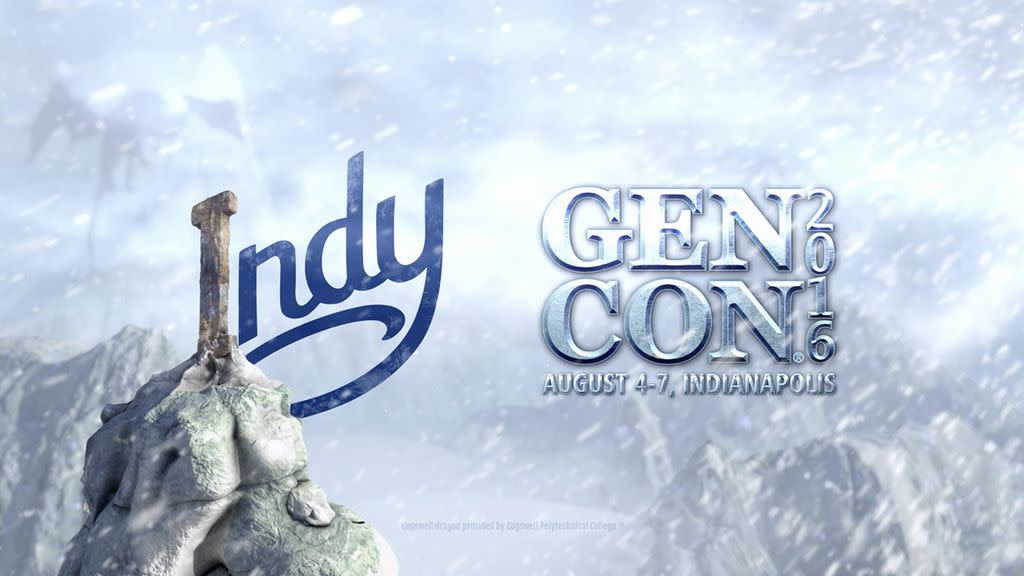 From August 4-7, downtown Indy will transform into another dimension to allow for The Best Four Days in Gaming. Rumor has it that current badge sales indicate the show is on-pace for record attendance, and Indy is bringing it's best to the party. From pre-show events to Sunday Family Fun Day, there's something for everyone to do in and out of the convention.
Before you go
Gen Con attendees can register for their badge or purchase a one day badge for $75 or a four-day badge for $120 through August 7. Sunday Family Fun Day badges are $45 for a family of four. If you purchased your badge online, you will want to visit registration to pick up your badge and any event tickets you ordered online. For a full listing of registration hours and customer service, go here. 
Kick off party
Itching to get out of your hotel room and explore Indy? Head on over to Georgia Street, located by the east entrance to the convention center, for the Sun King Brewing's 20-Sided Rye Tapping Party. For the 5th year in a row, Sun King Brewing has crafted a Gen Con beer that will be unveiled on Wednesday, August 3 at 5 pm. Attendees 21+ can suds up and chat with craft beer fans while enjoying a taste from Indy's local food trucks.
Exhibit hall
At 10 am, the exhibit hall with more than 500 exhibitors will open to attendees. It's like a wonderland where every step you take is filled with something that sparks your interest, as you can easily spend hours and hours inside the exhibit hall alone. Unlike any convention, this exhibit hall is completely interactive. Game companies release never before seen games, collector items are hunted and found, and many purchases are made until suitcases can no longer be stuffed.
The exhibit hall is open Thursday through Saturday from 10 am to 6 pm and Sunday 10 am to 4 pm. Find a full list of exhibitors and a map here.
New this year
As the gaming community grows, so does Gen Con. For the first time ever, Gen Con is expanding into Lucas Oil Stadium, located a short walk south from the convention center. The stadium that houses the Indianapolis Colts will now host the popular True Dungeon events, among others. Before you step outside of the convention center, head toward the Capitol Street entrance and follow the long hallway along the outside of the exhibit hall. While it's usually inhabited by gamers sitting down to play with friends, this space will now host multiple arcade games.
Games, games and more games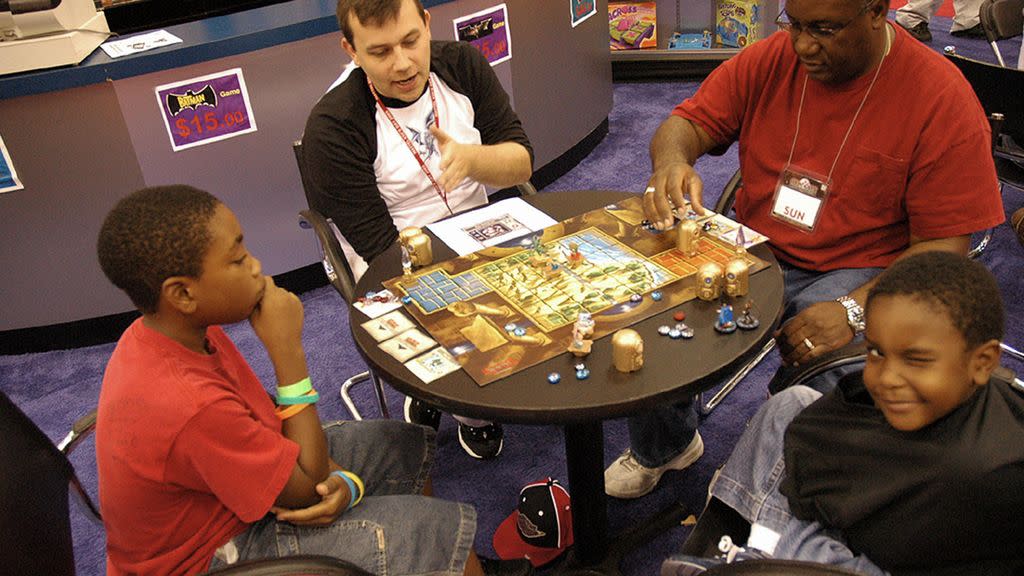 Gen Con Co-Sponsor Mayfair Games will host a Saboteur Tournament on Saturday, August 6 to support the Official 2016 Charity, The PourHouse. Participants will play the popular card game Saboteur in a multi-round tournament where the winner will receive a seat in the Saboteur World Championship in Budapest, Hungary in November 2016.
If you're into Pathfinder, head to the Sagamore Ballroom inside the convention center for hundreds of role player game events thanks to Gen Con Co-Sponsor Paizo Inc. New products from the world of Pathfinder will be revealed.
Rio Grande Games will open their doors to a room full of tables and games open for you to play and learn, including their newest release of Empires, the latest Dominion expansion.
Fine eats
Over 40 food trucks will be stationed on Georgia Street during all four days of Gen Con to make your quest of trying local Indy eats as easy as possible. The trucks will rotate throughout lunch and dinner, allowing you to sample from the wide variety. We've got food trucks representing menus from America and beyond. 
If you're looking to rest those tired legs with air conditioning and seats, check out our list of the Top 25 Restaurants in Indy (to see how our culinary scene stacks up. Attendees 21+ can attend the Sun King Brewing beer garden all weekend long from 5 to 10 pm. Wednesday and noon to 10 pm through Saturday. HotBox Pizza, the Official Pizza of Gen Con 2016, will be available at Georgia Street near the beer garden and offer late night delivery and great deals ordered online or through their app. This year's winning pizza is Dragon's Breath, which features hot sauce, chicken, bacon, cheddar and ranch. Need a caffeine kick from all of that gaming? Bee Coffee Roasters, located on Capitol Ave across the street from the convention center, will be open 24 hours a day starting Thursday at 6:30 am through Sunday at 5:30 pm. That's a lot of espresso shots. For more sponsors and tasty partners, visit the Gen Con Food and Drink page.
Family fun
Sunday, August 7 is all about families at Gen Con with events specifically designed for family involvement, including face-painting and learn-to-play events, along with discounted badges. Enter the Training Grounds, a place to introduce kids to the gaming world and all its possibilities. And while you are inside the Exhibit Hall, head to the Family Fun Pavilion to see highlighted family friendly companies that will sell and demo games in their booths.
Save the date
And since we all think about the next Gen Con before this one's over, open up your calendars and save the date for Gen Con 2017, the 50th anniversary event, Aug 17-20 in Indianapolis.