Opening today, September 12, we're excited to introduce the gorgeous new boutique hotel coming online on Indy's north side. This property takes industrial chic to a whole new level, and after seeing it first-hand, I was ready to run home and redecorate.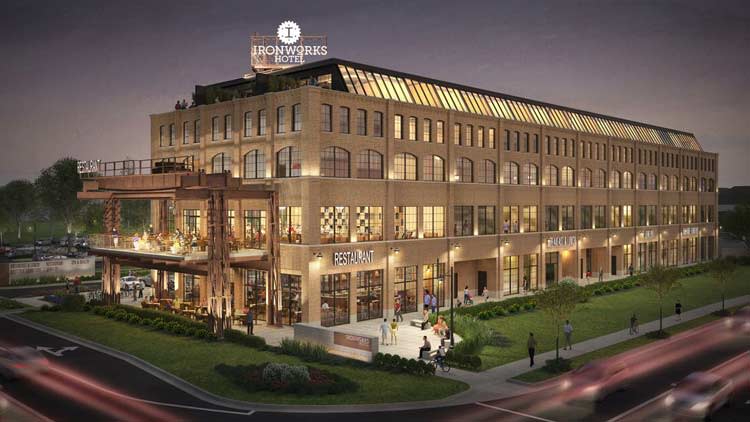 The Ironworks Hotel's impeccable design elements inspired by the Midwest's agricultural and industrial roots are presented with sophistication, while also exuding warmth and comfort that our city excels at. I'm confident guests will feel immediately welcome and at ease with ammenities like complimentary wireless internet, coffee service, and shuttle services within five miles.
Intricate details like robe hooks forged from railroad ties, paper mill remnants as décor, and personalized wine staged on reclaimed crane parts highlight the appeal of the 120 guest rooms. A chicken wire wallscape, pendant lights crafted from vintage battery boxes, and bellhop carts made from industrial piping create a one-of-a-kind lobby.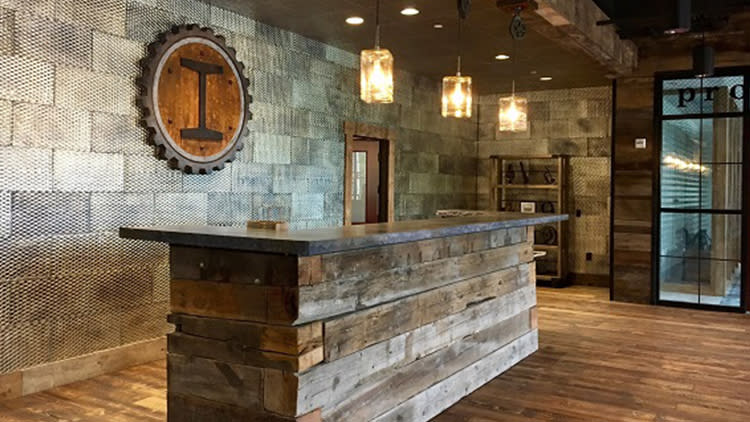 For special occasions or VIPs, top floor suites come with outdoor patios spacious enough to feature a firepit and host catered outdoor receptions.
Room service and catering will be operated by Cunningham Restaurant Group, innovators in Indy's dining scene known as much for their sense of design as they are for impeccable menus. Chef Layton Roberts happened to be perfecting the menu of Provision, the hotel's upscale lunch and dinner spot, while we took our tour. The space will feature a chef's table where guests can engage with the chef and enjoy a specialty menu of inspired creations.
Cunningham will also open Rize in the hotel's first floor, serving breakfast and lunch with a focus on clean eating.
A board room, conference room, and private event space for up to 50 offer unique settings for retreats, teambuilding, rehearsal dinners, holiday parties, and more.
And with the holidays approaching, and the hotel's convenient location next to Indy's premier shopping district Keystone at the Crossing, it will make the perfect shop + stay getaway.
The Ironworks Hotel is hosting a grand opening event on October 21st. Find more info, click here or by calling 463.221.2200.